Nothing feels quite as liberating as going on a car ride while blasting your favorite music. However, no matter how amazing your playlist is, subpar sound quality can very easily put a dent in this otherwise magnificent experience.
The sound quality of stock 6.5 car speakers are usually mediocre at best, and they will most likely leave any audiophile wanting more.
In order to get the best sound quality, more and more car owners are starting to see how essential it is to replace their stock speakers with more dedicated ones that truly give their music justice.
However, with hundreds of models and brands out there, choosing the right speakers may seem like a daunting task. That's where we come in!
In this article, we have rounded up and reviewed the seven best 6.5 speakers on the market across different price ranges to help you find the one that best fits your needs and your budget.
Comparison Table:
The 7 Best 6.5 Speakers in 2021
Now without further ado, let's take a closer look at the seven best 6.5-inch speakers we have on our list and show you exactly what each of them has to offer.
Anyone who opts for changing their car's stock speakers is looking for tangible improvement in sound quality. JBL's impressive GTO629 coaxial speakers certainly deliver on that front.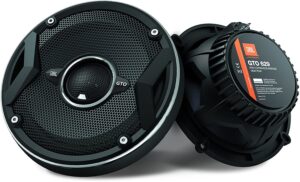 The "Premium" in the name of these JBL speakers certainly speaks more for their premium sound and build quality, and less so for their price. In fact, they offer some of the best mid-range performance we've heard at that price! 
The GTO629 has a continuous power of 60 watts and a peak output power of 90 watts. Additionally, it functions at 4 ohms, and this low impedance will certainly bring the best out of your car stereo.
A unique feature of these speakers is the patented UniPivot tweeter, which is capable of being rotated up to 350° to give the listener the best possible audio experience. It aligns the sound to your eardrums regardless of where the speakers are mounted, even at the bottom of your door.
The GTO629 also offers an exceptionally high frequency response of over 20 kHz, which more than makes up for any variation in where the speakers are mounted in your car. Coupled with their sensitivity of 93 dB, which lies on the louder end of the spectrum, this ensures excellent performance and crisp sound quality.
The speakers sport relatively large polypropylene cones with rubber surrounds. This gives you excellent bass and treble response, thus greatly improving sound quality. However, with a minimum mounting depth of about 2 inches, the large cone design may prove a little cumbersome to mount in some smaller car models, so make sure to check the compatibility of your car first.
Moreover, the GTO629 comes with 2 grilles if you'd rather mount them on top of your door, as well as all the hardware you'll need for mounting. Keep in mind, however, that the package doesn't include a speaker wire.
What We Like:
High quality

Excellent bass

Excellent tweeter

1-year warranty
What We Don't Like:
Difficult to mount in some car models
Bottom Line
This model offers great sound quality topped by an impressive bass, which is quite rare at this very competitive price range. Just make sure to check if they fit in your car.
If you're in the market for a truly satisfactory set of speakers, both in quality and in price, then look no further than the Kicker 43DSC6504. What makes them even more worth the money is that they come with such a low profile that they fit basically all vehicles of any sizes.
They offer an out-of-this-world full-range sound. With a frequency range of 40 Hz to 20 kHz, which is a pretty inclusive range, though not the widest, they can produce excellent treble and mid frequencies that are as natural as they can be. And like the JBL GTO629, these speakers come with 4 ohms of impedance and 60 watts RMS.
Not to mention, with a sensitivity rating of 90 dB, you can be sure to hear crisp sound even at high volume. Most importantly, the bass response is excellent. In fact, the bass is miles ahead of most other speakers on the market with how punchy and responsive it is.
Every aspect of the Kicker 43DSC6504's design is focused on going that extra mile to ensure unrivaled sound quality. To illustrate, it comes with domed PEI tweeters to make the highs as crisp as possible and polypropylene woofers for excellent mid bass.
What We Like:
Amazing value for the money

Excellent sound quality across all ranges

High sensitivity
What We Don't Like:
Push-on connectors are a little tight

Inconvenient positioning of attachment screws
Bottom Line
If you're looking for excellent coaxial speakers that are worth every penny, the Kicker 43DSC6504 are the speakers for you.
Shopping for 6.5 speakers on a budget shouldn't mean compromising sound quality with those Pyle speakers capable of carrying the low, mid, and high ranges to such fineness and clarity.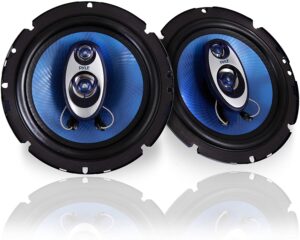 The PL63BL features a striking blue poly-injection cone that adds a splash of color while also offering considerable sturdiness without being too heavy. 
You don't need to worry about the durability of these speakers. They're surrounded by butyl rubber to increase the speakers' shelf life by enduring very challenging environments such as high temperatures, humidity, and extreme sunlight.
The PL63BL has a sensitivity of 89 dB. While that is slightly lower than most other speakers on this list, the difference is minuscule and unnoticeable, and it's still higher than your average 6.5 speakers.
Moreover, the Pyle speakers come equipped with a ¾ inch piezo tweeter that will surely catch all the nuance of your music and offers a well-rounded full range triaxial audio. 
They also have a frequency rate of 95 Hz to 20 kHz, which is mostly acceptable. Seasoned audiophiles, however, may find the bass a bit lacking because the bottom frequency is not low enough to give that extra punch.
What We Like:
Quality sound at affordable price

Butyl rubber surrounding

Powerful tweezer

Cool design
What We Don't Like:
Flimsy wiring

Subpar bass
Bottom Line
The Pyle PL63BL are great speakers that wouldn't break the bank. They offer a respectable build and sound quality whose only drawback is the lackluster bass. If that's not a huge issue for you, there's no need to fork out for more premium models.
JVC's CS-J620 is another great choice if you're shopping on a tight budget. Offering great value for money, the CS-J620 are 2-way coaxial car speakers that provide great sound quality with minimal distortion.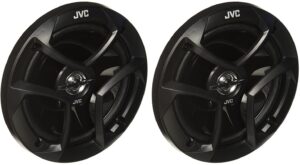 The competitive price of those coaxials doesn't mean a compromise in their build materials. In fact, these speakers are designed using high-quality materials that'll last a long time. 
To illustrate, the tweeters are made of Poly-Ether Imide and Neodymium magnet that not only ensure the durability of the speakers thanks to their high tensile strength, but also help produce a detailed high range and a smooth mid range.
Moreover, the woofers are made of sturdy elastic mica, and grilles of this unit are made of rigid Black ABS composite material. Not to mention, these speakers are water-resistant, so don't worry about the quality of sound deteriorating if they get wet!
The speakers have a high sensitivity rating of 92 dB. Their RMS power handling is rated at 30 watts, and while that isn't as high as the other speakers on the list, they can still be paired with a small external amplifier to boost the sound.
What We Like:
Great value for money

Reliable design and protection

Easy to install
What We Don't Like:
Bass quality could be better

May need to be paired with amplifier
Bottom Line
The CS-J620 are certainly capable of getting the job done, and they're a good choice for first-time buyers thanks to their easy installation. However, if you'd rather not buy an additional amplifier or if a good bass is essential to you, then you should check out other models.
A less-than-perfect bass seems to be a recurrent complaint of many discerning buyers of 6.5-inch speakers. This is certainly not the case for anyone who chooses to buy the Pioneer TS-A1670F.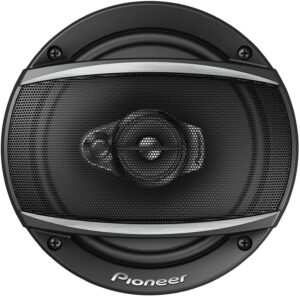 This is another set of speakers on our list that features a 3-way design, which allows it to do its job more efficiently and produce crisper and better sound quality. In fact, the TS-A1670F is designed from the ground up to allow you to hear every little nuance in the music. 
It features a carbon and mica reinforced woofer cone. This means that your woofer cone is both lightweight and super rigid, keeping distortion to a minimum, so your bass sounds clean. It also allows your amplifier to easily control the motion of your woofer, resulting in great power handling and top-notch sound quality.
Additionally, it has a polyethylene terephthalate (PET) hard dome tweeter that offers exceptionally dynamic sound and deeper bass.
The Pioneer TS-A1670F boasts a wide frequency range of 35 to 31 kHz, which means they can definitely deliver in the low, mid, and high frequencies.
The speakers are also rated for a sensitivity of 87 dB, and while that's lower than most speakers in its class, it's still acceptable, and you can always pair them with an amplifier for a higher volume.
As for the tech-savvy crowd, Pioneer's CarSoundFit app allows you to control your speakers from your smartphone. Talk about an upgrade from your old, boring speakers!
What We Like:
Excellent bass

Easy installation

High power handling capacity

Mobile app control
What We Don't Like:
Produce too much vibration

May not fit in all cars
Bottom Line
The Pioneer TS-A1670F speakers are a great investment that will allow you to enjoy every guitar riff in your favorite song, and when the time comes for the bass drop, you'll certainly be able to enjoy it to its fullest.
If you're looking for speakers that perform really well, will fit just right in your small car, and won't cost you a fortune, then these 3-way coaxial stereo speakers from Rockford are the ones for you. The R165X3 are very compact, measuring 7.1 inches long, 8.1 inches high, and 10.9 inches wide. Their mounting depth is  2.15 inches, which makes them an excellent choice for smaller cars.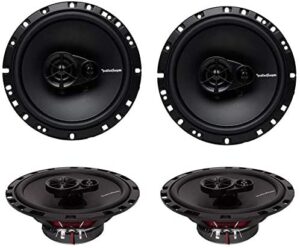 The speakers are 3-way, meaning that the midrange drivers, woofers, and tweeters are separate. This offers a considerable improvement in sound quality compared to the more common 2-way arrangement in standard speakers.
Moreover, they have a relatively high sensitivity of 91 dB, offering a wider volume range. The R165X3 power rating handles a continuous power of 45 watts, with their peak output power being 90 watts. Additionally, their nominal impedance is around 4 ohms, which is pretty standard for car speakers.
The R165X3's sound quality is very crisp and clear, with very minimal distortion that could only be heard at extremely high volumes. However, if you're the type of person that always cranks up the volume, you may want to consider pairing it up with an amplifier or looking elsewhere.
While the R165X3 offers excellent midrange frequencies, it sorely lacks in the bass department. If you don't plan to pair your speakers with a subwoofer, then you'll be better off getting another pair of speakers that can give you that extra punch.
What We Like:
Excellent high and mid ranges

High-quality materials

Affordable price

1-year warranty

Comes with mounting kit
What We Don't Like:
Lackluster bass

Slight distortion at high volume
Bottom Line
The R165X3's excellent sound quality and midrange frequencies make them a great choice for anyone who appreciates clarity and doesn't care too much about having a punchy bass. 
7.
JBL CLUB6520
– Best for Durability
When you buy a JBL, you can be certain that you're not only paying money for great sound quality, but also for the comfort that comes with knowing that you're investing in speakers that'll last for a long time.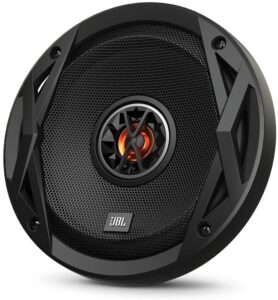 The CLUB6520 is designed with quality and durability in mind, with the included UV-resistant polypropylene PlusOne cone ensuring a balanced performance regardless of any extreme climatic conditions.
The speakers feature ¾ inch PEI balanced dome tweeters that are specially dedicated to the delivery of incredible high notes, with other mid-range drivers handling their respective ranges.
The speakers' sensitivity is rated at 92 dB, which means that you can listen to music at a high volume without sacrificing audio quality. Moreover, their frequency response is rated at 20-55 kHz, which also provides a wonderful listening experience.
In fact, the CLUB6520 has many shared qualities with the previously reviewed JBL GTO609C, resulting in a very comparable sound befitting JBL's household name, this time at only a fraction of the latter's price.
However, the CLUB6520 fares slightly worse at high volumes with some noticeable distortion. This is likely because it lacks the GTO609C's carbon-injected woofer cones, which provide additional dampening of sound.
What We Like:
Durable build

Crisp and bright high notes

Excellent sound quality at high volumes

1-year warranty
What We Don't Like:
Bottom Line
What good are speakers that have a long shelf life if their music quality is subpar? The CLUB6520 are excellent speakers that'll last for years to come while providing you with excellent audio quality.
Features to Consider When Shopping for 6.5 Speakers
Power Handling
Measured in Watts (W), the power handling of speakers means how much power it can bear without being destroyed. Speakers have two power ratings: an RMS (continuous) rating and a peak rating.
The RMS rating is the continuous power the speakers can handle without getting damaged. The peak power rating, on the other hand, is the absolute maximum amount of power a speaker can utilize in a short burst.
Peak power ratings are of little practical use, and can be misleading when buying your speakers. What you need to pay attention to is the RMS rating, since this is what determines how powerful your speakers will be.
Sensitivity
Simply put, the sensitivity of a speaker, measured in decibels (dB), is how loud it can output sound compared to the power consumed by it in order to do so.
Speakers with a high sensitivity rating can generally get louder with less distortion. The average sensitivity rating of speakers is around 87 dB to 88 dB, so if you need crisp sound at high volume you should aim for a sensitivity rating of over 90 dB. 
Coaxial vs. Component Speakers
A coaxial speaker system consists of a single box that includes all the components of the system, such as the woofer, the tweeter, and the crossover. 
By contrast, a component speaker system consists of a dedicated enclosure for each component separately, offering improved audio quality and greater customization ability.
Each setup has its benefits and drawbacks. When it comes to component speakers, they offer a generally better audio quality thanks to their dedicated enclosures compared to similarly-built coaxial speakers.
However, the improvement in audio quality often comes at a steep premium. Their various separate components can also be harder to install in comparison to coaxial speakers.
As for coaxial speakers, they are designed with cost and space saving in mind. They require less materials to build and are generally more economical to buy. They also fit in almost all cars, unlike component speakers that have installation and space requirements.
Therefore, it all comes down to your budget and how much you care about sound quality. If you're an audiophile and price isn't an issue for you, you should get component speakers. 
But if you're shopping on a budget, then a coaxial system should suffice, and you can find some really great coaxial models that sound almost as good as component speakers.
2-way vs. 3-way Speakers
A 2-way speaker system has two drivers, which are the cone-shaped vibrating part of the speaker that produce sound. 
It has a woofer and a tweeter. Frequencies from 2kHz downwards are produced by the woofer, while those above 2kHz are handled by the tweeter.
2-way speakers are generally cheaper. The problem lies in the fact that woofers are tasked with reproducing both bass and mid-range sounds. In reality, the lower bass is often sacrificed as most systems end up filtering it to maintain good sound quality.
On the other hand, a 3-way system has 3 separate drivers for bass, mid, and treble. Since the sound is channeled into three dedicated drivers, it tends to be purer.
Woofers work to reproduce lower audio frequencies from about 2 to 200 Hz, which is the bass range. The second range, also called the mid-range, is from 200 Hz to about 2 kHz. As for the tweeter, it produces higher frequencies that vary from about 2 Khz to 20 kHz, which is called treble.
3-way speakers can either be coaxial or component systems. Coaxial 3-way speakers include all three drivers in a single box, whereas component ones have each speaker in a separate box.
Generally speaking, a 3-way system produces better sound quality than a 2-way one made with the exact same materials. They can also produce better bass because they have a dedicated woofer.
However, they tend to be more expensive than 2-way speakers. Moreover, since sound quality is also determined by other factors such as build materials, there are many excellent 2-way speakers out there that sound just as good as 3-way ones.
Is Upgrading Your Current Car Speakers Worth It?
Definitely! 6.5 speakers are a major upgrade from your car's factory-installed audio components. This is because stock speakers are usually designed with the average consumer in mind.
Any audiophile that cares about audio clarity and bass will notice a huge difference if they get a new set of speakers from a tried and true audio brand. 
Final Verdict
We have reviewed the best 6.5 speakers across various price points to help you pick the one that best fits your budget and your needs, and generally speaking, the set of speakers you decide to purchase should be based on what you want to get out of them in order to avoid overspending. Just remember to look for a good RMS rating, low impedance, and a mount size that would fit in your vehicle.
If you're shopping on a budget, you can still find great deals from reputable brands. We recommend checking out the Pyle PL63BL as they offer excellent value for money. 
For the discerning audiophile who thinks a good bass is of the utmost importance, both the JBL GTO629 and Kicker 43DSC6504 will deliver on that front, although the latter comes at a more affordable price.