ASMR is one of the most popular ways to relieve stress and anxiety. Whether you're trying to have some good sleep at night, do yoga or other relaxation techniques like meditation, you'll need a high-quality pair of headphones to help you experience the effects of ASMR. This is why we made you a list of the best headphones for ASMR that are currently available on the market.
Comparison Table:
The 6 Best Headphones for ASMR in 2021
There are multiple reasons why these headphones are perfect for ASMR, including comfort, wireless connectivity, and excellent audio quality.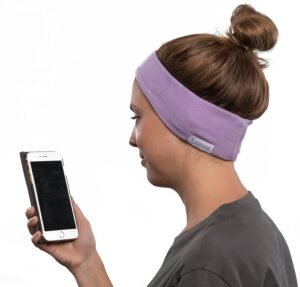 The AcousticSheep SleepPhones are flat and padded, so you can wear them in bed for many hours. Unlike most sleeping headphones that are only comfortable when sleeping on the back, these ones are comfortable in all positions, particularly for side sleepers. Surely, you'll be able to feel something between your ears and the pillow, but the padding makes them tolerable.
Another thing that makes AcousticSheep one of the best headphones when it comes to comfort is the fabric headband. It might look like it's made of mesh; however, it's mainly made of polyester, so it's stretchy. This means that you don't have to worry about morning headaches from having a tight headband tied around your head all night.
You can wash the headband in a washing machine, but first, remove all its contents. Once it's out of the machine, let it dry then put the speakers and the module back in. Removing and putting the speakers back in the headband won't take more than a couple of minutes.
The sound quality of these headphones is outstanding, even when you're listening to podcasts. They might not feature the strongest bass or the brightest tones, but this makes them a better option for ASMR. Also, one of the most important things when choosing headphones for ASMR is clarity, and these headphones can offer crystal clear sound that can instantly get you immersed.
Moreover, the control module features three buttons to help you adjust the volume, change tracks, and pause or play music. This gives you a great advantage because you don't have to use your device to control the tracks. Accordingly, you won't look at a lit-up screen and lose sleep.
As mentioned above, the headphones feature wireless connectivity, the range of which is 15-30 feet. Additionally, you can charge the built-in batteries using a micro-USB cable. The battery life is about 8 to 12 hours with each full charge. This is not so long when compared to other wireless headphones, but it's certainly enough to get you through the night. 
Pros: 
Comfortable 

Stretchable headband

Machine washable 

Clear and clean audio 

Features Bluetooth connectivity 

Decent battery life
Cons: 
Doesn't feature noise cancellation 

A bit too pricey 
Bottom Line
The AcousticSheep headphones will help you relax and go to sleep. Although there are many other options that can offer louder sound, they're not as comfortable, which is an essential factor when choosing good headphones for ASMR.
2.
COWIN E7
– Best Value for Money
COWIN E7 is one of the most affordable noise-cancelling headphones that are currently available on the market. Besides, they have other features that make them a great option for meditation, yoga, and relaxation.
Starting from the design, these headphones are really comfortable with thick padding, yet they're lightweight. Moreover, the headband is adjustable, but it can't be extended enough to accommodate large heads. You're in luck if these headphones fit you because they can offer an amazing listening experience. Meanwhile, the clamping action can be really strong for those with larger head sizes.
The COWIN E7 features Bluetooth connectivity. Although the company didn't specify the wireless range, I find it one of the best in the market. When I was testing the headphones, I went into another room without losing the connection. Later on, I looked it up, many customers experienced the same thing, and some even claimed the range was up to 40 feet when they tested it themselves.
Regardless, when you throw the easy controls into the mix, the headphones become hard to beat. At first, I thought the layout was a little cramped, but once you get used to where everything is, it becomes a piece of cake. As for battery life, you'll get an amazing 30 hours per charge.
Last but not least, the pair has built-in microphones that feature professional Active Noise Cancellation technology that can significantly reduce even the loudest ambient noises. This will help you focus on the ASMR video, so it guarantees a great listening experience.
With all that being said, the only reason why I recommend this headset for meditation or stress relief rather than sleeping is that they're bulky. While they are really comfortable to keep on for prolonged hours, they're not as comfortable if you're in bed, especially for side sleepers. However, they offer great performance with other purposes of ASMR. 
Pros: 
Comfortable 

Affordable 

Feature Bluetooth connectivity

Wide wireless range

Easy controls 
Cons: 
Bottom Line 
If you're looking for an affordable pair of headphones that will help you relax and focus on what you're listening to, then the COWIN E7 should be on the top of your list.  They come with a soft case to protect them from scratches and also, to be easier to travel with.
A lot of people enjoy in-ear headphones because they're much lighter than their over-ear or on-ear counterparts. However, when it comes to ASMR, there's always a fear of cutting the cable in your sleep. Also, in-ear headphones are not the best for noise cancellation. The good news is, you can put these fears aside with the Shure SE215, and this is why I think it's another excellent option for ASMR.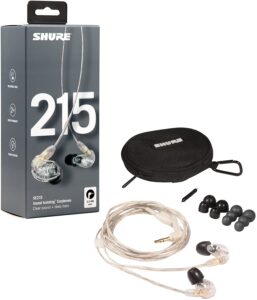 To start with, the cables have been reinforced to increase durability. Therefore, you can take these headphones to bed and enjoy as many ASMR videos as you want without having to remove the headphones right before you go to sleep. In addition, they come with a compact case that provides even more protection and makes it easier for the user to travel with the headphones without getting tangles.
Furthermore, these headphones come with three different sets of sleeves of different sizes so that you can always find the perfect fit. This also makes the Shure SE215-CL a comfortable option for those who use their headphones for extended hours. Also, the sleeves are sound isolating with the ability to reduce up to 37 dB of background noise.
Another thing that makes these headphones a good option for ASMR is that they offer great details and excellent audio accuracy. Although you might notice that the bass can be a little over-emphasized sometimes, it's never strong enough to mask other ranges; thus, you'll still end up with excellent sound quality. 
Pros: 
Great sound quality 

Excellent details 

Efficient noise isolation

Three sets of sleeves

Reinforced cables 

Come with a compact case 
Cons: 
A little too expensive in comparison to other earbuds 
Bottom Line 
If you prefer earbuds, don't push yourself to get used to using large headphones for ASMR in attempts to get more clarity and details. Instead, you can opt for the Shure SE215-CL and get the premium quality required for ASMR audio.
As you can tell from the title, the main reason I chose the Bose QuietComfort II as one of the best headphones for ASMR, is that it features noise cancellation. It's not just that, but the technology is among the most efficient you can currently get.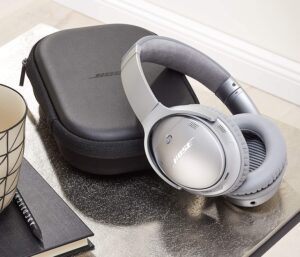 It comes in three different levels, high, low, and off. Accordingly, unlike other headphones that only allow you to either turn on or off noise cancellation, you can choose the degree of noise cancellation that you're more comfortable with.
This gives you two advantages that you lack with other headphones. The first is that if you choose the lower level, you'll save some battery life, while still using noise cancellation. The second is that if you usually find the pressure that builds up with noise-canceling headsets troublesome, you can set the headset to the lower level to get some relief. 
Moreover, the Bluetooth connectivity of the Bose Quietcomfort is quite stable. You'll get a wireless range of 30 feet; ergo, you can leave your phone away from your bed and still manage to navigate through different ASMR audios to help you fall asleep. Additionally, the Bose QuietComfort 35 II features a user-friendly interface owing to Alexa-enabled voice access. This means that you don't have to reach for any buttons to skip a song or adjust the volume. 
The Bose QuietComfort is less bulky than the COWIN E7, so they might be a bit more comfortable to take to bed, although it's more practical to use it for other purposes. All in all, these headphones provide excellent audio quality with sharp and accurate tones. 
I recommend these headphones for ASMR, listening to music in general, gaming, and even working in a noisy environment. There's a lot that you can do with these headphones, and that's why they're a bit expensive. 
Pros: 
Durable 

Comfortable 

Wide wireless range

20 hours of battery life 

Amazing sound quality 
Cons: 
Bottom Line 
As mentioned in the review, there's a lot that you can do with the Bose QuietComfort 35 II, all that you need to do is download the Bose App on your smartphone and adjust different audio profiles to get the best out of your listening experience regardless of what you're using the headphones for. 
5.
TOZO T6
– Best Wireless Earbuds
Next, we have one of the most popular headphones that offer great functionality at an amazing price. The TOZO T6 are wireless earbuds that make an outstanding alternative for the Shure SE215-CL for those who don't feel comfortable using wired headphones in bed. Additionally, these headphones are way less expensive than Apple's AirPods, not to mention, they're not only compatible with iOS, but they're supported by Android and Windows as well.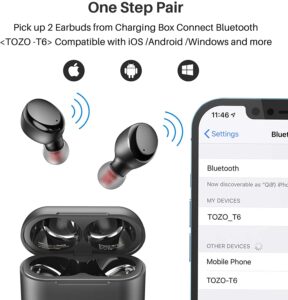 Jumping to the sound quality, these headphones feature a HI-FI Stereo system, so you can rest assured that you'll enjoy the sound of the TOZO T6.  They're comfortable, and they come with six different sleeves, so you can choose the most appropriate size. 
Moreover, the touch controls make the headphones user-friendly, and you can easily connect the headphones to your phone as soon as you take them out of the case. All that you need to do is to go to your Bluetooth settings, search for the headphones, and they'll pair immediately.
Another thing that makes these headphones a convenient option to use for ASMR is that the wireless range is from 25 to 40 feet. Also, the case provides a 24-hour worth of battery, whereas the earbuds themselves can handle up to 6 hours of continuous playtime. Lastly, you don't have to use a wired charger to charge the case. Instead, you can use wireless charging, which is a great advantage over the three AirPods series. 
Pros: 
Affordable

Durable 

Comfortable to wear

Excellent sound quality 

Waterproof 
Cons: 
Average battery life that lasts for 6 hours only
Bottom Line
You can use these headphones for many purposes, not just for ASMR, and since they're waterproof for up to 1 meter, you'll find them convenient in many circumstances. 
CozyPhones Sleep are the most economical headphones that you can get for ASMR in order to induce sleep.  The headphones are extremely thin; therefore, you'll find them comfortable regardless of your sleeping position. Even if you felt a little discomfort with less thick pillows, adjusting your head position will make things right.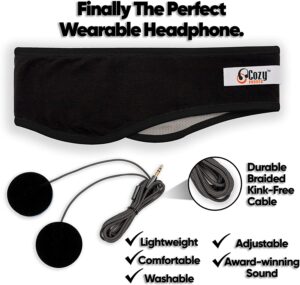 The sound of the CozyPhones is pretty decent, yet the bass can be a bit weaker than it should be. Also, these headphones don't feature noise cancellation, although the headband itself passively blocks some noise. Noises produced from closing doors and dripping water won't reach your ears, but you'll still hear the car horns from outside.
If you're having trouble falling asleep because of the noises at night, you can try using earplugs underneath the headband, and you'll still be able to listen to ASMR audio because the speakers come in an on-ear design.
Unfortunately, these headphones are wired, which means you'll struggle a little if you're an iPhone user. One way to tackle this is by using a lightning-to-headphone-jack adapter that allows you to connect the 3.5mm jack end to your iPhone. 
Another thing that you can try is to use a loop Bluetooth receiver and consequently turn the headphones to wireless ones. Personally, I find the second option more convenient, but of course, you can choose whichever you like. 
As for the headband, you don't have to worry about any unnecessary tightness because it's 1.5m long, so it can accommodate the largest head sizes, and it's also super soft and adjustable.   
Pros: 
Affordable 

Comfortable with soft fabric 

Decent sound 
Cons: 
Don't feature noise cancellation 

Wired

Weak bass 
Bottom Line 
You should consider the CozyPhones Sleep headphones if you're on a tight budget, but you still want to get headphones that will help you fall asleep. 
How to Pick Headphones for ASMR
Detail Retrieval
ASMR videos are all about detailed audio. The right headphones should pick up these details to provide the listener with all the possible triggers of ASMR. However, the level of detail shouldn't be at the expense of the sound quality. 
In other words, some headphones are too detail-oriented to the extent that the sound turns out to be more aggressive than it should. Instead, you should find a pair that can pick the finer details without over-emphasizing any of these details so that you can end up with a smooth listening experience.
Sound Signature
Each pair of headphones is designed for a different reason, and thus, they don't amplify sound in the same manner. Alternatively, each headset amplifies some frequencies over the others to produce a unique sound profile. This is what produces the sound signature, which can be described as neutral, analytical, warm, bright, etc…
For listening to ASMR, you choose headsets that provide a neutral sound signature because they don't mask any details and, thus, make you capture clear relaxing sounds with great transparency. Additionally, neutral signatures allow the user to listen to all the elements of the sound, which is why many artists use these headphones in studios.
On the other hand, if you choose a bright treble, the audio will be more metallic, and if you choose a deeper bass, other frequencies will sound out of place. 
Type of the headphones
Headphones come in two styles; closed-back and open-back. There's no specific design for ASMR; it stays a matter of personal preference. Yet, it's essential to know how each of these two affects ASMR to be able to choose the option that suits you more. 
Closed-back Headphones 
These headphones are designed to block the background sound, and thus, they can reduce the ambient noise for up to 10 dB. The advantage of using a closed-back headset is that you'll fully focus on the audio without being distracted by anything happening around you. However, you might feel some pressure that's building up inside the ear cups, which can change the sound quality a little. 
Open-back Headphones 
With open-back headphones, there's no isolation from the surrounding sounds, and accordingly, you might get a bit distracted by the noises coming from outside or if someone is watching the T.V. Regardless, these headphones allow the pressure produced in the drivers to be relieved, and hence, you won't struggle with the sound quality. Additionally, the open-back headphones help with sound neutrality and blend the sound with the surrounding environment. That said, it's better to go with these headphones if you watch the ASMR videos in a quiet room.
Design of the Headphones
Over-ear Headphones 
Over-ear headphones are popular for delivering the best sound quality possible because they entirely cover your ears, and thus help with noise isolation. However, if you listen to ASMR videos to help you fall asleep, these headphones won't be the best thing to go with. This is only because they're the largest, so it's not comfortable to keep them on while going to bed.
On-ear Headphones
Unlike over-ear headphones, these ones are a bit smaller, and they cover the ear canal rather than the entire ear. They make a good alternative for those who like large headphones, but they don't want to be stuck with exceptionally large ones. Meanwhile, they're still not the most comfortable option to go with when it comes to comfort. 
In-ear Headphones 
In-ear headphones are the most comfortable, and the ones I usually recommend for ASMR. Yet, they're the worst when it comes to noise isolation. Unless you're using them in a quiet bedroom, you'll find yourself struggling with the noises. Meanwhile, some in-ear headphones feature extra parts to block out some of the background noise.
Noise Cancellation 
As mentioned earlier, noise cancellation can easily mask some of the notes while listening to ASMR audio, particularly bass sounds. Although it might seem like a small issue that you can simply get over by turning up the volume, by doing so, you'd be inducing a type of hearing loss that's caused by excessively loud noises. 
The best way to manage this is by getting closed-back headphones. That's to say that you live in a rather quiet environment. True, these headphones don't prevent all the noises from reaching your ears, but at least they reduce them. 
On the other hand, if you're serious about noise reduction, you should opt for headphones that feature active noise cancellation. Instead of reducing the surrounding ambient noises, these headphones pick them up and draw them out completely.
Impedance 
The impedance is defined as the resistance of the headphones to the electric signals. It's crucial to pay good attention to this because if the device you're using doesn't supply the headphones with sufficient power, the sound of the headphones will be weak. Consequently, you'll have to look for a new pair, use an external amplifier, or use a different device that can provide more power. 
Final Thoughts
Because ASMR is an auditory-focused activity, it's essential to look for high-quality headphones that can help you have a trouble-free experience. Although the choice stays yours, it's safe to say that the AcousticSheep SleepPhones are currently the best headphones for ASMR if you're struggling with falling asleep. If these headphones are beyond your budget, you can try the CozyPhones Sleep headphones as an alternative. 
Meanwhile, the TOZO T6 is the best option for those who prefer earbuds, whereas the Bose QuietComfort 35 II is a better option for noise-canceling, which can be used for doing yoga and other relaxation techniques.