Closed-back headphones are headphones designed with ear cups that are completely sealed on the outside. They encircle your ear completely, preventing any sound leakage or entrance of external sounds. This containment of sound due to the closed chamber design leads to much better bass. 
The market is, without a doubt, chock-full of closed-back headphones of all different brands. Therefore, they give consumers the freedom to choose from a wide variety of all price ranges.
Today, we've narrowed down these vast markets into a list of the seven best closed-back headphones that you can find today.
At a Glance:
Audio-Technica ATH-M50x – Best Overall

Sony MDR7506 – Runner-Up

Beyerdynamic DT 770 – Most Comfortable 

Sennheiser HD280PRO – Most Practical 

V-MODA M-100 – Best Build

Status Audio CB-1 – Best Recording

Edifier H840 – Best Budget – Best Budget
The 7 Best Closed-Back Headphones in 2021:
Now that you've gotten to know our products, let's not waste any time and get right into their detailed reviews. That way, each one of them can convince you why they're worth your investment.      
The Audio-Technica ATH-M50x is genuinely one of the best pairs of headphones that you'll ever try. They offer a superior balance between the definition of high frequencies and vocals, giving you the freedom to use them, however you want.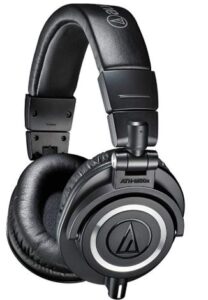 If you're doing some mixing, production, or you just want them for your everyday use, such as commuting or perhaps even studying, they'll do the job perfectly. 
These closed-back headphones are wired, and they come with three options in the box in order to adapt to your needs. If you need a long cord, you've got it, a short one, you've also got it, and if you want a coiled wire for extra protection and freedom, then guess what? You've got that too. 
The design of these headphones is all about comfort and practicality. They come with an adjustable headband, 90° swiveling earcups that allow for one-ear monitoring, and professional-grade oversized circumferential earpads that totally engulf your ears. 
Additionally, these headphones are foldable, and they come with their own pouch for their protection. 
Furthermore, the sound quality created in such conditions could hardly be any better as those ear pads allow for premium quality of sound along with different frequencies. Moreover, the passive noise cancellation offered by these headphones is truly a fine sample. You don't need to reach the highest volume level and damage your eardrums in order to achieve it. 
One more thing is that the design of these headphones is quite stylish. The logo of Audio-Technica is imprinted in the center of the ear cup with a bright ring around it that cuts through the one color look. 
Sadly, just like all products, the Audio-Technica ATH-M50x comes with its own disadvantages, which include the absence of active noise cancellation, which could've boosted these headphones quite a few notches. Plus, there are some problems with quality control.
Pros:
Great design 

Excellent sound quality on all frequencies

Stylish design

Versatile 
Cons:
No active noise cancellation 

Quality control 
Final Verdict
The Audio-Technica ATH-M50x  is a pair of headphones for all users and uses. You'll definitely be able to get your money's worth out of your investment in them through great sound quality and a comfortable design that'll allow you to listen for hours on end without setting off fatigue.
Sony is definitely one of the pioneers in the world of technology, and if their products are going to agree on just one thing, it'll have to be durability, and that they certainly do stand the test of time. 
This model here is no different, as it's robust, comfortable, budget-friendly, and has the ability to re-create warm, well-differentiated sounds. That's why the Sony MDR7506 stands as the runner up to the Audio-Technica ATH-M50x.
They enjoy an extremely comfortable and durable design as they are made entirely out of premium plastic with simple padding that is highly effective at cushioning your head. The sizable oversized diaphragm of these headphones also helps a lot with how it hugs your head rather than pressuring it. 
Add to that the fact that they're foldable and come with a protective case, and you'll add portability to the long list of these headphones' virtues.
As for the sound quality, the Sony MDR7506 focuses on low frequencies while defining mid-range and high ones for creating a life-like cell that surrounds you through the closed-back design. This also allows you to listen to different genres of music without sacrificing any of them. 
Lastly, the drawbacks of the Sony MDR7506 are not major. For instance, the cable is not detachable and doesn't come with any replacement. Therefore, you'll have to settle for the length and connection that your cable will come with. Another thing is that they don't come with active noise cancellation, only passive.
Pros:
Durable

Budget-friendly

Simple design

Natural warm tones

Foldable 

Included case
Cons:
Non-detachable cable

No active noise cancellation 
Final Verdict
These headphones are straight to the point; simple, budget-friendly, comfortable, and durable without too much hassle. They'll allow you to listen to everything without creating too many unnatural sounds.
The Beyerdynamic DT 770 is designed to provide you with maximum comfort for those long recording sessions in the studio. They create a high-quality sound no matter the frequency, and they help you pick on every single tune when you're recording.
Yet, they certainly do not stop there, as their comfort level exceeds most other headphones by miles. The Beyerdynamic DT 770 is manufactured in Germany, which ensures superior quality and robustness.
For the aspect of comfort, you'll have ear pads that are covered in silky material that works on eliminating ear pressure completely. This also takes the clarity of the sound inside the closed-back design to a whole new level. One more thing that will work on your comfort is that the cable is single-sided, offering you a lot of mobility.
Now, we'll jump back to sound quality. These headphones come in three different variations of impedances; 32, 80, and 250 ohms. The model that we're speaking of today is the 80 ohm, as it's our favorite. 
The reasoning behind that is that it serves as a middle ground between its two siblings. It guarantees an unprecedented richness of all sound frequencies so that everything you hear is sharp and clear. Additionally, the high quality of the sound created by the Beyerdynamic DT 770 is also supported by the excellent passive noise cancellation provided by the encircling design.
As for the disadvantages, they're quite similar to that of the Sony MDR7506, as they also come with a fixed wire that you cannot exchange, therefore, limiting you to an extent. Plus, they come without active noise cancellation.
Pros:
Silk-covered earpads

Superior recording 

Adjustable headband

Great sound quality 
Cons:
Non-detachable cable

Only passive noise cancellation 
Final Verdict
The Beyerdynamic DT 770 is all about enjoying your long work sessions if you work in a studio. They'll help you through mixing and recording all the same while managing to effectively cushion your head and ears as comfortably as possible.
The Sennheiser HD280PRO is all about staying with you for as long as possible, while still managing to provide you with premium sound quality throughout their many years of use. How exactly do they prove their worth and sturdiness? 
The answer is through practicality in the form of replaceable parts. This is not normally seen with your average headphones; however, most parts are easily replaceable with the Sennheiser HD280PRO, such as the earpads, headband padding, and the audio cord. So, you can easily restore your old headphones to their brand new condition with a few replacements.
Moreover, these headphones are quite lightweight and have padding all over them, including the oversized earcups. They're also foldable into a compact size that facilitates carrying them around.
As for the sound quality provided by these headphones, it's fine as it will ever be. One thing that distinguishes these headphones will have to be the obvious separation of sounds between the left and right earphones. This helps to create a sound that is incredibly balanced and sharp.
Nevertheless, the bass is well-defined yet not too overwhelming. You won't feel like it's intruding on all of your music. Lastly, the passive noise cancellation here is quite enough as it does its job perfectly.
What we don't like about these headphones would have to be, as we mentioned before, the flimsiness of its parts, even though they're easily replaceable. Plus, of course, again, the absence of active noise cancellation.
Pros:
Replaceable parts

Great sound quality

Excellent passive noise cancellation 

Comfortable 

Foldable
Cons:
Parts aren't so durable 

No active noise cancellation 
Final Verdict
If you like listening to moderate bass that's incredibly emphasized, yet won't overcome everything else that you're listening to, and you are up for frequent replacements of parts, then the Sennheiser HD280PRO is an excellent choice for you.
This pair of headphones is one of the most unique ones that you'll ever see. The hexagonal design and overall shape of the V-MODA M-100 are eye-catching, which means that you can hardly misplace it or switch it with somebody else's somewhat regular looking headphones.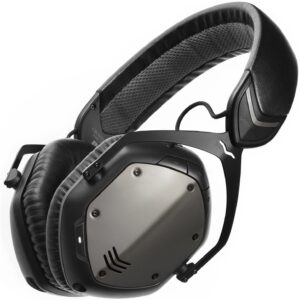 Although that's a great advantage, the V-MODA M-100 holds so much more to its name than just that. They're one of the most durable headphones that you'll ever find with their steel Kevlar-reinforced frame and steel flex headband that is covered by vegan leather.
Moreover, the build of these headphones is resistant to different elements meaning that you don't have to worry about taking them out in any weather condition as they are immune to extreme temperatures, salt spray, UV-light, and humidity.
Now that we've spoken about the outside, let's talk about the product of these headphones. They operate using a completely detachable wire and can be switched out for other cables with different characteristics to suit your needs.
The diaphragm itself is a dual one with inner and outer rings that help emphasize the bass while still keeping it from overwhelming the other different frequencies no matter how high or low they are. 
Comfort and practicality are definitely on the list of attributes that the V-MODA M-100 brings, too. We've previously skimmed over the hexagonal design, but the thing is that it's not just for looks. This design has been proven to fit the human ear's contours much better than the round/oval design.
Add to that the ergo-soft foam cushions fitted to the ear cups, and you'll find yourself quite comfortable no matter how long you wear these headphones.
Naturally, you must expect that all of these features will not come for a small price. One of the major drawbacks of these headphones will have to be its price tag, which can dissuade a lot of people from purchasing them. 
Also, the plastic clips that hold the earpads where they're supposed to be are not as durable as the rest of the headphones. They've been known to snap every now and then, and the company, unfortunately, does not provide replacements. 
Lastly, just like all of its peers, these headphones don't enjoy active noise cancellation.
Pros:
Kevlar-reinforced frame

Durable

Unique design

Detachable cable

Award-winning M-class sound tuned

Foldable

Comfortable 
Cons:
No active noise cancellation 

Quite expensive 

Plastic clips
Final Verdict
If you're not scared to break the bank and spend this sum of money on a pair of headphones, you should go for it. These headphones will definitely prove their worth through long periods of excellent sound quality.
For the price point of these headphones, you'll get a truly fantastic recording experience. The microphone system implemented in these headphones is capable of picking up on every little sound around you, and the oversized overstuffed earpads will have you consumed with what you are doing.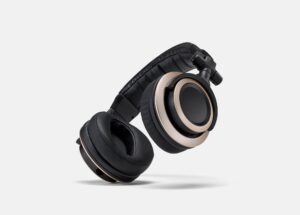 Nevertheless, the Status Audio CB-1headphones can be used anywhere, and for anything, mixing, production, recording, and personal everyday use are all within its capabilities. It comes with two detachable cables, one straight and one coiled in order to suit all of your different needs.
We've previously spoken about the overstuffed earpads, but that's not the end of this great design. The headphones come with a one-sided cable and an adjustable headband that is padded in order to adapt to the contours of your head.
Moreover, the Status Audio CB-1 is foldable into a compact size; therefore, it's portable and has the chance to enjoy a much longer, much more protected lifespan. 
Lastly, the exterior design of these headphones is quite dashing. The mix between the black and gold colors is very attractive. 
Unfortunately, the build upon which this design was established is not as strong as you'd want it to be, so all in all, these headphones could've been a little bit more durable. Plus, of course, they could've added active noise cancellation; alas, they didn't.
Pros:
Excellent microphone system 

Great passive noise cancellation 

Comfortable 

Budget-friendly

Two cables included 

Stylish design
Cons:
Only passive noise cancellation 

Flimsy build
Final Verdict
If your main goal out of choosing a pair of headphones is studio recordings, then the Status Audio CB-1 will prove to be your best friend throughout the years, especially for such a price. Just be sure to treat it as delicately as you can.
Now, these headphones are definitely a treasure. They come for an unbelievably cheap price tag while maintaining so many features and specs that are only available with high-end headphones, where you have to break an arm and a leg to purchase them.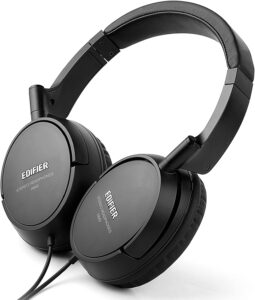 First, they're wired closed-back headphones with oversized swiveling earcups, making them so comfortable and efficient. Although the padding could've been thicker on the headband, the oversized earcups' cushioning really does take the sting off the headband's bareness. 
Moreover, they're lightweight at only 7 ounces, which makes them compatible with everything that you might want to do while having them on. 
Another thing that distinguishes these headphones from their competitors will have to be their flexibility. You can easily give them to your child and not worry about them breaking the headphones as they can bend every other way without damage.
The sound coming out of these headphones is definitely superior to what anyone would expect. Every aspect of your listening experience will be emphasized and separated. Therefore, you won't find lower or high frequencies overpowering each other or the bass.
You'll unquestionably be getting a lot of benefits for your buck, but what are the disadvantages that come with the Edifier H840? 
Let me tell you real quick, firstly, the cables here are double-sided and fixed, which can limit your mobility quite a bit. It also shouldn't be a surprise by now that they don't come with active noise cancellation. Lastly, the cables' plug has been known to be quite flimsy, so you'll need to be extra careful when dealing with it and try not to tug too much on the cable.
Pros:
Budget-friendly

Balanced audio

Oversized earcups

Strong build 

Lightweight 

Moderate clamping force

Flexible
Cons:
Double-sided wires

Fixed wires

No active noise cancellation 

Flimsy plug
Final Verdict
The Edifier H840 would be an awesome choice if you are in dire need of a good pair of headphones, but you cannot spend an obscene amount of money on one. You'll get everything that you need, as in a comfortable fit and excellent sound quality but not much more.
How to Pick the Best Closed-Back Headphones
Now is the time to go over some main features that you must be aware of before you embark on a closed-back headphone search trip.
Build
Although not a lot of people think about the build of their intended headphones, it's actually a vital aspect to consider, because the materials out of which your headphones are constructed define how balanced the equation between strength and flexibility will be. 
99% of headphones on the market have a skeleton of either premium plastic or steel. Both of these give an adequate amount of flexibility. Accordingly, your headphones will not break if they bend too much or in the wrong way. It'll always serve you well to check for that.
Noise Cancellation 
Noise cancellation is one of the most important features that any headphones must-have. The majority of headphones offer noise cancellation in its primitive form, which is the passive noise cancellation. There's also the technological form of noise cancellation, which is the active one. We'll discuss both momentarily.
Active 
Active noise cancellation is a component put into the headphones to create sound waves contrary to the exterior ones coming from the outside of your headphones. So, what happens is that the produced sound waves cancel out the unwanted ones, leaving only what you want to actually hear.
Passive
Passive noise means that the headphones' build and the earpads' cushioning help prevent sound waves from coming in from the outside world or leaking from inside. This, of course, is not a perfect mechanism as it involves way too many variables. However, it's adequate most of the time, and it works a lot better with closed-back headphones.
Wired vs. Wireless 
If you're an audiophile, then you definitely know that wired headphones will always have the upper hand over wireless ones when it comes to mixing, production, and everything related to the music industry.
Nevertheless, if you're not, wireless headphones do certainly hold a lot of advantages, such as mobility and lightness.
So, it's not really a matter of what is better; it's a matter of your own preference and needs.
Clamping Force
The clamping force is how strong the skeleton of your headphones will close on your head. This can either be soft, mild, or hard. 
A middle-ground option is usually the most popular one since you don't want your headphones to be falling off your head, and you definitely don't want them to be crushing it. They will give you constant headaches, and you will have to take them off every now and then, which cannot be efficient.
Disclaimer, though, some headphones do need some breaking-in in order to get used to the contours of your head, and that's where reviews about different products come into play.
Foldable 
Foldable headphones are bound to live a lot longer than non-foldable ones. Most of the time,  when you get foldable headphones, you'll receive a protective pouch where you can store it and throw it in your backpack without having to worry about it. 
This also means that they're protected from the elements and from any bumps or hits that could come their way. Additionally, having your headphones around your neck all the time cannot be too pleasant.
Comfort
We've talked briefly about some elements that contribute to your headphones' comfort level, such as the clamping force. Nonetheless, the major factor affecting how comfortable you'll be with your set of headphones is the padding provided all over the body.
Keep in mind that sometimes a little padding can go a long way. It's all about quality, not quantity. Also, don't forget that swiveling earcups help you a lot, especially with one-ear monitoring. Furthermore, you can place them flat on your neck and chest so that they don't bother you if you want to rest for a little bit.
As for the earpad, then silk or velour covering will both do just fine, as these two materials are incredibly soft, adaptable, and replaceable in case of damage.
Final Thoughts
This is the end of our article, so we'll give you a quick recap. We've given you a brief list of our top seven products for closed-back headphones, spoke about each of them in detail, and hopefully, you're now ready to make an informed decision, with the support of our buying guide.
However, if you're still hesitant, we're still here to help and give you a nutshell of our picks one more time.
Our first recommendation will have to be our top choice for a closed-back set of headphones, and that will be the Audio-Technica ATH-M50x. This model is all about comfort, practicality, and sound quality. They have an adjustable headband, 90° swiveling ear cups, and professional-grade oversized earpads that help keep you detached from the rest of the world. 
Our next recommendation will be our runner-up, the Sony MDR7506 headphones. They're capable of giving you defined sound over all frequencies while maintaining their portability, and they feature a comfortable design.
Finally, our last recommendation will be our budget pick, the Edifier H840, just in case you don't want to hurt your wallet too much. You can go with these as they come with a great package of features for a low price. They're also lightweight, flexible, give great balanced audio, and enjoy steel, robust build.