Having a bad set of headphones can be quite irritating. In my case, it was really bothersome to hear my music with barely any bass. 
After having a long history with terrible headphones, I've decided to get a pair of headphones that'll last long and provide me with the quality I need to enjoy my music. So, I've decided to invest at least $500 in getting new headphones.
A budget of $500 can put you in front of a wide selection of superb headphones that'll ensure comfort and quality. But, choosing a pair of headphones can be complicated and confusing, since there are many choices, and most people don't know what to look for in them.
Have no worries! Because I'm here with an insightful list of the best headphones under $500 that'll help you pick the most suitable ones for you, and we'll also discuss what you should look for in a set of high-performing headphones!
Comparison Table
| | | | | | |
| --- | --- | --- | --- | --- | --- |
| Model | Price | Weight | Impedance | Sensitivity | Frequency Response |
| Sennheiser HD 660S | CLICK FOR PRICE | 260g | 150 ohms | 104 dB | 10 Hz to 41 kHz |
| Bose QuietComfort 35 II | CLICK FOR PRICE | 235g | 55 ohms | 112 dB | 10 Hz to 21 kHz |
| Audio-Technica ATH-M50x | CLICK FOR PRICE | 285g | 38 ohms | 99 dB | 15 Hz to 28 kHz |
| Jabra Elite Active 75t | CLICK FOR PRICE | 11g | 16 ohms | 103 dB | 20 Hz to 20 kHz |
The 4 Best Headphones Under $500 in 2021
1. Sennheiser HD 660S – Best Overall
Also known as the successor to the well-known Sennheiser HD 650, the Sennheiser HD 660S is a prime example of quality and comfort. Even though the chassis is made out of plastic except for the outer grills and the inner headband, they don't miss the durability checkpoint.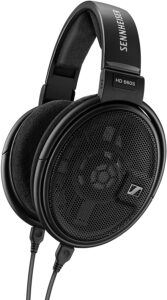 As for comfort, my history with these headphones was one of the most soothing experiences. The Sennheiser HD660S is relatively lightweight. Thanks to the chassis mostly being made of plastic, it rocks a weight of 260g.
The pads are quite dense due to the type of foam used to fill them. They're also wrapped in velour so your ears will feel in heaven while you enjoy your music. When I tried these headphones on, the inner headband felt quite lovely, and in-place and the velour on the pads helped my ears relax while wearing these headphones.
On the other hand, many people complained about how vicious the clamping is. These headphones attach to your head and never let go. In my situation, it didn't really matter as I felt it was safer when I was running and listening to music. I was sure that my headphones aren't going to drop at any moment.
Impedance is a critical factor to consider in headphones. Higher impedance means more ambient and more precise sounds. The Sennheiser HD 660S overkilled the goal of achieving high impedance as they utilize an impedance of 150 ohms, great if you use it with amplifiers.
Additionally, high impedance protects your headphones from damage caused by overloading. So, enjoy your rock music without any third-party distortion ruining it! This is one of the main reasons why this product is at the top of our list.
The Sennheiser HD660S headphones come backed up with a considerable sensitivity of 104 dB, which is exceptional; you can enjoy high volume music as much as you like. As for the frequency response, the headphones maintain a range of 10 Hz to 41 kHz. 
On the downside, I found the bass side a little lacking in these headphones, but that doesn't mean it's not good. It was still remarkable as it played all my bass-boosted songs with perfection.
If you care about style, then don't worry! These headphones boast their full matte-black finish, which contributes to the stylish look. 
I wouldn't count that as a disadvantage, but this pair of headphones is open-back, meaning they can't block the ambient noise, and they could leak sound. However, they boast an astounding 3D spatial sound reproduction.
Pros:
Wide frequency response

High impedance

Great earpad design and texture

Stylish matte black finish

Soundstage effect
Cons:
Sound leakage

Vicious clamping force
Final Verdict
The Sennheiser HD660S is the best pair of open-back headphones out there. They feature exceptional impedance, and they barely lack anything except for the noise-canceling feature. Despite having virtually no noise cancellation, they produce a realistic soundstage effect.
2. Bose QuietComfort 35 II – Runner-Up
Bose is known to be the company to manufacture the first noise-canceling headphones. The Bose QuietComfort 35 II continues to carry on Bose headphones' legacy as they use acoustic noise-canceling that'll make you feel like you're in another world while listening to your music.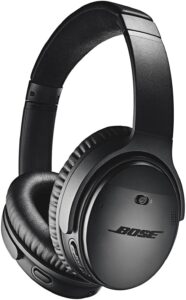 The Bose QuietComfort 35 II headband is made out of Alcantara cushion, which is a luxurious covering material used in high-end automobiles.
The ear cups are so soft that you won't even feel like you're wearing headphones as they're made of synthetic protein leather. So, comfort is ensured while using these headphones; I could keep this on all day long without feeling any pressure on my head.
Are you replacing your headphones every month because they wear out so quickly? Rest assured, the materials used in the Bose QuietComfort 35 II guarantee that they're going to survive for long. These headphones are made out of impact-resistant materials, glass-filled nylon, and anti-corrosion stainless steel.
Now you can take your headphones wherever you go without worrying about them getting scraped. And you don't have to worry about battery life as they can live for as long as 20 hours!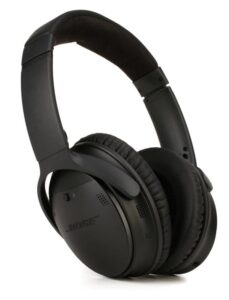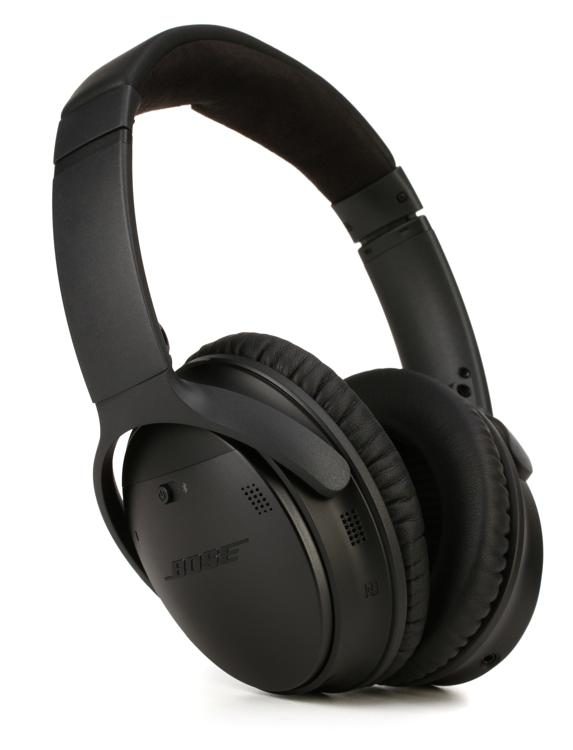 Even if you run out of battery, you can quickly charge these headphones as they support quick charging. Fifteen minutes of charging gives you 2.5 hours of battery. Low battery, no charger? You can always use the cable and keep the flow of your music going.
The 55-ohm impedance in these great headphones is good enough; you don't have to worry about your playback being unclear. The drivers used in the QuietComfort35 II utilize a volume-optimized EQ, which supplies you with a vivid audio performance at any volume level.
As for the sensitivity, these headphones play loud music just fine as it comes equipped with high sensitivity. Add that to the noise-canceling feature, and you'll barely hear any disturbance in your surroundings.
When it comes to the frequency response, these headphones are far beyond average. However, I believe the treble end is somewhat lacking compared to other headphones at the same price range. But, they're still a great choice and will play your music with good quality.
Another outstanding feature of these headphones is that you don't even need to use your hands to use them as they come with their own voice assistant. You can choose between Google Assistant or Amazon Alexa to carry out your voice commands. 
Are you feeling uncomfortable with the level of noise-canceling? Fortunately, you can choose from three noise-canceling levels and access your voice assistant by using the action button, or you can use the Bose Connect mobile app to do these tweaks.
Usually, the voice assistant could barely hear me when I'm using my old set of headphones.  That's not the case with the QuietComfort 35 II. I'm amazed by how well voice recognition works; even in crowded and loud places, the voice assistant could clearly pick up what I said.
Although the QuietComfort 35 II have all these fantastic features, there's still a disadvantage. They don't support aptX technology that compresses and decompresses audio to decrease latency, something you desperately need for your wireless headphones that inevitably suffer from input latency. Additionally, they don't have auto-play/pause.
Pros:
Google and Amazon Alexa-enabled

Industry-leading noise-canceling technology

Easy on the ears

Drivers equipped with high-quality EQ

Long battery life
Cons:
Unfoldable design

Doesn't support aptX technology

No auto-play/pause capability
Final Verdict
The QuietComfort 35 II headphones are an excellent choice for people who want a luxurious headset that cancels out all the surrounding noise and can be worn for a long period of time without worrying about battery life. I recommend them for anyone who likes to obliterate all the atmosphere around them.
3. Audio-Technica ATH-M50x – Best for Music Production
The Audio-Technica ATH-M50x is renowned for its excellent performance and high quality. These headphones are a reliable companion used by almost every professional music producer as their extended sound frequency range provides deep and accurate bass.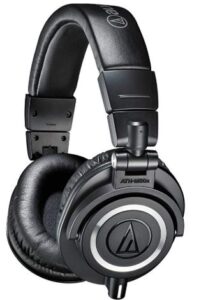 These closed-back monitoring headphones are stylish to the limit; the Audio Technica logo makes them look beautiful. The sturdy design and chunky headband make you look like a professional in the industry. They also come in four different stylish colors: blue, gunmetal, white, and black.
Audio-Technica pays a lot of attention to comfort when making this great pair of headphones as they make sure the clamping pressure isn't too strong or too weak. The headband and earpads are smooth on the ear, although they aren't wrapped in some special material.
Even though the ATH-M50x is made of plastic aside from the headband, which is made of metal, they're sturdy and impact-resistant. If you drop them or throw them against a wall, they won't break.
Regarding connectivity, these headphones are wired as they come with 3 cables: a very long 3m straight cable, with which you can walk around while working, a 3m coiled cable that most people are accustomed to, and a 1.5m straight cable, which contributes to the portability of the headphones, and guess what? They're all detachable!
If you prefer wireless headphones, you could get the Bluetooth version of these headphones, the Audio-Technica ATH-M50xBT.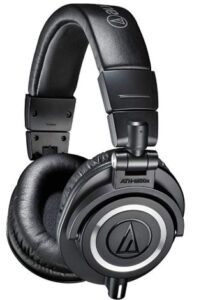 You may be wondering, how will you take these headphones around with you? Well, the ATH-M50x comes with a collapsible design that makes it easy to carry around. It's not limited to that! The package includes a stylish carrying case made of leather.
The sound quality of these headphones is brilliant. The bass delivery is rich, and the treble response is bright. However, some may consider them lacking in the midrange department. Overall, the sound is warm and balanced. I believe these headphones are the best for studio settings.
The noise-canceling of these headphones is top-of-the-line since they utilize passive noise cancelation. The over-ear cups and closed-back design contribute a lot to that. On the downside, these headphones don't have active noise-canceling, making them a little low-performing in overly crowded places.
The impedance of 38 ohms and the 99 dB sensitivity that the ATH-M50x comes equipped with ensure clear sound quality at both low and high volumes. You can enjoy making beats while using these headphones since the high sensitivity ditches the excess distortion to help you spot details. Obviously, these headphones are best for sound engineers.
Pros
Sturdy closed-back design

Amazing portability

Affordable

Designed specifically for music production
Cons
Muddy midrange

No active noise-canceling
Final Verdict
The Audio-Technica ATH-M50x headphones are the best option for people dedicated to sound engineering or music production due to their extended frequency range and rigid design. Even though they don't support active noise-canceling, the closed-back design offers a passive alternative to make up for that.
4. Jabra Elite Active 75t – Best In-Ear

Are you someone who goes to the gym almost every day? Do you hate the clamping pressure from headphones? Then, the Jabra Elite Active 75t is your savior.
The Elite Active 75t is a pair of wireless earbuds designed to match all your gym needs. The durability of these earbuds is beyond exceptional as they're sweat-proof and water-proof. You won't have to worry about sweat damaging your earbuds after an intense workout. On top of that, Jabra proudly offers a confident 2-year warranty!
Most people may hate earbuds because they usually don't fit perfectly, or they fall off. Well, these earbuds solved all these problems as they use silicone EarGels™ and special grip coating to ensure that they won't fall off while working out.
Honestly, the Elite Active 75t is one of the few earbuds that don't protrude in your ears. They don't have that long tail coming out of your ear like the AirPods. Actually, the impeccable comfort that these earbuds offer just made me focus on enjoying the loud bass while working out.
The sound quality is fully customizable with the Jabra Sound+ app, which already has different sound profiles for you to choose from, and you can make your own sound profile as well.
The battery life is pretty good for a pair of earbuds. They can live up to 28 hours or 7.5 hours of continuous use. In addition, the charging case uses Type-C charging, which charges the battery faster.
Even though the Jabra Elite Active 75t doesn't support active noise-canceling, their ability to block out noise passively is more than competent. Also, there's a feature called HearThrough, which can be accessed through a handy slider. 
HearThrough is like a volume button to the real world. You can decide how much noise you can block out so you can enjoy your powerful bass and crisp treble. I believe this makes up for the absence of active noise-canceling. These earbuds come with their proprietary voice assistant, and it recognizes your voice just fine.
On the other hand, nothing is perfect, and there are some downsides to this amazing pair of earbuds. They don't support aptX technology, and they don't have wireless charging like some earbuds.
The sound quality of these earbuds is better than I expected. The bass response is well delivered, the mids are clear, and the treble response doesn't scream in your ears.
You can also carry them anywhere as they are ultra-feather-light. The charging case weighs 35g while each earbud weighs 5.5g, which makes a total of 46g.
Pros
Gym-friendly

Passive noise-canceling with HearThrough

Customizable sound profile

High durability

Lightweight
Cons
No wireless charging

No aptX technology

Somewhat poor mic quality
Final Verdict
The Jabra Elite Active 75t earbuds are the optimal gym buddy. They're almost impervious to the adversities you throw at it: water, sweat, and impacts. While you won't worry about anything with the form factor, you can enjoy crafting your own sound profiles using the app and customizing the passive noise-canceling. What a fortune!
How to Pick Headphones
After listing our top picks for headphones under $500, the time has come to get you well-versed in the essential features to look for when picking one.
Noise-Canceling
Noise-canceling is one of the most critical features in every set of headphones. This feature reduces unwanted ambient noise. If you're looking for headphones that can block out all the noise in crowded places like airplanes, then you must make sure they support noise-canceling. 
You won't need to raise the volume excessively to block out all the noise. You can listen at any volume level without damaging your eardrums. The ear cup design can also tell a lot about how well noise-canceling fares in a pair of headphones.
There are two types of noise-canceling: active and passive. Some headphones may support both active and passive noise canceling, but what's the difference? I'll clear that out.
Active
Active noise-canceling is a technology that creates soundwaves to counter unwanted sound waves. They're integrated into the headset and don't have much to do with the headphones' exterior design. Being hardware-based, it's considered the peak of noise-canceling.
If the headphones adopt an open-back design, they won't have any noise-canceling except for the active one.
Passive
Passive noise-canceling means that the design of the headphone helps block out the noise. There's no integrated technology used to cancel out the unwanted sound waves. However, the passive type is weaker compared to the active type. Closed-back headphones are a good example of passive noise-canceling.
Portability
Portability is an important factor in headphones if you're someone who moves a lot with their headset. Some people don't mind if their headphones aren't easily carried around, but most people prefer a foldable or a collapsible design.
Connectivity
Most people prefer wireless headphones because they offer more portability. However, it's known that wired headphones are better at almost every factor.
Wireless headphones are for people who hate cables. They're considered gym-friendly as you can work out without worrying about adjusting the cable every time you do a sit-up.
On the other hand, wired headphones are for people who work in a studio setting or prefer higher performance.
Sound Quality
Impedance, frequency range, and sensitivity are all important factors that contribute to sound quality. But why are they important?
High impedance protects your headphones from damage caused by overloading and helps produce clear and ambient sounds. An average impedance would be 32 ohms.
The frequency range indicates how well the bass, mids, and treble are produced. It's advisable to opt for a range of 20 Hz to 20 kHz.
The sensitivity indicates how loud your headphones are going to be at a specific volume. High sensitivity ensures more audible sounds. Efficient sensitivity would be between 60 and 80 dB.
Comfort
Comfort is paramount when it comes to headphones. You don't want to feel like your ears are burning while having your headphones on. The padding and covers of the headband and ear cups are essential factors when considering comfort. 
There's also the clamping force. You don't want to feel like someone is holding your head tightly. But, you still don't want to feel like your headphones will fall at any moment.
Comfort is achieved by matching your personal taste. There are three types of headphones: over-ear, on-ear, and in-ear.
Over-Ear
Over-ear headphones provide an immersive feeling. The ear cups of this type are huge, and they usually weigh more than the other two types. This type is generally found in headphones made for professional settings, like monitoring headphones.
On-Ear
On-ear headphones have their ear cups affixed to the edges of your ear. In the long run, they may feel inconvenient because of the pressure they exert on your earlobes. However, they weigh less and are more portable than over-ear headphones. They outshine the rest while traveling or commuting.
In-Ear
When it comes to the in-ear type, I find them better than the on-ear type for casual settings as they weigh even less and feel more comfortable. Even though most of them are wired, there are new wireless earbuds that rival many heavy-weight headphones.
Conclusion
Now that we've reached the end of our review, we'll do a quick recap. There are many options to consider when looking for the best headphones under $500, and sometimes we get lost. However, the list I've just provided you with will definitely help you select the headphones that match your needs.
If you're an audiophile that likes open-back headphones, then the Sennheiser HD 660S is for you. Do you disapprove of open-back headphones? Then the Bose QuietComfort 35 II with the world-class noise-canceling technology is your best selection.
If you're a sound engineer excelling in music production, then the Audio-Technica ATH-M50x is your go-to option for its bass and treble response. However, if you're an aspiring athlete, then the in-ear Jabra Elite Active 75t is your success partner.
If you prefer to choose your own headphones, then make sure to consider the factors we've listed. Noise-canceling, connectivity, comfort, and portability are important to consider if you're someone who travels a lot and wants some peaceful music without external noise and discomfort. But, you also shouldn't overlook the technical side of sound quality.