If you haven't listened to music while gliding on the slopes, you're seriously missing out. Having the right pair of headphones on your next snowboarding session can make it much more exciting.
However, there's a lot to consider before you get these headphones, or they will make your experience frustrating. We have saved you from the guesswork of what makes a pair of headphones perfect for such activities.
So, without further ado, here's a list of the best snowboarder headphones on the market.
List of the Best Snowboarder Headphones:
Apple AirPods Pro

– Premium Choice

SoundBot Wireless Smart Headset

– Most Versatile

Outdoor Tech Helmet Audio Headset

– Best for Helmet
Top Picks:
| | | |
| --- | --- | --- |
| Product | Type | Battery Life |
| Apple AirPods Pro | Earbuds | 4.5 hours on a single charge/24 hours when charged with wireless charging case |
| SoundBot Wireless Smart Headset | Beanie headset | 5 hours of wireless remote music streaming/7 hours of hands-free calling |
| Outdoor Tech Helmet Audio Headset | In-helmet chips | 10 hours |
The 3 Best Snowboarder Headphones in 2020:
1. Apple AirPods Pro – Premium Choice
It comes as no surprise that our first choice is the famous Apple earbuds. If you're a snowboarder who didn't get the original AirPods and are afraid of missing out, just get the Apple AirPods Pro. They're far more prepared for snowboarding, and they have better sound quality.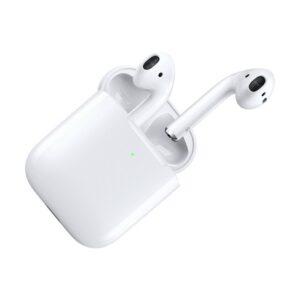 Let's start with the design. There's no denying that they're so iconic and sleek-looking that they became a fashion piece, and everyone wants to have them.
The first thing you'll notice about these earbuds is the new flexible silicone tips; they come in three different sizes, fit perfectly, and ensure true noise cancellation. These tips also make sure that the earbuds stay securely in your ear; what else do you need as a snowboarder?
In addition, thanks to the vents, the pressure on your ears will be equalized, and you won't feel like you have anything in your ears. Also, the AirPods Pro are wider and have shorter stems than the original model. They're still as portable and compact as always, though.
Now, into the features, we go.
Snowboarders, rejoice! These earbuds have sweat and water resistance of IPX4, so they can definitely take the snowy environment that you'll use them in. The expanded mesh microphone helps call clarity in windy environments, which you definitely need when you're on the slopes.
With these earbuds, Apple introduced the Active Noise Cancellation technology, which uses an outward-facing microphone that detects external noise and cancels it, and an inward-facing microphone that detects unwanted noise inside your ears and cancels it as well. So, you end up listening to exactly what you want to listen to.
Since there's always a possibility of danger when you're gliding down the slope, you need to be aware of the outside noise, and that's where activating the Transparency Mode comes in.
The sound quality of these earbuds is insane, and it makes sense because of the Adaptive EQ, which literally tunes the music to the shape of your ears. Finally, for an excellent hands-free experience, you can always rely on Siri.
While everything we've discussed so far is amazing, there are still downsides. Of course, these earbuds are pricey! There are many things that you could buy with the amount that you pay for them. 
Also, while the Wireless Charging Case is amazing and gives you 24 hours of listening time, you only have 4.5 to 5 hours without it.
Pros:
Active noise cancellation

Transparency mode

Sweat-resistant and water-resistant

Wireless Charging Case

Superior sound quality

Siri

Adaptive EQ
Cons:
Expensive

Battery life could be longer
2. SoundBot Wireless Smart Headset – Most Versatile
The SoundBot Wireless Smart Headset is a pair of headphones, a fashion item, and a way to stay warm, all at an incredibly affordable price. What more does a snowboarder ask for to up their game?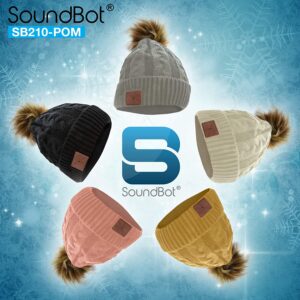 Of course, we start with the design. The beanie is made from a premium double soft knit that offers an incredibly secure fit. Moreover, its stretchability makes it extremely comfortable to wear, and you don't have to waste your time to adjust it. It keeps you warm, as it should, when snowboarding.
Also, the beanie comes in a variety of styles and colors. The poms are cute and fluffy, the reflective ones are effortlessly stylish, the LED-lit ones ensure your safety, and the cable ones are cozy and warm. We also love the range of colors it comes in, and we recommend the mustard yellow.
This cost-effective beanie is also fully washable, thanks to the zipper and velcro design that lets you remove the headset and battery component hassle-free.
Regarding the features, the headset delivers loud and clear sound of the highest quality at its price point. Despite the loudness, you're not completely isolated from what's around you, which is a good thing that keeps you safe. 
Moving on, the control buttons are intuitive and straight-forward. In addition, the battery life is decent, with 5 hours of music playtime, 7 of talking, and 60 of standby time. As for wireless abilities, it can work from up to 33 feet of distance with a free line of sight. Not bad, huh? Also, thanks to the built-in mic, you don't have to use your hands to make your calls.
It gets even better with the risk-free, 1-year warranty that gives you confidence in your purchase.
Not everything is sunshine and roses; while the beanie is advertised as one-size-fits-all, we advise adult men to try it on first because it may or may not fit them.
Pros:
Incredibly affordable

Washable

Different color and style options

Premium double soft knit

Built-in mic

Up to 33 feet of wireless range
Cons:
Not one-size-fits-all as advertised
3. Outdoor Tech Helmet Audio Headset – Best for Helmet
If you already have a snowboard helmet, you may want to look for a compatible headset instead. There are many audio chips on the market, but none of them came close to the Outdoor Tech Helmet Audio Headset's functionality.
The design of these chips is pretty simple since they're meant to be hidden. They're just two earpieces with a sturdy wire connecting them. The simplicity of the design is a blessing because there aren't many things to fuss around when dealing with wireless audio chips.
Since this headset targets snowboarders and skiers, it makes perfect sense that it's sweat- and water-resistant, with a protection rating of IP45. In addition, this headset functions perfectly in extremely cold weather, even as cold as -4°F.
Also, the controls are simple, with only two large buttons that are glove-friendly because you deserve to entertain yourself without having to take your gloves off. Thanks to Siri, there's a lot that you can do hands-free, and you have a wireless connection for up to 32 feet.
Furthermore, enjoying optimally-tuned 40mm drivers, the audio performance is excellent. Also, the clarity of calls is stunning.
What's even better is the battery life that lasts up to 10 hours of playtime and 280 of standby time. So, you won't have to worry about having to recharge in the middle of your snowboarding session.
With all these advantages, there are disadvantages, as well. First, what separates this headset from the rest on our list is that there's no use to it without a helmet. The Apple AirPods can be used anywhere, and the SoundBot is a helmet with built-in speakers. 
Second, this headset is only compatible with helmets with audio liners, limiting your helmet options to ones like Bern, Giro, Smith, K2, Anon, Pro-Tec, and Bolle.
Pros:
Excellent battery life

Sweat-resistant and water-resistant

Functions in extreme cold

Glove-friendly

Siri
Cons:
Useless without a helmet

Only compatible with helmets that have an audio liner
How to Pick Snowboarder Headphones
Design
Headphones come in different designs, and each has its own fans.
In-Ear
In-ear headphones are the most convenient because their portability allows you to use them anywhere and everywhere. 
You can wear them when you're snowboarding, working, running errands, or literally doing anything. Since they work with all lifestyles, they have become the most popular. The popularity of AirPods attests to their practicality.
Also, since they're inside the ear, they offer the highest amount of sound quality and noise cancellation, if that's what you're after.
However, there's always a concern about their potentially harmful effects on one's hearing. Prolonged use of in-ear headphones can be damaging to your hearing. While hearing loss is possible when we misuse any kind of headphones, earbuds and in-ear headphones have the highest risk because they are literally inserted inside our ears.
Also, they can be pretty uncomfortable and irritating to the ear canal.
On-Ear
On-ear headphones are less portable than in-ears but more portable than over-ears. 
Unlike in-ear headphones, the ear cups of these ones rest on top of the ears. So, they're a good choice for snowboarders who don't want to damage their hearing, although you still have to be careful not to misuse any kind of headphones that you wear.
Due to their design, they only have partial noise cancellation, meaning that you can still hear a bit of ambient noise. 
In addition, they are perfect for when your snowboarding isn't extreme because they're still lighter than over-ear headphones and apply less pressure on the top band that rests on your head.
Over-Ear
Over-ear headphones, as the name suggests, have ear cups that fit outside and around the ears. They are the least portable and most "bulky" of all headphones. So, they are not as popular among snowboarders as their more compact counterparts.
However, many manufacturers solved this problem with a folding design that helps you pack your over-ear headphones wherever you go. 
Accordingly, this kind of headphones is still targeted by snowboarders who seek the best noise cancellation, isolation, and high-quality sound.
Despite being very comfortable to wear, they are prone to making you sweat, so keep that in mind.
Helmet/Beanie Speakers
If you wear a snowboard/ski helmet, which reduces the risk of head injury, you should check out headphones that are meant to be used with them. 
The most famous ones are audio chips that are perfectly compatible with ski helmets and beanies. They aren't the most affordable type of headphones, but they're definitely worth it.
However, if you're on a budget, you can just go the DIY route. Another budget-friendly option would be getting a beanie with built-in speakers; they're universal and easy to use.
Glove-Friendliness
It comes as no surprise that the headphones you wear while snowboarding need to be glove-friendly, as insulated and waterproof gloves are an essential part of your snowboarding attire. But what does glove-friendly even mean?
It means that the headphones have oversized buttons, in-mic controls, or any other feature that helps you use the headphones without having to remove your gloves.
This feature doesn't sound important for a beginner, but you'll know how important it is once you're on the slope.
Connection
Every kind of connection in headphones has its fans and settings in which it works best.
Wired
Wired headphones are the oldest and most reliable kind. Why? Because the direct connection between the headphones and the device ensures the best audio signal. 
While everyone has wireless headphones by now, we're still amazed by how superior wired headphones are in terms of quality and clarity.
However, there's no denying that the wires are an inconvenience when you're physically active; they may get into your snowboard jacket or get tangled with an object. You never know what will happen, and that's why many people choose wireless headphones instead.
Wireless
Everywhere you look, someone is wearing wireless headphones. Maybe they're earbuds that you can't see, and you end thinking that these people are talking to themselves, not on the phone.
The reason why wireless headphones are so big is perfectly clear: they're the most convenient. Most snowboarders and athletes prefer them because they're light and practical, eliminating the risk of tripping or falling because of the wires.
While they tend to have inferior sound quality to their wired counterparts, and there's always the risk of signal interference if you're around other snowboarders that use Bluetooth devices, nothing beats their practicality.
Battery Life
One thing that you have to consider about wireless headphones is their battery life. 
You don't just need to know how many hours of battery life they have, but also how long it takes to charge them. Nothing is worse than being cut off in the middle of a call while snowboarding because the headphones need charging.
Also, keep in mind that the cold drains batteries faster than average.
Sound Isolation
There's always a debate around sound isolation while snowboarding.
On the one hand, everybody wants to listen to their music completely unbothered by their surroundings, enjoying the sounds that they choose to let inside.
On the other hand, it's pretty risky and unsafe to cancel outside noise when snowboarding because you still need to be aware of your surroundings and react to any possible dangers.
So, the wisest choice would be partial noise cancellation so that you can enjoy your music and stay safe.
Weatherproof
Snowboarding exposes everything that you wear and have to the elements, so you have to think about headphones that are at least water-resistant. Snow resistance is also a must since you're boarding the snow.
Always check the waterproof/ water resistance rating of your headphones before you make a decision.
Also, whether you already know it or not, you're going to sweat while snowboarding. So, you need a pair of sweat-resistant headphones as well.
In-Mic Controls
People don't usually think about in-mic controls until they're snowboarding and wish they could take calls or play music hands-free. The ability to control your audio settings without having to pause your physical activities is priceless.
While headphones with built-in microphones are more expensive, they are definitely worth the value, thanks to the safety and comfort that they provide. 
Final Thoughts
Like any other activity, snowboarding can be more exciting or frustrating, depending on the accessories that you choose. Listening to music or taking calls on the slopes is pretty common, and can be less risky and more enjoyable with the right pair of headphones.
Our top choice in the best snowboarding headphones is the Apple AirPods Pro. The design helps the earbuds fit into the shape of your ears like a glove, they're portable, and they look sleek. Not to mention, they're resistant to water and sweat and give you the option to either cancel outside noise or let it in. In addition, Siri lets you enjoy your time hands-free.
Next in line, there's the highly affordable SoundBot Wireless Smart Headset. This beanie of different styles and colors is made from premium materials that keep your head comfortable and warm. Moreover, the clarity and loudness of sound that this headset offers are amazing. The battery life is decent, and the built-in mic is convenient.
Finally, we have the Outdoor Tech Helmet Audio Headset. Its functionality is simple, wireless, and durable. In addition, the headset is sweat and water-resistant and works perfectly in subzero temperatures. To add, the controls are glove-friendly, and Siri keeps things hands-free. Finally, you have 10 hours of playtime with this gem.