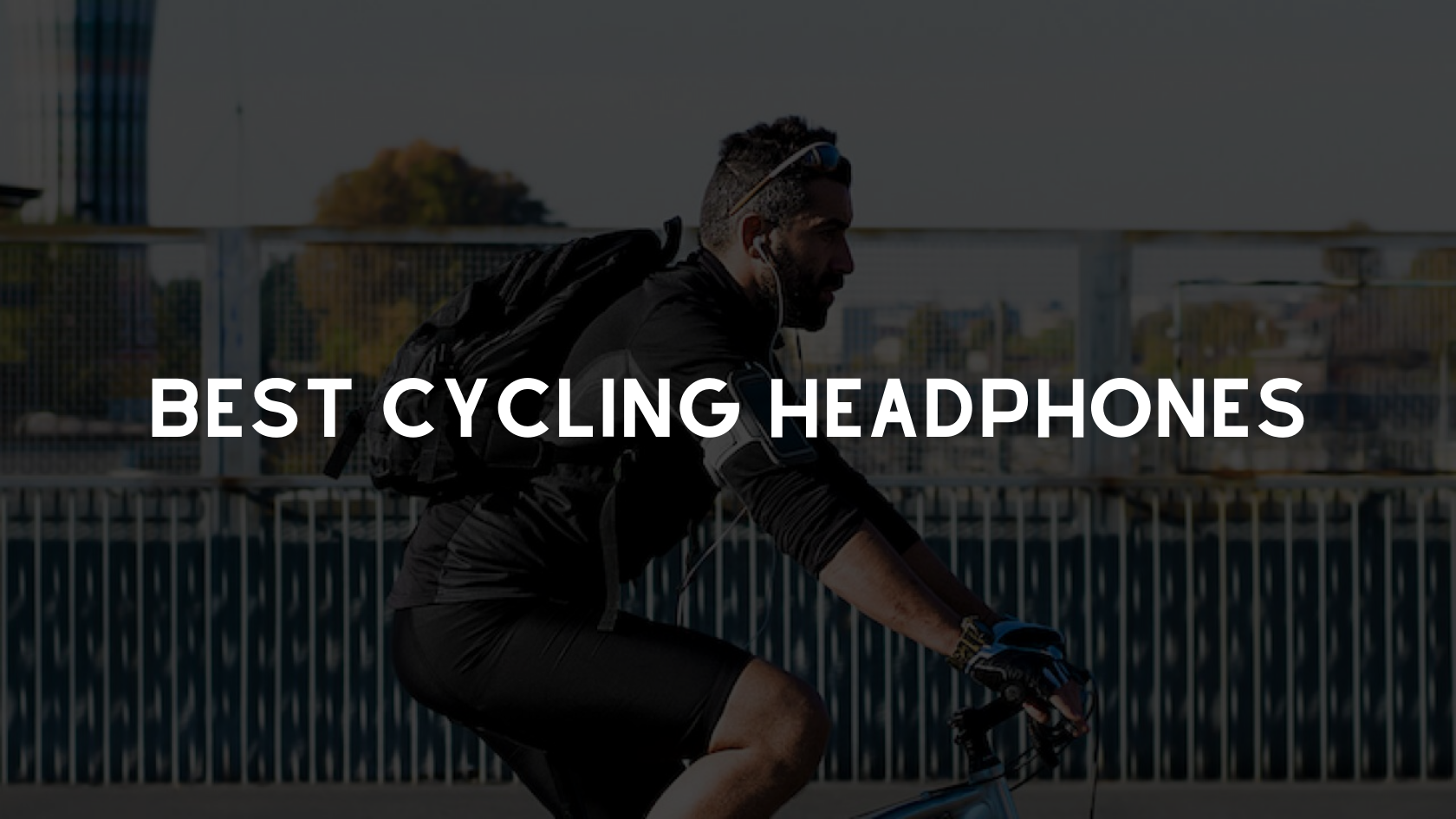 Since cycling is an exciting activity, and music increases the fun element in any equation, cycling with music is the most fun activity you could practice. However, cycling on roads among cars can be quite dangerous if you can't listen to ambient noise.
For this reason, manufacturers have designed some excellent headphones that allow you to listen to music without blocking the surrounding noises. They have even gone as far as inventing the bone conduction technology that literally leaves your ears out of the equation, as the buds go on your temple instead of the ear canal!
Since finding the perfect set of headphones can be frustrating, we've decided to compile a list of the best headphones for cycling on the market, stating the pros and cons of each. You'll also find an informative buying guide that should pave the way to your best cycling companion.
Comparison Table: 
The 6 Best Headphones for Cycling in 2020
1.
AfterShokz Aeropex

– Best Overall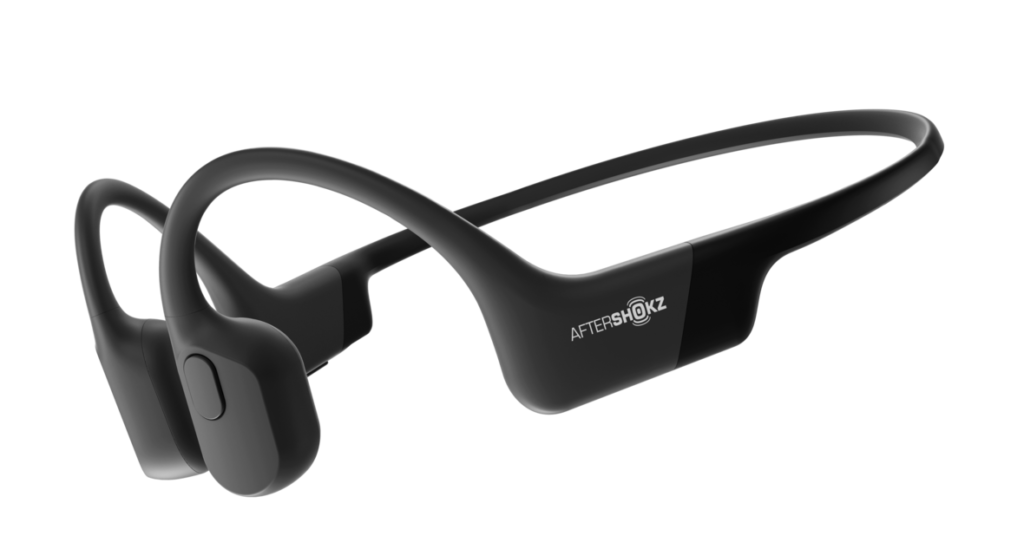 Being able to hear any surrounding sounds while cycling is a crucial requirement, as it ensures your safety. This is why bone conduction headphones are the best and safest for cycling. Such headphones leave your ears free to listen to whatever is around you, as they use your cheekbone to send audio to your ear. 
Understandably, the sound quality of such headphones is not as good as expensive earbuds. However, they still deliver decent audio quality. To be honest, this is a minimal drawback, given that they increase your safety. 
They are excellent for tough workouts because they are sweat and waterproof. Even if it rains when you're cycling, you needn't worry about them getting damaged as they have a IPX67 rating. 
What's more, AfterShokz Aeropex stands out for offering eight hours of battery life. All you need to do is charge them with the magnetic charging cables for 120 minutes, and you're good to go. They even have a  ten-day standby time.  
Aside from the fact that the pair tickles a bit, like all bone conduction headphones, Aeropex sends less vibration, has higher volume and more dynamic bass than the other bone conduction models. It's also very comfortable, weighing less than one ounce. 
It connects to your mobile phone or music player via Bluetooth with a decent wireless range of 40 feet. What's more, you can connect it to two devices simultaneously, which makes it pretty versatile. 
By paying a reasonable price, you'll get the headphones, two magnetic charging cables, a handy sports-belt, a rubber case, and two-year warranty.
Pros:
Allow you to hear the surrounding noises 
Boost your safety 
Waterproof 
Long battery life 
Stay in place
Light
Cons:
Expensive 
Poor bass production 
Our Take 
Without blocking your eardrums at all, AfterShokz Aeropex is an excellent choice for cyclists as it increases their safety. Plus, its eight-hour battery life is such an attractive feature. 
---
2.
AfterShokz AS650SG

– Runner-up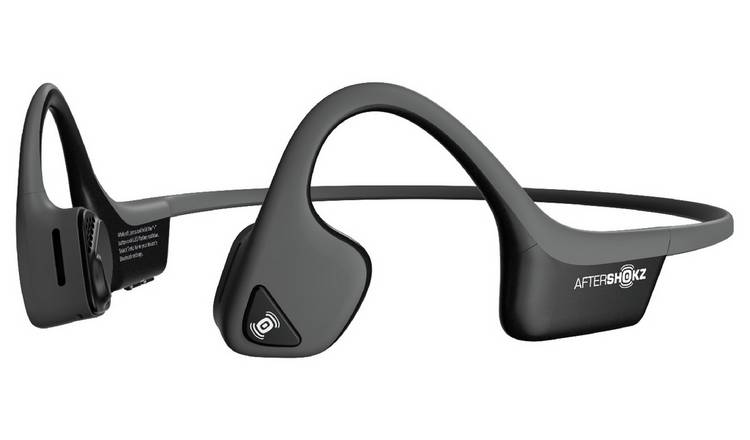 AfterShokz is one of the best, if not the best, bone construction headphone manufacturer on the market. The main reason why AS650SG comes second after Aeropex is its six-hour battery life, instead of eight. You can charge it in about 120 minutes, and it has 20 days of standby time.
Like Aeropex, this model is also sweat and waterproof, so if you usually sweat a lot while running or cycling, rest assured that this baby won't get damaged. Plus, it's made in a way that prevents it from slipping off when you sweat.  
As for comfort, this model is pretty lightweight that you won't feel it on your cheeks, weighing just 1.27 ounces. Plus, its bud-free design enhances comfort. 
The headphones are connected to your phone, laptop, Mac, iOs or Android via its Bluetooth 4.2 connectivity. Besides, AS650SG has volume buttons on the right earbud, so that you can control your music and make phone calls without having to fetch your phone. 
What's more, phone calls will be very clear, thanks to the built-in dual noise-canceling voice-activated mics located within the headphone. Besides, it has the AudreySays voice prompt -similar to Alexa- to guide you through whatever action you want to take. 
Pros:
Stays in its place 
Lightweight 
Moisture-resistant headphones
Voice-activated mic 
Features audio controls 
Cons:
Our Take 
If you want bone conduction AfterShokz headphones with a slightly lower price than AfterShokz Aeropex, AS650SG headphones are your best option. With their voice-activated mic and AudreySays voice prompt, they are an impressive bargain. 
---
3.
Bose SoundSport

– Best Value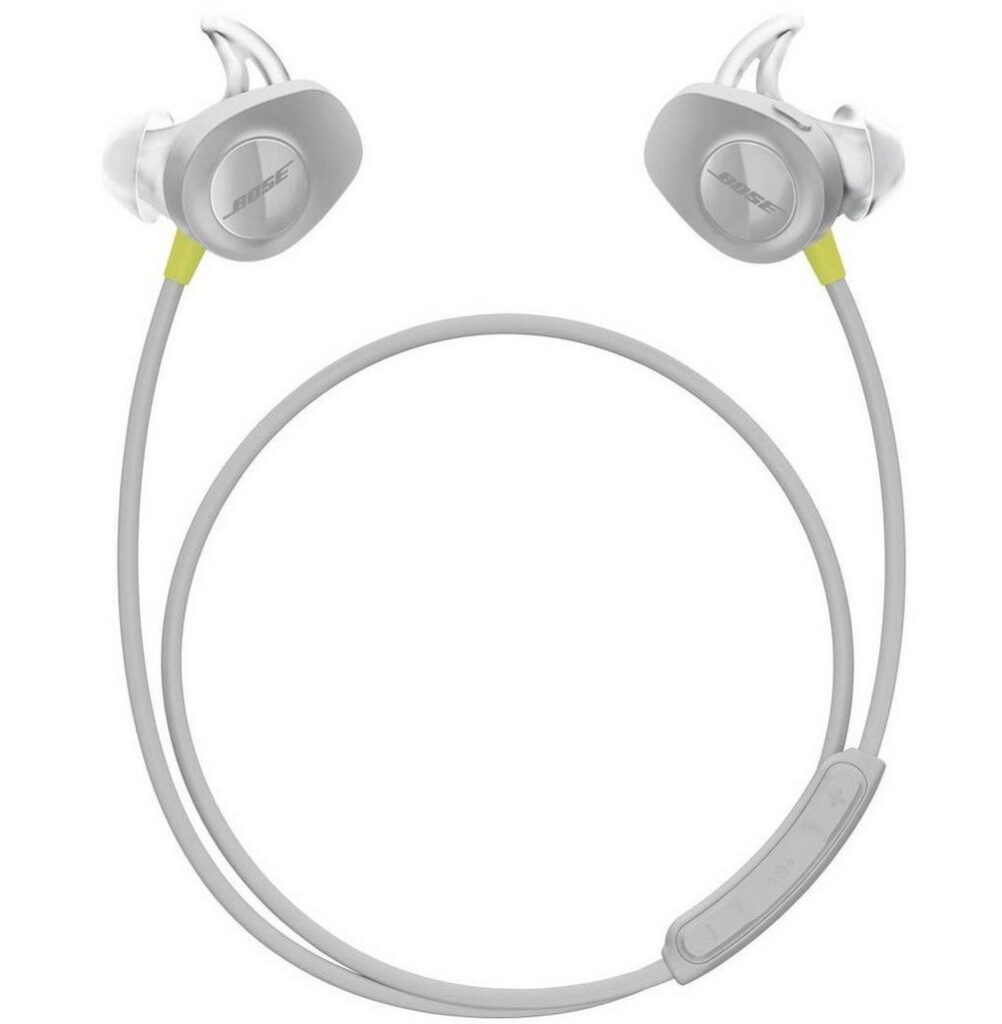 In case you are looking for wireless on-ear headphones, Bose SoundSport are your best option since they are equipped with lots of features while coming at a very reasonable price. 
First off, these headphones feature both Bluetooth and Near-field communication (NFC) connectivity, allowing for wireless connection of up to 33 feet. This way, you can say goodbye to wasting your time trying to untangle the wires.
What's more, you can use them to make or answer phone calls using the sensitive mic located inside the headphones. Given how sensitive the mic is, it is bound to pick some of the background noise. Still, your voice will be very clear to the recipient.
The thing that truly distinguishes Bose SoundSport is that they're equipped with an in-built heart rate sensor. This means that they can track your heart rate, allowing you to optimize your performance. If you want a fitness tracker for this reason, consider buying these headphones instead. 
In case you think that Bose SoundSport headphones are not compatible with various fitness apps, I am glad to tell you that they are compatible with RunKeeper, Runtastic, MapMyRun, and Endomondo besides other apps. 
Another feature I find impressive about Bose SoundSport is the ability to personalize your settings using the Bose Connect app. This comes in handy if you lose the headphones because you can easily find them using the Tile app. 
As for the sound quality, it is top-notch since they have excellent noise-cancellation properties, eliminating wind noise. Yet, this is a double-edged weapon, given that you won't be able to hear much of the surrounding sounds, threatening your safety level while on the road.  
In case you sweat a lot, these babies stay put on your ears, thanks to the StayHear+ Pulse tips that fit securely over the ears during any kind of activity. Plus, they're very lightweight, coming  at 0.81 ounces. 
Besides, Bose SoundSport can be worn under the rain, as they are water-resistant with an IPX4 rating. However, this doesn't mean that you can use them while swimming. 
The battery life lasts for six hours, which is the average among the headphones on our list. And its rechargeable lithium battery needs two hours to be fully charged. However, some people complain that the battery takes more than two hours to recharge fully, and even then, it doesn't work for six hours. 
Pros:
Powerful bass 
Lightweight 
Very comfortable 
Doubles as a fitness tracker 
Has Bluetooth and NFC connectivity 
Eliminates wind noise 
Cons:
Blocks the surrounding noises
Low-quality battery 
Our Take 
Bose SoundSport are the ones to go for if you're looking for excellent wireless headphones at a decent price. Plus, the fact that they double as a fitness tracker makes them truly stand out among their competitors.
Find Bose SoundSport featured in:
---
4. Anker Soundcore Spirit – Budget Choice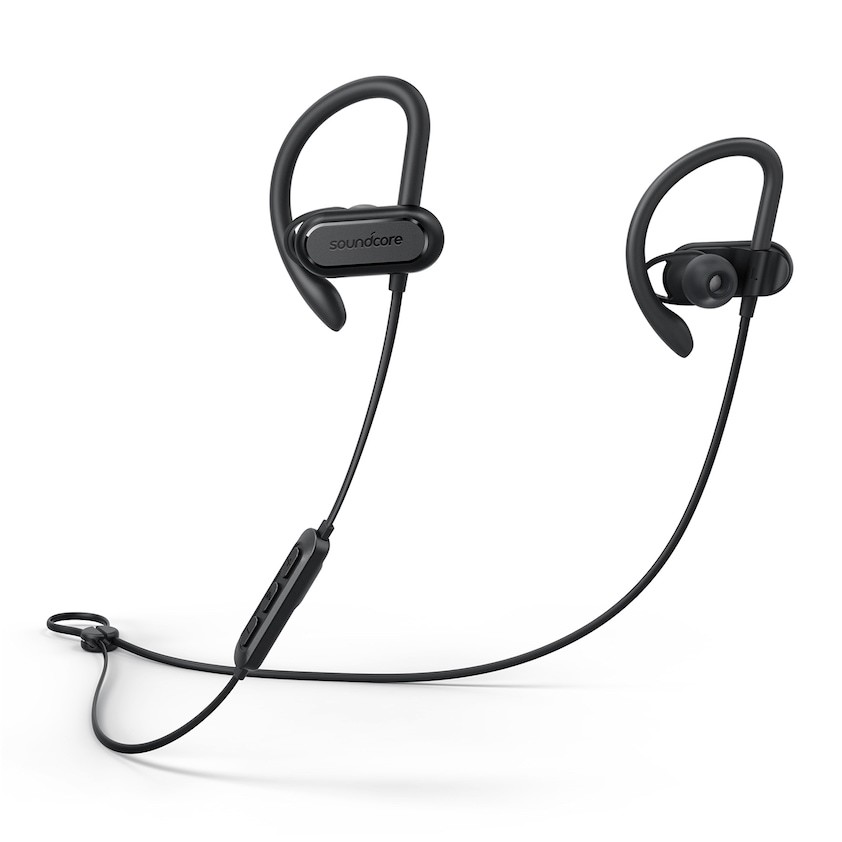 Anker Soundcore Spirit are one of the most impressive budget-friendly wireless over-ear headphones. At a very decent price, they come with the longest battery life: twelve hours. Plus, they just need 90 minutes to be fully charged. In case you forgot to charge them and you need them ASAP, charge for 5 minutes for an hour of playback. It couldn't get any better, could it? 
You'd think that at such a low price, the quality is bound to be mediocre; however, the truth is the complete opposite. These headphones fit comfortably over your ear thanks to their softened silicone ear tips, which also serve to help them stay in place whenever you're cycling, running or working out. 
Plus, Anker Soundcore Spirit headphones are made of high-quality materials that save your skin from irritation. What's more, you can use the quick-adjust neck-bend to create a tight fit without dealing with any tangles. 
This IPX7 device implements a submarine-inspired structure and impermeable hydro-seal, which highly protects the sensitive internal components of the earphones against water and sweat. 
Like most of the featured headphones, this one has Bluetooth connectivity with a range of up to 39 feet. Plus, it has excellent voice quality with its 10 mm dynamic drivers, exclusive bass up technology and precise tuning.
You can adjust the volume, play and pause a song via the cable controls, allowing you to focus on the road instead of looking at your phone. 
One of the drawbacks of these headphones is the low quality of the mic. Plus, they don't connect to two devices at a time like AfterShokz Aeropex, for example. 
Pros:
Great sound quality 
Sweat and waterproof 
Comfortable 
Longest battery life 
Affordable 
Cons:
Blocks most of the surrounding sounds 
The battery could be better 
Our Take 
Anker Soundcore Spirit is the best option for those on a budget. Plus, the fact that it securely fits over your ears without causing any irritation is a great plus for cyclists. 
---
5. JLab Audio JBuds Air – Best Cycling Earbuds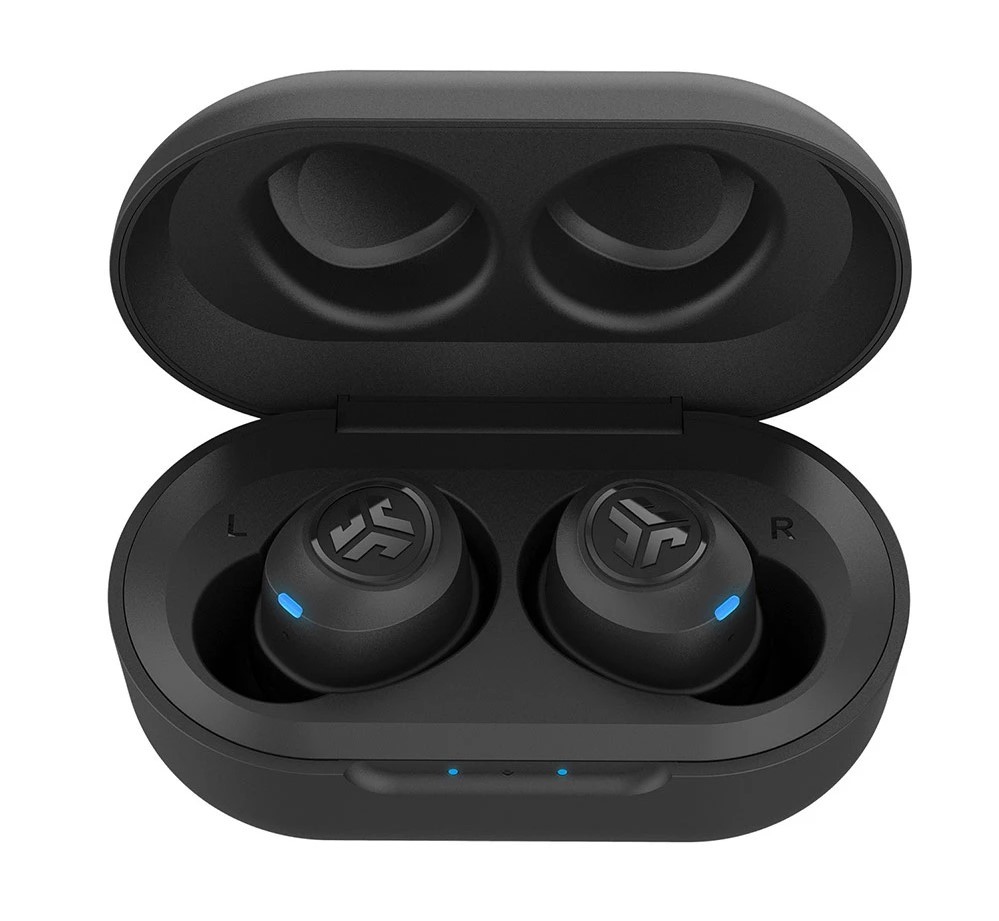 JLab Audio JBuds Air are the best true wireless earbuds for cycling because they can easily fit under your helmet as there are no wires. Besides, they come at a very decent price range. 
Such earbuds fit nicely into your ears and stay in their place, thanks to their ergonomic design and the rubber sleeves surrounding each earbud. Coming at 2.12 ounces, they are pretty lightweight. 
What's more, they have Bluetooth 5.0 connectivity with a range of up to 33 feet, which is pretty good. Besides, you only need to connect them to your phone for the first time; after that, they automatically connect upon opening the lid of the charging case. 
Like most of the featured headphones on this list, these earbuds have six-hour battery life. And they take two hours to get fully charged using the attached USB cable. 
In case you usually sweat a lot, you needn't worry if you have these IPX5 earbuds because they are sweat and water-resistant. Plus, they are backed with a two-year warranty. 
This set of earbuds comes with three pairs of silicone ear tips, a charging case with an attached USB charger and a user manual. It also features a high-quality built-in microphone. 
However, to make a call, you can use the right-side earbud only. Yet, the voice comes through both sides. We don't believe that this is a deal-breaker because it can be easily avoided by remembering to charge the right-side earbud whenever you plan on making calls.
What may be a serious drawback is that people with smaller ears complain about feeling a slight discomfort after wearing them for a while. What's more, these earbuds have physical buttons that you must press firmly. This, in turn, means that you will usually apply pressure on your ears whenever you want to adjust something, which can be painful. 
Pros:
Excellent sound quality 
Comfortable 
IPX5
Nice battery life 
Affordable 
Wireless
Cons:
Uncomfortable for small ears
Phone calls via the right earbud only 
Noise cancellation may impair safety 
Our Take 
JLab Audio JBuds Air are the best option for anyone looking for affordable true wireless earbuds. They are also excellent for sports since they fit securely and comfortably in your ears. However, don't buy them if you have small ears. 
---
6. Beats PowerBeats Pro – Safest Earbuds Design 
Bone conduction headphones are the safest for cyclists, given that they are designed in a way that allows cyclists to hear the surrounding noises. Gladly, Beats PowerBeats Pro -the earbuds- are nearly as safe as bone conduction ones. 
They come with four sizes of interchangeable ear-tips, allowing you to find the one that fits you the most. The best thing is that one of these ear-tips is cone-shaped, letting in more of the ambient noise around you, which increases your safety. 
The battery life of these earbuds is pretty good, given that it lasts for nine hours per single charge. You just need to charge them for 90 minutes. And if you decide that you need the earbuds at the last minute, you can charge them for 5 minutes and get 1.5 hours of playback. 
Beats PowerBeats Pro comes with an IPX4 rating, which means that no matter how much you sweat, they won't suffer any damage. 
Plus, they have Bluetooth connectivity with a range of up to 30 feet, and are compatible with iOS and Android. 
What's more, they feature volume and track controls on each earbud. Besides, you can make phone calls without touching your phone using the voice commands option, thanks to the built-in mic on each side. 
Sadly, they are bulky, which means that they don't easily fit under helmets, especially if you're wearing sunglasses. Similar to JLab Audio JBuds Airthey, they are not an excellent fit for people with small ears. 
Even though the box comes with Powerbeats Pro totally wireless earphones, charging case, ear tips with four size options, lightning to USB-A charging cable, a Quick start guide and a warranty card, we believe it is overpriced. 
Pros:
Safe cone-shaped design 
Nine-hour battery life 
Has an in-built mic 
Sweat-resistant 
Cons:
Bulky 
Expensive 
Not as waterproof as it should be 
Our Take
If money is not an issue, Beats PowerBeats Pro is a good option for its cone-shaped design that lets in the surrounding noises, allowing cyclists to stay safe. However, it is not comfortable for small ears and it is a bit overpriced. 
---
A Cyclist's Guide to Buying Excellent Headphones
Before buying a set of headphones, there are numerous pieces of information you should be aware of. In this guide, we have managed to write to you some of the most critical factors you should consider beforehand. 
Wired vs. Wireless 
Even though having wired headphones eliminates the burden of charging them, wireless ones are safer to use on the road for some reasons. For example, the wires won't get in your way, so that all your focus stays on the road and traffic. You can safely keep your phone or music device in a bag or your pocket; and therefore, protect it from any harm. And in case you receive a call, you can answer or decline using the controls on the microphone. What's more, most wireless headphones are sweat proof or waterproof, so that if it rains, they don't get damaged.
Battery Life 
The main drawback of wireless headphones is short battery life. You don't want a dead battery while cycling and enjoying the ride. You shouldn't opt for a wireless headphone whose battery life is less than five hours. 
Some higher-quality headphones can be charged via USB. Such models should be a go-to for people who usually cycle for many hours. However, this means that they will take up more space in your bag. 
Connectivity Options 
Most of the excellent headphones use Bluetooth or NFC options. Yet, we love the ones that rely on Bluetooth because they stay connected to your device until they are around 30 feet apart, unlike NFS, whose range is approximately 20 cm only. What's more, Bluetooth is universal and works with any Bluetooth-certified device. 
Having a Bluetooth connection on your headphones allows you to connect it to your smartphone or music player. And while you shouldn't answer phone calls while cycling, Bluetooth connectivity offers voice commands, which could be a lifesaver. 
On the downside, Bluetooth drains the battery. 
Stability
Imagine the headphones falling off while you're cycling! Nightmarish, isn't it? That's why you should buy in-ear headphones, as they are the most stable ones that stay put while you're active. 
We generally don't recommend on-ear or over-ear headphones because they won't fit under a helmet, as they are bulky. 
Ambient Sound  
Since your safety is of paramount importance, you should make sure that you can hear whatever sound is on the street around you. The best type of headphones to buy for this matter is bone conduction ones. 
Such headphones don't use your ear; instead, they send vibrations through your cheek to your brain. Consequently, your ears are free to hear car honks and so. Plus, they reduce wind noise. 
---
What is the Best Type of Headphones for a Cyclist and Why
By now, we believe you've gathered that there are different types of headphones such as in-ear, on-ear, over-ear and bone conduction ones. So far, we've stated that the best types are in-ear and bone conduction. Yet, down below, we'll illustrate more on the pros and cons of both. 
Let's begin with the in-ear headphones. Such a type is great for its stability, as mentioned above. You can rest assured that no matter how active you are, they won't fall off your ear. Plus, their sound quality is way better than that offered by bone conduction headphones. 
However, they tend to isolate you from the ambient sounds, which is very dangerous. While you're on the road, you must be able to hear the sounds around you. If you need to get an in-ear headphone, wear one earbud and leave the other ear free. 
On the other hand, bone conduction headphones allow you to listen to music without canceling any surrounding noises. That's because they use your cheekbones instead of your ear canal. Consequently, they are a safer option when cycling or doing any outdoor activity. 
---
Final Thoughts 
Hopefully, you've had a better idea of the best headphones for cycling on the market and the factors you should consider before buying one. In case you've already found what you've been searching for, that's great. If not, allow us to shed light on some of the headphones mentioned above.
The safest option is bone conduction headphones, such as the first two on our list. Yet, we love the eight-hour battery life of AfterShokz Aeropex. Plus, it is very comfortable, lightweight, and has a decent Bluetooth range of 40 feet. What's more, you can connect it to two devices simultaneously, which makes it pretty versatile.
In case you're searching for safe earbuds, the best option is Beats PowerBeats Pro since one of the ear-tips is cone-shaped, allowing you to hear the surrounding sounds. Plus, it has a decent battery life of nine hours per charge. Besides, they have Bluetooth connectivity of about 30 feet and are compatible with iOS and Android.
For getting the best quality at a perfect price, go for Bose SoundSport. These wireless in-ear headphones have Bluetooth and NFC connectivity. Plus, they are the only featured headphones that double as fitness trackers, as they come with an in-built heart rate sensor.