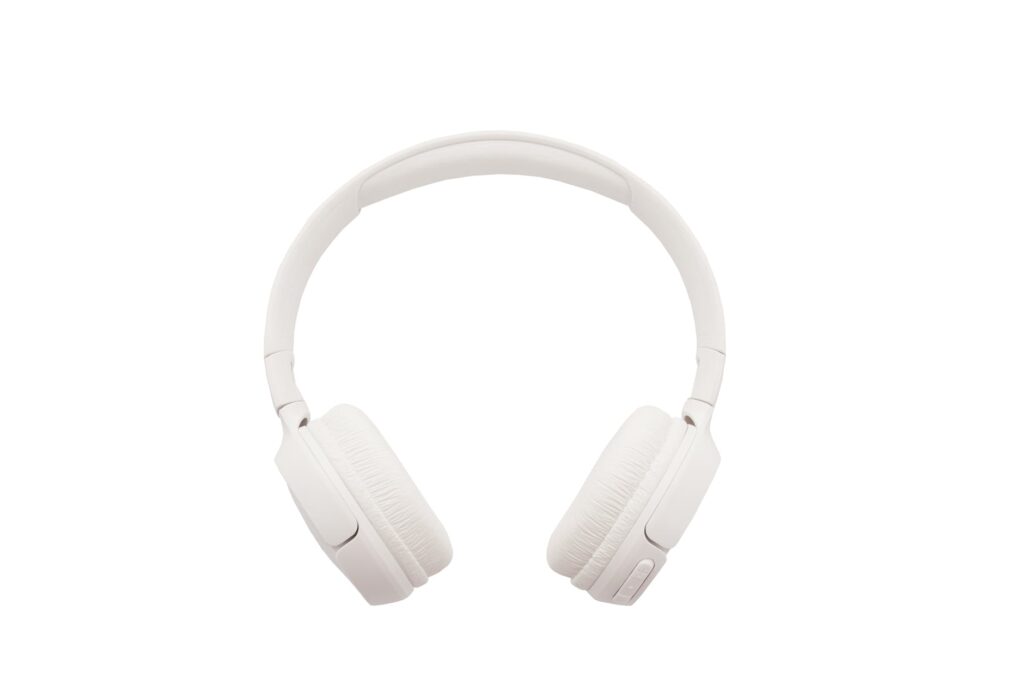 The market is over-flooded with wireless headphones. Both over the ear ones and in-ear varieties are available in abundance. That's why choosing a set of headphones is a relatively long but easy task. However, that's not the case here, as today we're limiting ourselves to a budget of $200. 
So, how would you go about searching for wireless headphones that cost less than $200? You need to be sure that the headphones are durable, have a good battery life, a nice design, good sound quality, and, most notably, that it stays within your $200 budget. 
And for all of that, our list of the best wireless headphones under $200 is all you could ever need.
At a Glance:
The 7 Best Wireless Headphones Under $200 in 2021
Now let's get down to the real deal, the significant players of budget wireless headphones and our 7 top picks.
1. JBL E55BT – Best Overall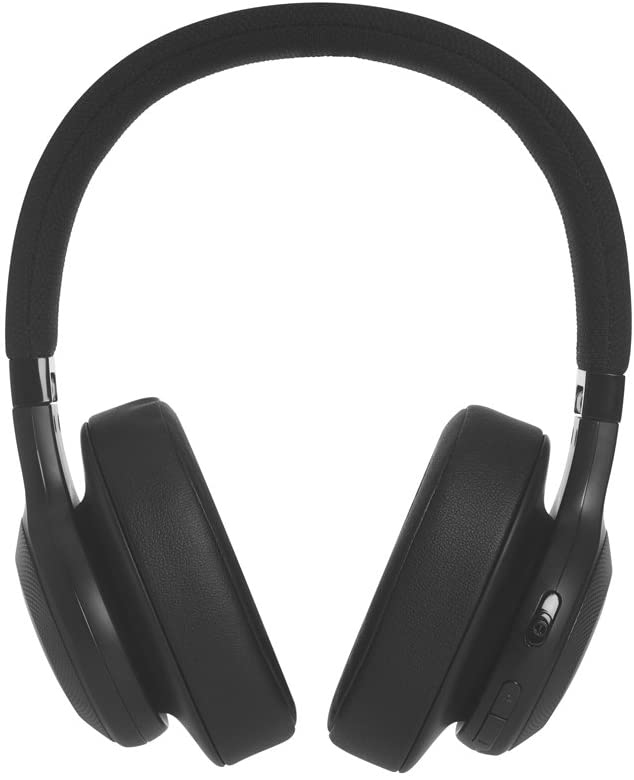 The JBL E55BT is our top pick for many reasons. It definitely stands out among its peers and beats them by miles for its durability, clear sound, and many other elements that we'll get to momentarily.
We begin with its 50mm sound drive. In all headphones, the higher the mm of a sound driver, the clearer and crisper the sound is. That's where the E55BT truly shines; it gives clear and crisp sounds that are pretty much unrivaled. Alongside its one year warranty from JBL, they make even the most unsure customer change their mind.
It has an extraordinary battery life, where one full charge guarantees up to 20 hours of continuous usage, made possible by the large battery the headphones contain.
Not only is this headphone durable, but it's also comfortable as the headband is made from a soft, breathable fabric that doesn't pressure your head. Moreover, JBL didn't sacrifice style for the sake of comfortability; the E55BT still looks quite dashing.
What we also love about these headphones is convenience. You can fold the cushions to decrease their overall size, making them more portable and easier to move around with.
In addition to all the exquisite features we discussed, the E55BT doubles as a wired headphone as well, all thanks to the detachable cable that comes included. The detachable cable contains a microphone and remote control that you can use to take calls, raise or lower the volume, and more.
Unfortunately, though, the E55BT's Active Noise Cancellation is mediocre.
Pros
Long battery life
50mm sound drive
Detachable cable with mic and remote control
Foldable cushions
Bottom Line
The JBL E55BT is the perfect wireless headphone under $200. Even though its ACN is not up to par, its foldable cushions, strong sound drive, outstanding battery life, and fantastic design make up for it in so many ways.
---
2. Plantronics Backbeat Pro 2 – Runner-Up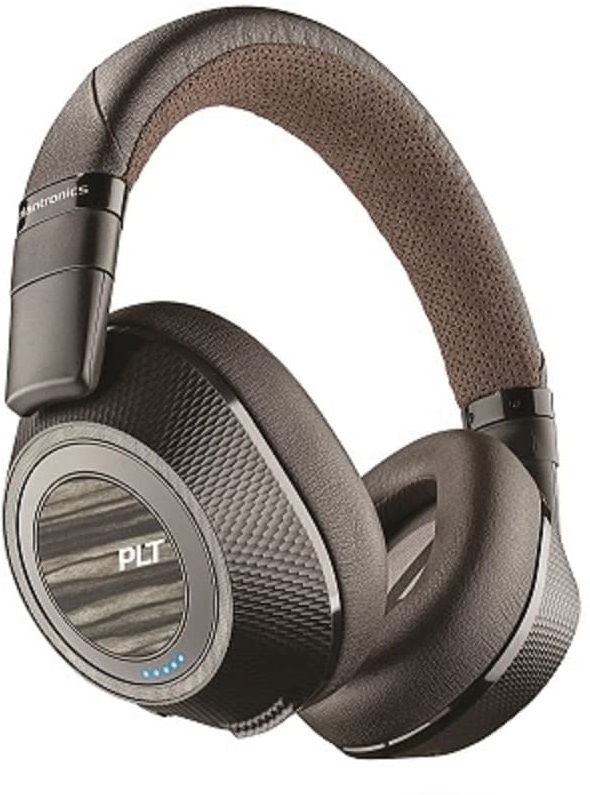 Our runner-up is the Plantronics Backbeat Pro 2, featuring an amazing battery life, easy controls, and great ANC.
The Active Noise Cancellation on these headphones leaves us lost for words. With a click of a button, you'll instantly become isolated from ambient noises. We strictly advise you never to use ANC while driving, walking, or even training, though.
Moving from the great ANC, we come to its battery life. The battery life supports up to 24 hours of continuous usage, putting these headphones miles ahead of a lot of their peers.
Moreover, the ear cups and cushions can be easily folded and placed into a sleeve that comes with the package. So, the headphones are extremely portable and easy to move around with. Not to mention, this also helps boost the longevity of the headphones as they remain completely protected.
The headband and cushions are comfortable even when used for long hours. However, if the listener has a relatively larger head, they might feel some discomfort and will need a break every now and then.
Another great thing about the Backbeat Pro 2 is its strong Bluetooth or wireless connection. It can synchronize with your smartphone or tablet over a 100m distance and still maintain a flawless unfaltering connection.
The sound quality is impressive; you can hear every detail, tune, and melody. The bass boost makes these headphones a perfect fit for bass-heavy genres, like rap, for instance.
Unfortunately, the Backbeat Pro 2 lacks a USB-C charging port and has a Micro-USB one instead. This slows down the charging phase as it could go on for three hours to reach 100% if you started at 0%. 
Pros
Long battery life
Bass boost
Sleeve included
Amazing ANC
Cons
Slow charging time
Micro USB charging port instead of USB-C one
Bottom Line
The Backbeat Pro 2 is an excellent wireless headphone! Its ANC is simply off the charts; it has a battery that can go on and on for 24 hours of usage, and can be folded and put inside a sleeve.
---
3. V-MODA Crossfade – Most Stylish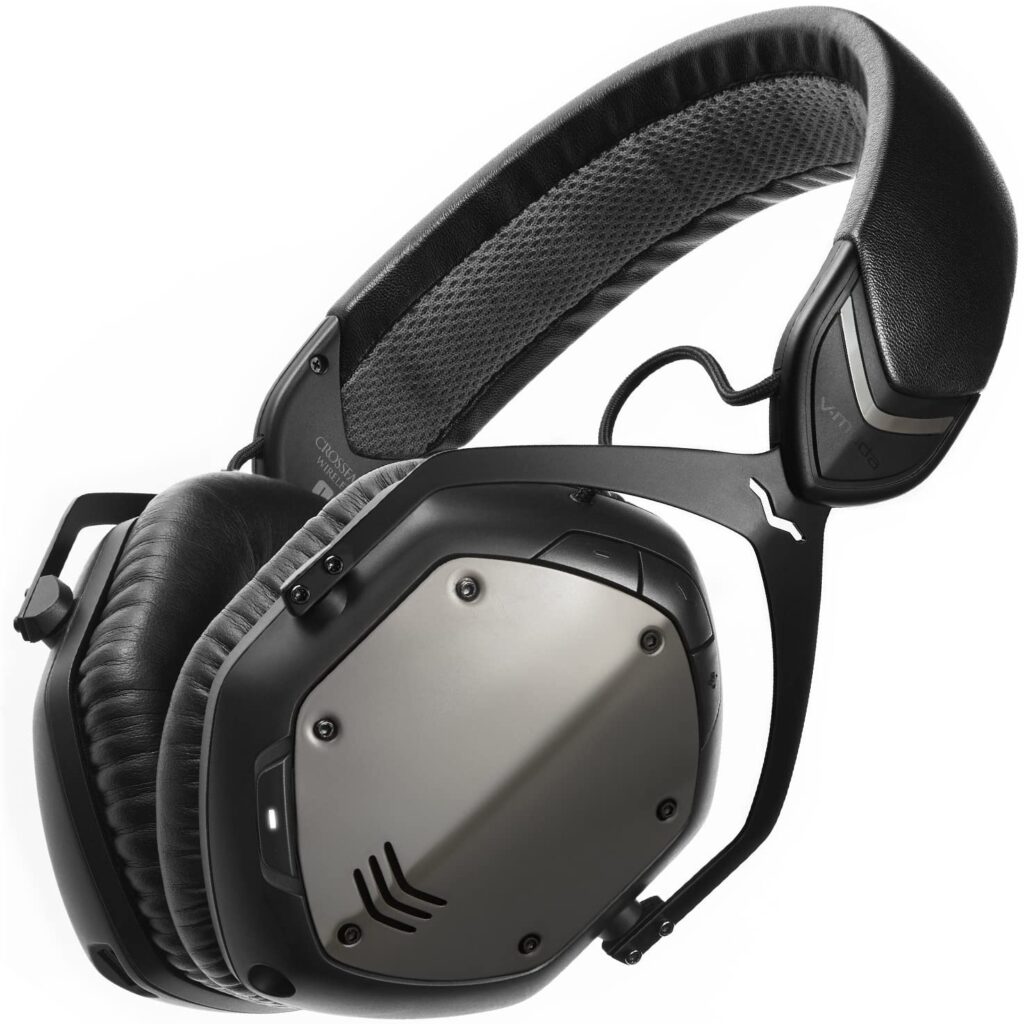 If a stylish wireless headphone is what you're looking for, then look no further than the V-MODA Crossfade. It has a sleek and unique design with amazing features in tow.
Starting with the Crossfade's design, it has a sleek, edgy design with sharp lines, ditching the familiar earphone's circular design, and opting for a hexagonal shape instead. Additionally, it comes in five different colors; clear, red, white, silver, and finally, gunmetal.
As for features, let's begin with noise isolation. The headphones hinder external sounds using the physical build of the headphones, without canceling them. You'll hear them but very slightly.
It comes with a pretty strong lithium-ion battery that's capable of operating for 10 hours. However, to charge it from 0% to 100%, you'll need a maximum of 100 minutes. That's due to the absence of a USB-C charging port and the presence of Micro-USB one instead.
As for sound quality, the Crossfade houses a dual-diaphragm that contains a 50mm sound driver, which is more than enough and completely capable of supplying crystal clear sounds.
When it comes to comfort, the Crossfade doesn't disappoint. The handlebar is constructed from an alloy that contains steel and vegan leather, guaranteeing strength and durability. Additionally, the cushions are made from memory foam, making the headphones incredibly comfortable..
Moreover, the V-MODA Crossfade comes with an integrated microphone that allows you to take full control of the headphone using voice recognition, which will prove very handy as it helps you keep your hands free.
The only downside to the Crossfade is its bass. These aren't headphones that are made for songs with strong bass.
Pros
Sleek, unorthodox design
Built-in microphone
Noise isolation
50mm sound driver
Cons
No USB-C charging port
Weak bass
Bottom Line
The V-MODA Crossfade is a trendy wireless headphone with a unique hexagonal design that's certainly an attention-grabber. In addition, it features a built-in microphone, is very comfortable, and has a clear sound.
---
4. Bose SoundSport Wireless Earbuds – Best In-Ear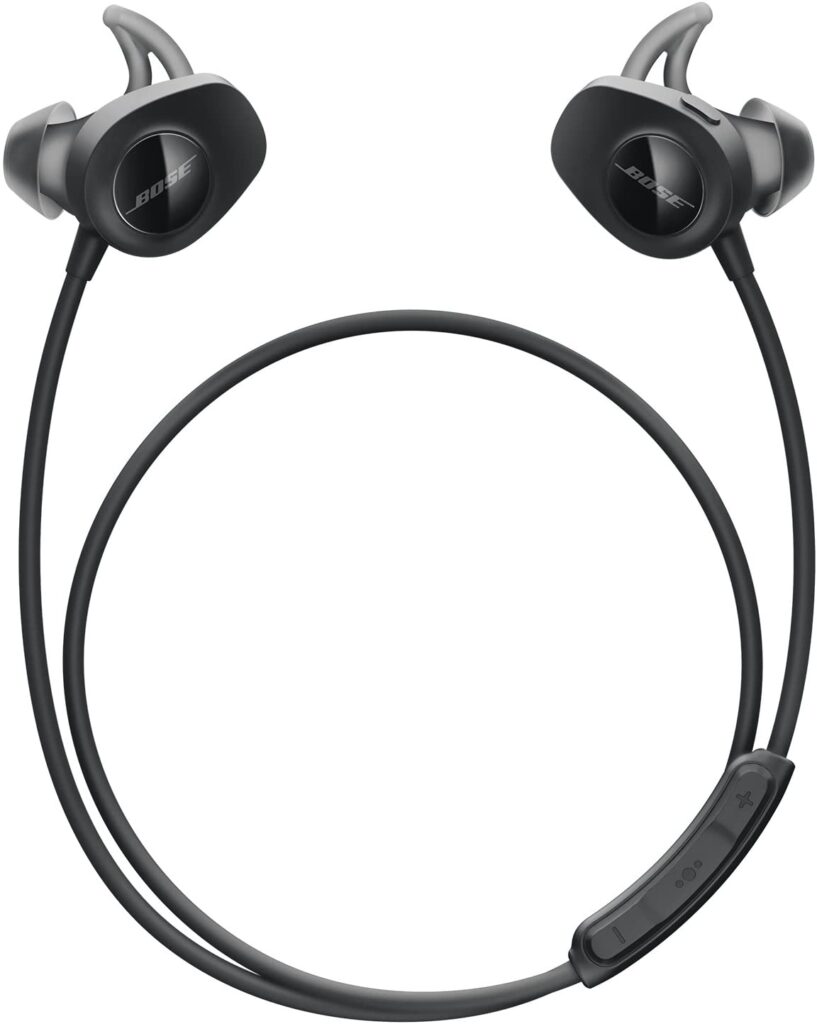 The first in-ear headphone on our list and one of the best in-ear headphones on the market is Bose SoundSport. Indeed, it "sports" many fantastic features that make it a prime choice for any wireless headphone enthusiastic on a budget.
The Bose SoundSport's number one feature and one of the best things about it is that it's water and sweatproof, making it the perfect choice for athletes and gym-enthusiasts. Also, Bose went great lengths to ensure that the headphones won't fall from your ears during a workout. They made small tweaks in the design to ensure that the earbuds will stick to your ears like glue.
The sound quality here is fantastic, thanks to the EQ that always optimizes the volume to the maximum extent. You'll always end up getting the best out of every song. Plus, the Bose SoundSport is designed using Bose's famous StayHear+, a technology that guarantees the best sound output with every tune.
In addition, an inline microphone and remote can be found along the headphones. You can use the microphone to take calls while using the remote to increase or decrease the volume and even change the song itself.
The battery is pretty strong for an in-ear set of headphones. It takes about 90 minutes to charge fully, and when fully charged, it can be used for a continuous 6 hours. Plus, for every 15 minutes of charging, you'll get an hour of playtime.
Unfortunately, the Bose SoundSport lacks any form of noise cancellation. As for noise isolation, it's subpar, to say the least. You'll always be exposed to ambient noises.
Pros
Sweatproof
Waterproof
Built-in microphone and remote control
Cons
No ANC or noise isolation
Bottom Line
The Bose SoundSport is a perfect example of what in-ear headphones should be. They're compact, fit in your ear, provide top-notch sound using StayHear+, and are both water and sweatproof.
Find Bose SoundSport featured in:
---
5. Skullcandy Crusher – Best Charging Time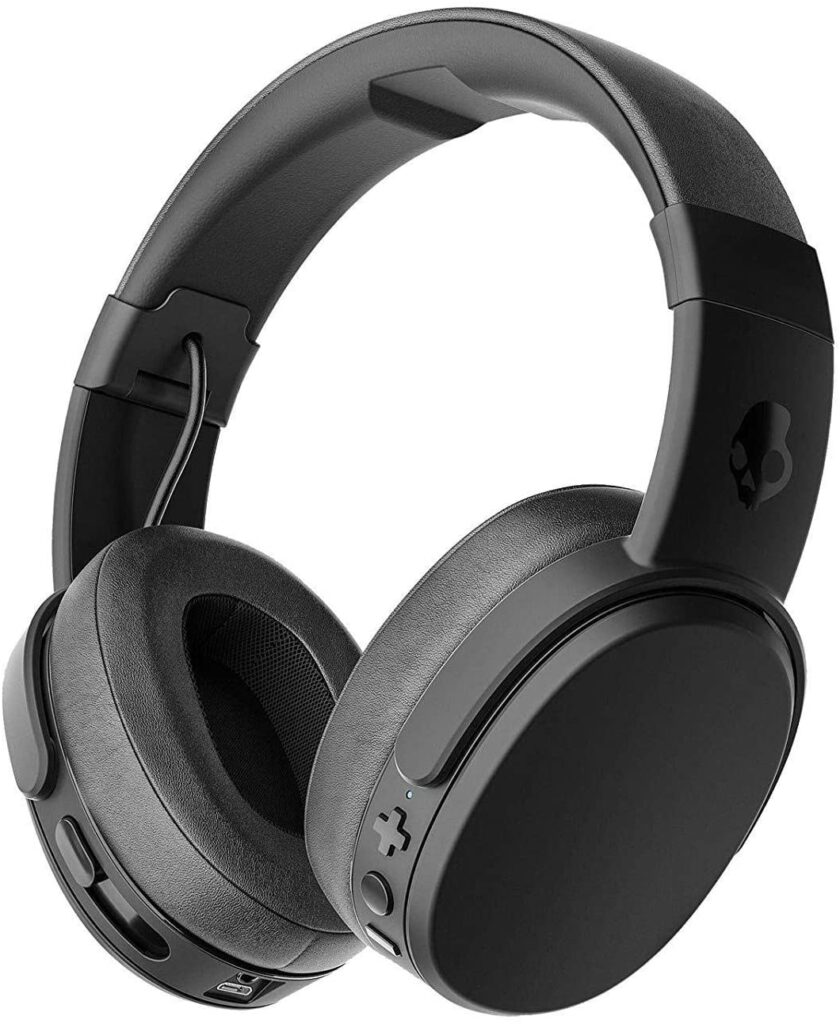 The Skullcandy Crusher is a true testament to the strength and prominence of Skullcandy in this field. It's one of the best wireless headphones under $200, with its unique selling point being the outstanding charging time.
How outstanding? A 10-minute charge supplies you with three hours of playtime. This is ideal for individuals who are constantly on the go as it'll give you a fantastic playtime for such a short charging time. Also, when the battery is fully charged, you're granted an enormous 40 minutes of playtime.
The Crusher is pretty serious about its comfort levels, too. The handlebar is ergonomically designed, so it will never bother you, and you'll always feel relaxed while wearing it. The cushions are also well padded so that they create no pressure/pain points on your ear.
On the note of always being on the go, the Crusher comes with a built-in microphone that allows you to take calls hands-free. You can also use the buttons to the cushion's sides to control the whole experience, change the volume, or even change the song.
The Crusher also boasts noise isolation technology, utilizing the headphone's construction and material to block as many ambient sounds as possible.
You also have the option to adjust the bass, which is perfect for music that relies heavily on a strong and high bass. That, coupled with the Crusher's crisp and clear sounds, makes for one powerful wireless headphone.
However, even though the cushions are foldable, the Crusher is still a pretty bulky headphone; it's nowhere near compact or small.
Pros
Fast charging time
Long battery life
Ergonomic handlebar
Adjustable bass
Microphone
Bottom Line
The Skullcandy Crusher is there for the long run. It's comfortable to use, can be played for 40 hours when fully charged, and a simple 10-minute charge gives you 3 hours of music playtime. In addition, it has a microphone, and you can even adjust the bass. 
Find Skullcandy Crusher featured in:
---
6. Jabra Elite 75t Earbuds – Best Portable

The Jabra Elite 75t is a mesmerizing pair of in-ear earbuds with strong battery life and maximum comfort and convenience. If you happen to take your headphones with you everywhere, these headphones will make that easier for you.
The Elite 75t is very comfortable for an in-ear headphone. They hold on quite stubbornly to your ear, so you don't need to worry about them falling out. Also, multiple ear tips come with the Elite 75t, so choosing the right size for you will be a piece of cake.
These in-ear headphones come in their own charging/carrying case, and together, they only weigh only a mere 9.2 ozs. You can put the set in your pocket, hook it to your jeans, or even hold it in your hand. And, you won't even notice that you're carrying it.
Another great thing about it is the fact that you can use the Jabra Sound+ app to custom tailor the music to your liking. You can play with the bass, tune, and melody all you want till you reach satisfaction. This is very important as many users complained from the Elite 75t being too bassy at first. You can now tailor the music to fit your liking.
Not only are these headphones compact and durable, but they're quite stylish, pretty sleek, and classy as well. They come in six different colors: titanium black, gold beige, sienna, navy, copper black, and finally mint.
As for connectivity, the Bluetooth connection is pretty strong, it never falters, and you'll rarely encounter any dropouts. Furthermore, you can easily make or take calls through them using voice command. This pair of earbuds are compatible with Alexa, Siri, and Google. You can take and issue commands to all of them through voice control.
Finally, the 75t can be used for up to 7.5 hours per single charge. On the other hand, the case comes with a USB-C charging port that gives it an additional 20-hour playtime. The two compile together to provide you with somewhere between 27 and 28 hours of continuous playtime.
Sadly, the charging case doesn't support wireless charging. 
Pros
Comfortable
Multiple earbuds included
28 hours of playtime
6 colors
Compatible with Siri, Google, and Alexa
Use the Jabra Sound+ app to customize the sound
Cons
Too bassy at first
No wireless charging
Bottom Line
The Jabra Elite 75t truly does deserve the "Elite" part of its name. You can customize your music using the app, and choose from amongst six colorful and stylish colors. It also boasts a long battery life and the ability to make and receive calls.
---
7. Jabra Elite 65e – Best Neckbuds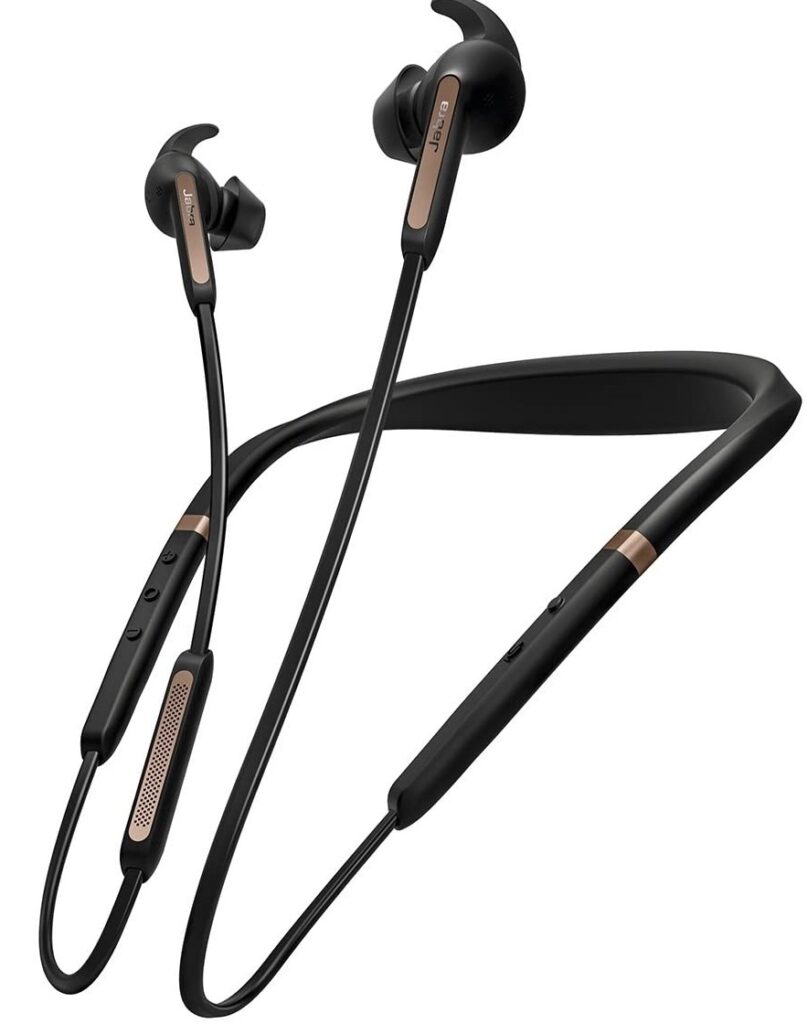 The final wireless headphone on our list is the Jabra Elite 65e. It's a perfect choice for users who need a headphone below the $200 tag.
The earbuds are pretty comfortable and stick in your ear, so you don't have to worry about them falling or about losing them. Additionally, you receive seven tips' sizes. Therefore, we're pretty certain that you'll find the right size for you.
The Elite 65e is IP54 dust and water-resistant. This makes it perfect for long and rigorous training sessions. No longer will you need to worry about your sweat damaging your earbuds. Moreover, it comes with a two-year warranty.
In addition, the Elite 65e comes with ANC that is good at best. It's not the greatest on the market, but it's always best to try and block ambient noises as much as possible.
Despite not having a USB-C charging port and utilizing a Micro-USB one instead, a fully depleted Elite 65e will need only two hours to be fully recharged. Once completed, you've got 13 hours of continuous usage. However, if you choose to operate ANC, the number of hours will decrease to only 8 hours.
Furthermore, you can freely take calls using it, with the 3 Microphone call technology's assistance, which blocks any ambient or outside noise, especially during calls. Plus, the Elite 65e is compatible with Siri, Alexa, and Google as well.
Finally, it comes in four different stylish colors: copper black, titanium black, gold beige, and black.
Pros
Sweat and waterproof
Good bass
Four colors
Compatible with Siri, Google, and Alexa
Two-year warranty
Cons
Subpar ANC
No USB-C charging port
Bottom Line
The Jabra Elite 65e is an excellent set of headphones for athletes. They're stylish, comfortable, come in four colors, have seven ear tips that are different in size, are water, and sweatproof. However, its ANC isn't as good as we wished, and it only has a Micro-USB charging port.
---
Factors to Consider Before Buying a Wireless Headphone Under $200
Now that we're done reviewing those 7 headphones, it's time that we know the elements that we considered before picking them. 
Type
There is a trifecta of types of headphones: over-ear headphones, on-ear headphones, and in-ear headphones. We'll talk about each type separately to highlight their strengths and weaknesses and know the essential differences between them.
Over-Ear
The largest of the three types, over-ear headphones envelop your whole ear to give you the best sound experience you can ever get. Not only do they give you clear sounds, but their bass is excellent as well. However, due to their immense size, they're hard to move around with, even if some models are foldable. 
On-Ear
Smaller than over-ear headphones, on-ear headphones are still relatively large but lighter and easier to move around with. As for design, they sit on your ear rather than enveloping it; they're sort of the grey area between over-ear and in-ear headphones. This makes them the perfect option for slow walks when you need to be aware of your surroundings.
In-Ear
In-ear headphones are small, light, and extremely portable. They stick into your ear without taking any space at all. 
Battery Life
Over-ear and on-ear headphones have a much longer battery life than in-ear ones. Sometimes the difference between battery lives is double the playtime, with 15-20 hours of playtime for over-ear and on-ear headphones, and 6-12 hours for in-ear ones.
That significant difference results from the difference in size, where an over or on-ear headphone can house a much larger battery than that of an in-ear headphone.
Comfort
Comfort in a headphone is key. Whether wired or wireless, you're going to be using it for several continuous hours. Since there are three different types of headphones, having comfortable headphones becomes dependent on the type that you'll end up buying.
When it comes to over or on the ear headphones, look for ones with protein memory foam. It's good for your skin and won't hurt your face or your head. Also, the cushions must be soft and comfortable. 
On the other hand, with in-ear headphones, you'll need one with comfortable and high-quality tips. Plus, having multiple tips included with the headphone would be most welcomed.
Headphone Impedance
Headphones currently have an impedance that ranges from as low as 8 Ohms going all the way to 600. 
However, if you plan on connecting your wireless Bluetooth headphone to your smartphone or even your iPod, then a headphone with 32 Ohm impedance will be just the right one for you.
Sound Driver
A headphone's sound driver is parallel to its sound quality, where the larger the drive, the better the quality. 
If you plan on buying an over or on the ear headphone, a sound driver that is 40-50mms would be optimal. Of course, the higher, the better, but opting for a higher sound driver would mean a heftier price tag, which would nullify the whole idea of getting a headphone below $200. When it comes to in-ear headphones, the optimal sound driver needs to have a bare minimum of 8mm.
Connection Options
Many users prefer having a wireless headphone over a wired one. They simply hate having the wires get tangled and them having to free them again. Also, wires tend to get in the way, especially during exercise and during walks.
On the other hand, many users don't like wireless headphones; they feel that their connection is weaker than that of wired ones and that it may falter at times.
Subsequently, there is no deal-breaker here; we can't recommend wired or wireless. It all depends on your liking and what you need out of a budget headphone. 
Folding
Many users forget how important having a foldable headphone can be. Of course, here we mean over and on-ear headphones. Since they're larger in size and more challenging to move around with, having them in a compact form makes them way more portable. 
Active Noise Cancellation
Active Noise Cancellation or ANC is expensive to create, which is why it increases a headphones' price significantly. Since we're discussing wireless headphones below $200, many companies opt to decrease the amount of money and effort that they invest in creating ANC. This results in headphones with either no ANC or an adequate one at best.
Final Thoughts
After all is said and done, we hope that you know the best choice possible for you. If not, then let's get to some recommendations.
Our number one pick and most recommended model for the best wireless headphone under $200 is the JBL E55BT. Its sound drive is excellent, it comes with a detachable cable, and has foldable cushions.
Suppose you need a stylish and sleek wireless headphone. In that case, the V-MODA Crossfade is the one for you with its sleek unprecedented hexagonal design, noise isolation technology, and built-in microphone.
Finally, for the most portable headphone, we recommend the Jabra Elite 75t Earbuds. It comes in a case that's easy to carry, is exceptionally comfortable, and has a long playtime.