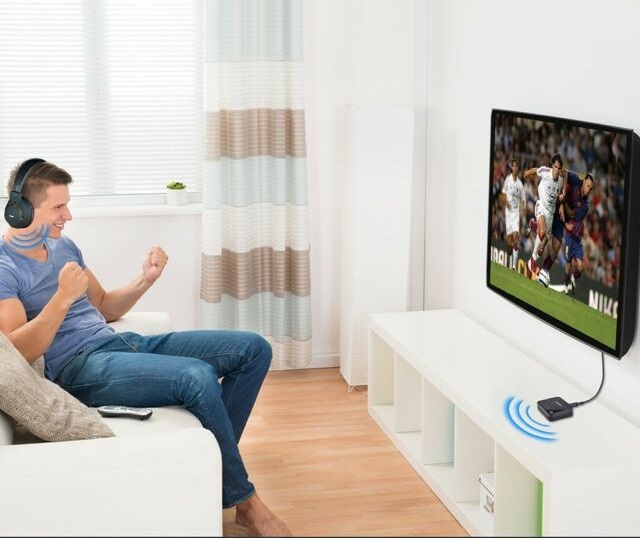 Sound is generally one of the pillars of your movie-theater experience. Whether you're going for a 2-D movie, a 3-D movie, or even IMAX, movie theater stereos produce almost lifelike sound waves that engulf and truly manage to suck you into the film; it's incredible.
Did you know that the same experience can be replicated in the comfort of your home? In this article, we'll show you some of the products that we believe will re-create all of those movie theater emotions.
Keep reading to find our list of the best headphones for movies, a combination of the ultimate headphones produced by various respectable brands. Plus, later on in the article, you'll find a straightforward buying guide that will further strengthen your decision.
Comparison Table:
| | | | | | |
| --- | --- | --- | --- | --- | --- |
| Model | Price | Type | Noise Cancellation | Wireless/Wired | Playtime |
| Bose QuietComfort 35 II | CLICK FOR PRICE | Over-Ear/Closed-Back | Active | Both | 20 hrs |
| Audio-Technica ATH-M50xBT | CLICK FOR PRICE | Over-Ear/Closed-Back | Passive | Both | 40 hrs |
| Skullcandy Crusher | CLICK FOR PRICE | Over-Ear/Closed-Back | Passive | Both | 40 hrs |
| Avantree AS9S | CLICK FOR PRICE | Over-Ear/Closed-Back | Passive | Both | 40 hrs |
| Avantree HT4189 | CLICK FOR PRICE | Over-Ear/Closed-Back | Passive | Both | 40 hrs |
| Sennheiser RS 175 RF | CLICK FOR PRICE | Over-Ear/Closed-Back | Passive | Both | 18 hrs |
The 6 Best Headphones for Movies in 2021:
Now that we've seen these headphones' technical details, let's not stall any longer and get right into those reviews.
1. Bose QuietComfort 35 II – Best Overall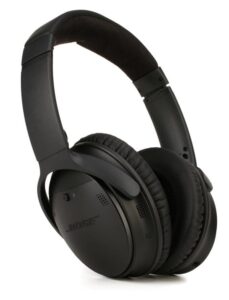 Topping our list is the Bose QuietComfort 35 II, which are the ultimate headphones for movies. They come with an impressive package of options and controls that leave you in want of nothing else.
First of all, the design is all about isolating you from anything other than the movie; that's why they're over-ear, closed-back headphones. Add to that three levels of active world-class noise cancellation, and a noise rejection system for the microphone, and you've got the perfect recipe.
Moreover, the Bluetooth connection is smooth and hassle-free, and it stays like that for 20 hours of playtime.
One thing that really helps the Bose QuietComfort 35 II stand out among its competitors is the Bose Connect App, which allows you to access a plethora of settings for your headphones and provide you with regular updates. Additionally, these headphones can easily be connected to Alexa.
Although these headphones work with and without a wire, sometimes when your battery runs out, you'll want to replace it with another battery and stay on the wireless track. Unfortunately, that's not possible here, as the battery is fixed. Also, if you're an Apple user, then it'll be a little bit more complicated to give your commands to Siri.
Pros
Three levels of active noise cancellation
Noise-rejection microphone
Works both with and without a wire
Alexa connection
Bose Connect App
Cons
Fixed battery
No Siri compatibility
Final Verdict
These headphones are great for movies, fully allowing you to be totally absorbed through three levels of active noise cancellation, a closed-back design, and a noise-rejection system. The continuous updates are also a great plus.
Find Bose QuietComfort 35 II featured in:
---
2. Audio-Technica ATH-M50x – Runner-Up
Our second model is the Audio-Technica ATH-M50x, and it, too, brings an impressive package to the competition. These headphones are designed with movies and home theaters in mind; that's why the connection between them and your screen is unprecedentedly secure and in-sync. You can safely say goodbye to lags with all your confidence.
Furthermore, these headphones have 40 hours of playtime, which is incredible. You can also turn these into unlimited time if you wish to operate the headphones using a wire.
As for your comfort while using the headphones, have no worries. These are over-ear, closed-back headphones, so they provide passive noise cancellation and highly comfortable ear cups that are lined with plush snug fabrics that surround your ears without suffocating them.
Moreover, those same ear cups hold all the controls for the headphones, boosting accessibility considerably. Also, among these controls is the button that will connect you to your virtual assistant, be it Siri, Google Assistant, Cortana, or whatever you're operating at the moment.
Sadly, these headphones are kind of heavy, so we wouldn't advise you to wear them for 40 hours straight. Plus, they come without active noise cancellation.
Pros
40 hours playtime
Perfect sync between picture and sound
Plush ear pads
Voice assistant connection
Accessible controls
Cons
Only passive noise cancellation
Heavy
Final Verdict
If you're a movie addict and see yourself watching more than one movie per day, then the Audio-Technica ATH-M50x with its 40-hour playtime and perfect sync will be an excellent choice for you.
Find Audio-Technica ATH-M50x featured in:
---
3. Skullcandy Crusher – Best Design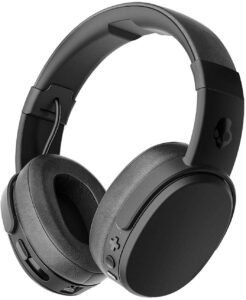 Skullcandy is one of the pioneers of the tech industry. You'll hardly find anyone who did not have a piece of Skullcandy tech throughout their life. Thus, they'll surely be featured on this list, and their champion is the Skullcandy Crusher model, which combines a lot of impressive features.
Firstly, the design here is carefully thought of. The mix between mesh and leather around the ears makes for sturdiness, reliability, and good air circulation so that you don't feel suffocated. Moreover, they come in a variety of color combinations, each unique and stylish on its own.
These headphones are over-ear, closed-back ones, so they provide passive noise cancellation and significant bass. Furthermore, playtime with these headphones is 40 hours. Not to mention, a 10-minute charge will give you three full hours of playtime. Plus, in the unfortunate event of your battery running out, you can operate these headphones using a wire as well.
The ear cups are also home to the controls that allow you to control the bass, volume, and access your virtual assistant. And, of course, they come with an inbuilt microphone that allows you to take calls.
On the other hand, although these headphones are in no way cheaply-made, the build involves a lot of plastic, which can be switched out for something better and more durable.
Pros
Lightweight
40 hours of playtime
Microphone
40 meters of wireless range
Comfortable
Virtual assistant compatibility
Final Verdict
If you're in the market for lightweight headphones that come with a stylish, fun design, and still guarantee your comfort, plus 40 hours of playtime, then the Skullcandy Crusher will definitely be to your liking.
---
4. Avantree AS9S – Best Budget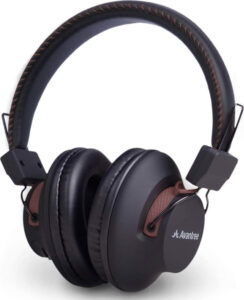 Our budget-friendly pick would have to be the Avantree AS9S, bringing comfort, Hi-fi sound-quality, and compactness to the table for a fraction of the price tag on other products.
Speaking of the sound quality, these headphones are designed to bring Hi-fi stereo quality sound with impressive bass response, rich trebles, and sharp tones, imitating your typical movie theater experience.
As for comfort, they come with adjustable headbands in order to fit the shape and size of your head. Also, the fact that these headphones have an over-ear, closed-back design allows for more comfort as they surround your ear and isolate outside sounds with passive noise cancellation.
Furthermore, the playtime here is 40 hours controlled by the buttons placed on the ear cups. You can also turn these wireless headphones into wired ones by using the provided cord.
Nevertheless, just like any other product, they do come with drawbacks, most prominently, the absence of active noise cancellation.
Pros
Budget-friendly
Comfortable
Great sound quality
40 hrs playtime
Built-in mic
Cons
Only passive noise cancellation
Final Verdict
If you're looking for something that won't break the bank, while still providing you with top-notch qualities, such as 40 hours of playtime and a comfortable design, then the Avantree AS9S is an excellent choice.
---
5. Avantree HT4189 – Best Compatibility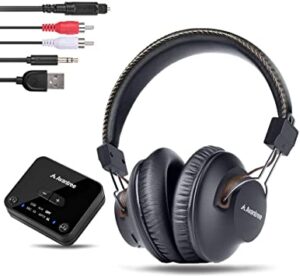 These headphones by Avantree are the epitome of compatibility and easy, hassle-free connection. They're compatible with almost all devices, including TVs and portables, and they support various audio outputs such as RCA, USB, AUX, and optical. Hence, whatever it is the port that you have, you'll be able to connect the Avantree HT4189 to it.
As for the sound quality, it's perfectly sharp, clear, and in-sync. Picture and sound are perfectly in-tune with each other for as far as 100 ft, which is one of the most impressive ranges seen on the market. Moreover, playtime goes up to 40 hours with the Audicast Bluetooth Class I Technology.
These headphones have skin-like fabric covering the ear cups for an all-natural fit. The Avantree HT4189 are over-ear, closed-back headphones that allow you to absorb all the sound without hurting your ears.
Lastly, they can be operated with or without a wire. As for the disadvantages that come with these headphones, they're mostly quality control problems. They also don't come with a USB charger.
Pros
Compatible with most TVs
Can share audio
Perfect sync
100 ft range
40 hours of playtime
Comfortable
Cons
Quality control
No USB charger
Final Verdict
These headphones are an excellent investment, as you can use them on probably anything and they'll work perfectly. They offer you great sync, high sound quality, and 40 hours of playtime.
---
6. Sennheiser RS 175 RF – Best Transmission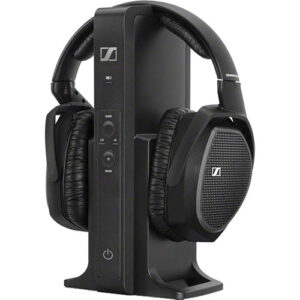 The Sennheiser RS 175 RF headphones don't come alone; they come along with a station or transmitter, which is the puppeteer controlling the headphones and giving them their well-deserved fame.
The signal coming out of this transmitter can travel 100 ft, totally unobstructed by any other waves such as radio frequencies or even walls. Hence, wherever you're in your home, you'll still be receiving signals.
Moreover, the sound coming out of these over-ear, closed-back headphones is a lot more concentrated on the bass. Therefore, you'll feel every explosion and every fight when you're wearing them.
Still, the headphones themselves don't come bare; on each side of the ear cups, you'll find controls for a plethora of options that'll save you a lot of trips back-and-forth from your TV. Playtime here can reach up to 18 hours, which is relatively good for watching a movie or two.
And, of course, you can operate the headphones using a wire if the batteries die on you, or you can simply exchange the batteries for new ones since they're not fixed.
Nevertheless, they're not as comfortable around the ears as you'd want them to be. The fabric used to make the inside of the ear cups are irritating, and of course, they don't offer active noise cancellation.
Pros
100 ft range
Unobstructed by RF or walls
Accessible controls
Adjustable headband
Bas can take another set of headphones
Replaceable batteries
Cons
Stiff ear cups
Uncomfortable
Only passive noise cancellation
Final Verdict
This entire set is truly amazing. The Sennheiser RS 175 RF got so close to creating a movie theater experience for you at home. The clarity of the sound and the focus on the bass allow you to feel even the tiniest of sounds quite vividly.
---
How to Pick the Best Headphones for Movies
Now, we'll walk you through a few of the most important features that you should take into consideration when purchasing a set of headphones for watching movies.
Type
There is no doubt that the market is chock-full of different headphones; wired, wireless, earbuds, overheads, and so many more. It's easy to get overwhelmed; nevertheless, there are four main types that have a significant effect on the sound quality and how the headphones will operate. These four types are over-ear, on-ear, closed-back, and open-back.
Over-Ear
Over-ear means that the cup will surround your entire ear so that no sound will leak outside; rather, your ear will absorb it all. Moreover, you'll have no pressure points on your ear, therefore, preventing pain and fatigue.
On the other side of the spectrum, there'll be no air circulation, so you'll be more prone to heat, sweat, and eventually discomfort.
On-Ear
On-ear headphones are slightly smaller than over-ear ones. They don't surround your ear; instead, they sit flat on top of them. They also allow some air circulation, leading to leakage of some sound but still allowing it to be a little bit more natural. Yet, the headphones will be pressing on your ear the entire time you're wearing them, which will definitely cause some pain.
Open-Back
This is related to the exterior design of the ear cup. Open-back headphones have a perforated outer shell for the ear cup, allowing for a lighter, more portable design. That prevents heat from building up, allows some sound, and keeps creating air circulation.
Unfortunately, they tend to be a little bit pricier, and the escaping sound will eventually reduce the sound quality.
Closed-Back
Naturally, this is the exact opposite of the previous type. Here, the outer shell is solid, and it provides the primary source of passive noise cancellation, as this shell prevents external voices from intruding on you. Still, you'll have to deal with the heat and echo created from such a closed environment.
Noise Cancellation
Noise cancellation is undoubtedly one of the essential properties that can make or break a set of headphones. If you're listening to a song and all the outer sounds are intruding on you, you'll be fairly devastated. We'll explain in detail momentarily how noise cancellation is divided into two types; passive and active.
Active
Active noise cancellation means that there is a component inside the headphones that creates counter sound waves to the external unwanted sound waves, so they cancel each other out, and it's like nothing has ever happened.
Passive
Passive noise cancellation is what all headphones come with; it's nothing extra. Usually, the outer shell, along with the headphone's design, prevents as much outdoor noise as possible from entering and integrating with the headphone-produced sound waves.
Transmission Distance
Since we're talking about imitating the movie theater experience, you'll be sitting far from your TV and want to be free in your movement. Do you want to go get some snacks, or close the curtains? A wide range of transmission is a must for all of these small tasks, and as you can see on our list, you'll find headphones reaching up to 100 ft of transmission distance.
Also, this transmission distance has to be supported by the strength of the signal itself. If the signal is weak and you move away, behind a wall, or near any other device that also produces a different kind of waves, the signal can be interrupted.
Sound Quality
The difference between cheap and premium quality headphones doesn't have to be related to their price; sound quality is the detrimental factor here. The only way to know the sound quality is to try on the headphones yourself. Experiment with different types of music and videos to make sure that the bass is clear and that you're satisfied with the sound.
Batteries
The majority of movie headphones are wireless, meaning that they rely on batteries for their power. You'll find headphones with fixed batteries that have to be put somewhere to charge in order for them to work. Others have removable batteries that you can take out to charge and place the new ones in their place and go on with your day, which is definitely a better choice.
Controls
When you're sitting cozily in your seat with your snacks, and everything's prepared, you certainly wouldn't want to get up to increase or decrease the volume, ask Sir, Alexa, or Google home something. You'll want everything at the tip of your fingers; that's why a wide variety of controls on your headphones is a great plus.
Wired/Wireless
Finally, one of the main differences between different types of headphones is connectivity. You either purchase wired headphones that are connected through a 3.5 cord, wireless headphones that operate through Bluetooth connection, or wireless headphones that can also function with a wire in case the batteries run out.
It's a well-known fact that corded headphones have better sound quality. No matter how much you try, the interference with the signal sent from your phone to your wireless headphones will always have a negative effect on the produced sound.
On the other hand, wireless headphones are so much more portable and comfortable. Whether you're going for overheads or earbuds, the mess that was your tangled cord will be a thing of the past.
Now, you'll only need to pop your headphones on, and that's it. Also, the controls on these wireless headphones tend to be revolutionary videos. A lot of them require a touch or two to carry out commands.
Final Words
You're done! We've concluded our article discussing the best headphones for movies. The conclusion here is that you need to try different things to find out what suits you best. What kind of sound transmission, distance, or playtime do you prefer? Take all of these factors into consideration, add your budget, and you'll have your choice.
As for our recommendations, our first will be our top pick, and that is the Bose QuietComfort 35 II, as they're genuinely one of the best headphones on the market today.
They offer a lot of unique options, such as the Bose Connect App, allowing you to carry out updates and modify various settings. Also, the three levels of active noise cancellation and the noise reject microphone system are a great plus.
Nonetheless, if budgeting is your primary goal, then the Avantree AS9S is the perfect choice for you. They provide Hi-fi sound quality on all the different sound levels, along with 40 hours of playtime and a totally adjustable comfortable fit for your ears.
Our last recommendation will be the Sennheiser RS 175 RF. These headphones encompass a great system that offers you 100 feet of uninterrupted transmission distance, 18 hours of playtime, and a plethora of different controls placed strategically on the air cups.