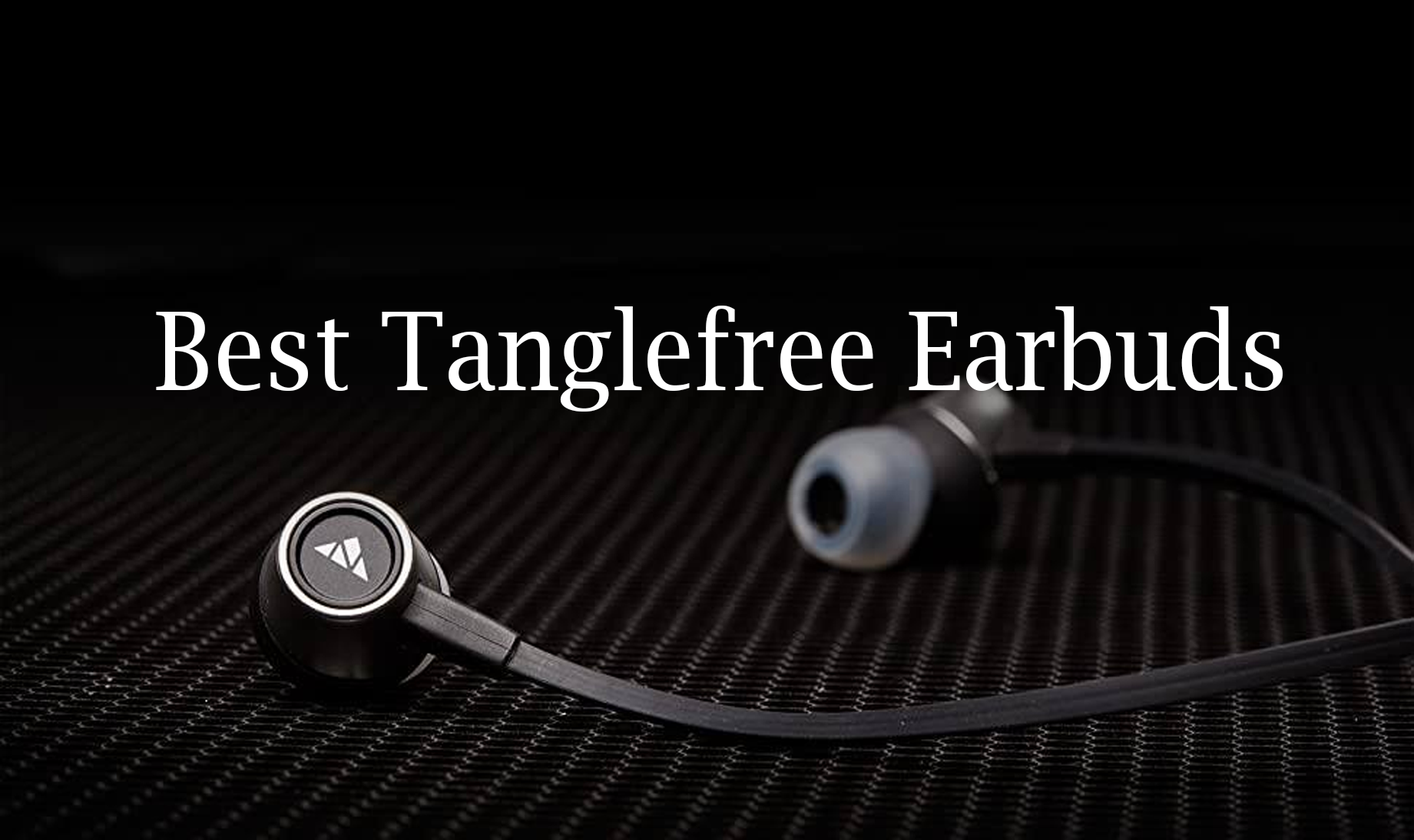 Buying a pair of earbuds that don't require frequent untangling might have seemed like winning the lottery as it merely depended on luck. Yet, after reading the review, you'll know what to check to make the right purchase. 
In this article, I have compiled a list of the best tangle free earbuds that don't break the bank. You'll also find a short buying guide to explain how you should choose.
Comparison Table:
The 6 Best Tangle free Earbuds in 2020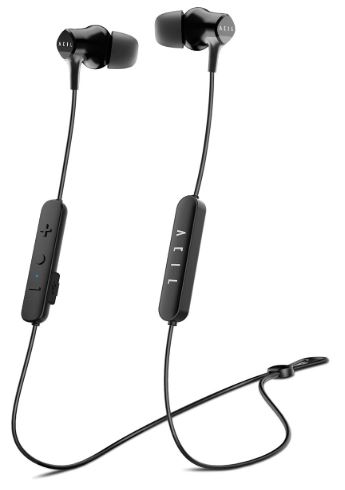 If you don't want to have the slightest chance of facing tangled cables, you better go for wireless earbuds, and the best ones to buy are ACIL Bluetooth Earbuds. They use Bluetooth 4.1 technology, so the connection is excellent with zero distortion unless you get out of the connection range that extends for 10 meters. 
I understand if you don't want to buy wireless earbuds because you don't like being limited by the battery's lifetime. However, you can enjoy 11 hours of playtime with these babies on a single charge that only lasts for two hours. 
Another advantage of ACIL Bluetooth Earbuds is allowing you to control your smartphone without touching it, thanks to the control bar that lets you answer or reject calls and play or pause music. 
In addition, their IPX5 rating means that they are waterproof and can handle rain and sweat without suffering any damage. Another reason why I believe they are perfect for working out is their magnetic clasp. Whenever you're done using them, you can wrap them around your neck and know that they won't fall off. 
In addition to all the above features, they have excellent build quality as they are made of soft matte plastic earbuds and liquid silicone material. Even the ear tips are made of high-quality silicone that allows them to fit nicely in your ear. 
Thanks to their full frequency range that goes from 15Hz to 22kHz, you'll enjoy an excellent listening experience. Plus, they employ two drivers: the Knowles balanced armature driver and the 10.8mm dynamic driver, where the former serves to produce nice high-frequency sounds and delivers clear treble, and the latter provides mid-low frequency for perfect bass. 
Additionally, this pair enjoys the noise isolation feature, so you can wear them in the noisiest places and enjoy marvelous music without getting interrupted. 
Pros:
Durable 
Comfortable 
Wireless 
Feature magnetic clasps 
Amazing sound quality 
Long battery life 
Affordable 
Cons:
Lack a built-in microphone 
The waterproof feature could be improved 
Bottom Line 
ACIL Bluetooth Earbuds are the best to go for if you're looking for wireless earbuds. They are suitable for gym enthusiasts and commuters thanks to their magnetic clasps and comfortable fit.
Easy KZ ZST earbuds are very stylish so that you can wear them on fancy occasions with no shame. The design is not only elegant but ergonomic as well, providing great comfort to the users. 
They will fit perfectly right into your ears, thanks to their locked-in fit. Besides, their cables enjoy memory wire technology, which makes them tangle-free and durable enough to withstand harsh use.
This lovely pair is compatible with the newest generations of iPod, iPad, iPhone, and Android, so you won't have any connectivity issues. To sum up, you can use them with any device that has a 3.5 mm jack. And if the device doesn't have one, use an adapter, easy peasy! 
You can use these in noisy environments and still not get interrupted thanks to the incredible noise isolation technology. Thanks to the 20Hz to 20kHz frequency response range and the dynamic drivers, you'll listen to high-quality sounds and bass. 
Easy KZ ZST comes with a replaceable cable, which is a cost-effective feature because if it suffers any damage, you can just replace it instead of throwing away the whole set. However, you can rest assured that it is doubtful for the pair to get damaged because there is a one-year free warranty to cover any malfunctions. 
Sadly, you shouldn't wear them in the rain because they are not waterproof. Also, they don't have a built-in microphone, so there is no way to make or answer phone calls. 
Pros:
Replaceable cable 
One-year warranty 
Stylish design 
Comfortable 
Affordable 
Block ambient noise 
Cons:
No built-in microphone 
Not waterproof 
Bottom Line 
If you're searching for a pair of earbuds balancing between affordability and high quality, Easy KZ ZST are the ones for you. Their excellent sound quality, stylish design, wide frequency range and comfortable fit are hard to resist.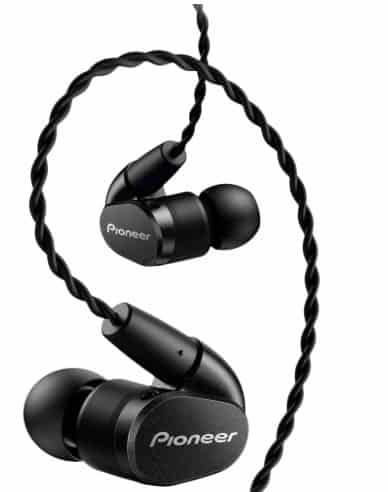 Pioneer Hi-Res offers many premium features at such a low price, such as featuring an in-built mic. Having this option on your earpiece is quite essential, especially if you don't want to miss out on anything while you're cycling, working out, commuting or doing any activity, as you can use the mic to answer or make calls. 
There's also a remote control that helps you navigate your playlist and play or pause whatever you're listening to. Plus, both these features increase your safety because you won't have to take your eyes off the road to check your phone while cycling, for example. 
Most importantly, you won't spend a second trying to untangle the cables as Pioneer Hi-Res come with a braided cable, so there is no way it will get tangled. 
This set features powerful drivers that can deliver from 8Hz to 40KHz sounds. This way, you can listen to all music genres with absolute clarity. Apart from their frequency range, they boost the newest Airflow Control Port technology, improving the mid-range bandwidth and delivering excellent bass frequencies. 
What's more, you'll enjoy the pain-free experience of having these comfortable and ergonomic earbuds in your ears for as long as you'd like, thanks to their lightness, as they weigh 2.72 ounces. 
The only drawback is that they don't provide proper noise isolation, so you may get disturbed if you use them in a noisy place. 
Pros:
In-built mic 
Tangle-free braided cable
Light and comfortable 
High sound quality 
Cons:
No noise isolation 
Plastic build quality 
Bottom Line 
If you compare what Pioneer Hi-Res offer to the price you have to pay for them, you'll realize that they are a great bargain with their excellent sound quality, comfort, lightness and in-built mic.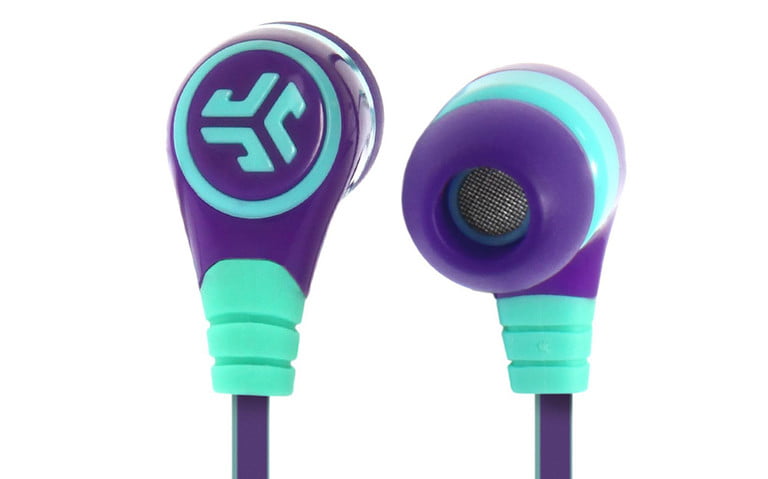 When you know what JLab Audio Diego offers for such a reasonable price, you'll be in awe. They are made with high-quality materials. Moreover, they have a tangle-free flat cable so that it won't knot. 
The earbuds come in three colors: black, green and purple, so you can choose the color that you like more. This makes it a bit like Easy KZ ZST, as you can wear the pair on stylish occasions. 
No matter how many hours you wear these earbuds, you won't feel irritated, thanks to their ergonomic design and soft cushioning. 
JLab Audio Diego features a 10 mm neodymium micro combined with JLab's signature sound curve drivers that produce high sound quality, solid bass and crisp highs and mids. 
Plus, the earbuds come in different sizes, so you can play around until you find the size that fits you. They also feature the noise isolation feature, yet take care that the pair should be your perfect fit, or else they won't isolate the ambient noise. 
Do you want to make phone calls on the go? The in-built microphone allows you to do just that. There is also a button pad on the cable that helps you adjust the volume and play or pause the music without touching your phone.
Pros:
Comfortable 
Stylish 
Comes in different sizes and colors 
Features an in-built microphone 
Two-year warranty 
Cons:
Sound get distorted with loud volume 
Bottom Line 
JLab Audio Diego are an excellent pair of fancy earbuds that you can wear with no shame. Their noise isolation feature, in-built mic and tangle-free flat cable are impressive at such a price range.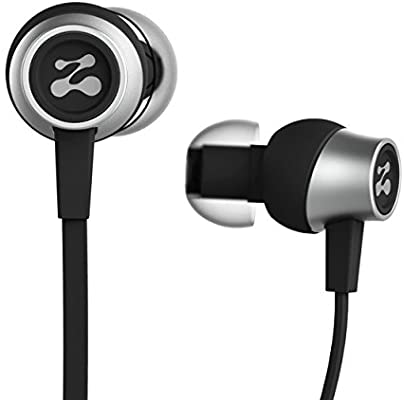 If you are a gym enthusiast or generally have an active lifestyle, allow me to introduce you to your future best friend: Zipbuds Slide Sport V2. 
These earbuds sport the Zipperless Zipper Cabling, which means that they don't have an actual zipper, yet the cables won't get tangled, thanks to the tiny squared piece acting like a zipper just above the remote pad. The lack of the zipper also plays a part in the earbuds' lightness as they weigh 1.6 ounces only. 
Another reason why I love wearing these while working out is how comfortable they feel in my ears. Besides, you needn't worry about them not being your size because they come with many differently-sized dual-composite silicone ear tips. 
When the silicone material gets combined with the Sport Fit Mold, you can rest assured that no matter how intense your workout is, they won't slip, and they won't irritate you. 
With the excellent frequency range that extends from 20Hz to 20kHz, you'll get high sound quality, balanced bass, clear mids and crisp highs. 
What's more, Zipbuds Slide Sport V2 features an in-built mic, which comes in handy during workouts as you can use it to get, make or decline phone calls. This way, you won't lose any of the important calls while at the gym. Besides, the mic has a noise filtering property, so you'll hear the callers, and they will hear you with superb clarity.
If there is any chance the manufacturers could improve something, I suggest they work on the mic's sensitivity as it is very sensitive to movements and may cut the call off on its own.  
Pros:
Zipperless Zipper Cabling
Light 
Affordable 
Won't slip off your ears
Sweat-resistant 
Very comfortable 
Noise filtering in-built mic 
Cons:
Oversensitive mic 
Might suddenly end calls
Bottom Line 
Zipbuds Slide Sport V2 are an affordable pair of tangle-free earbuds that employ Zipperless Zipper Cabling. Besides, they won't slip off during intense workouts, nor will they irritate you.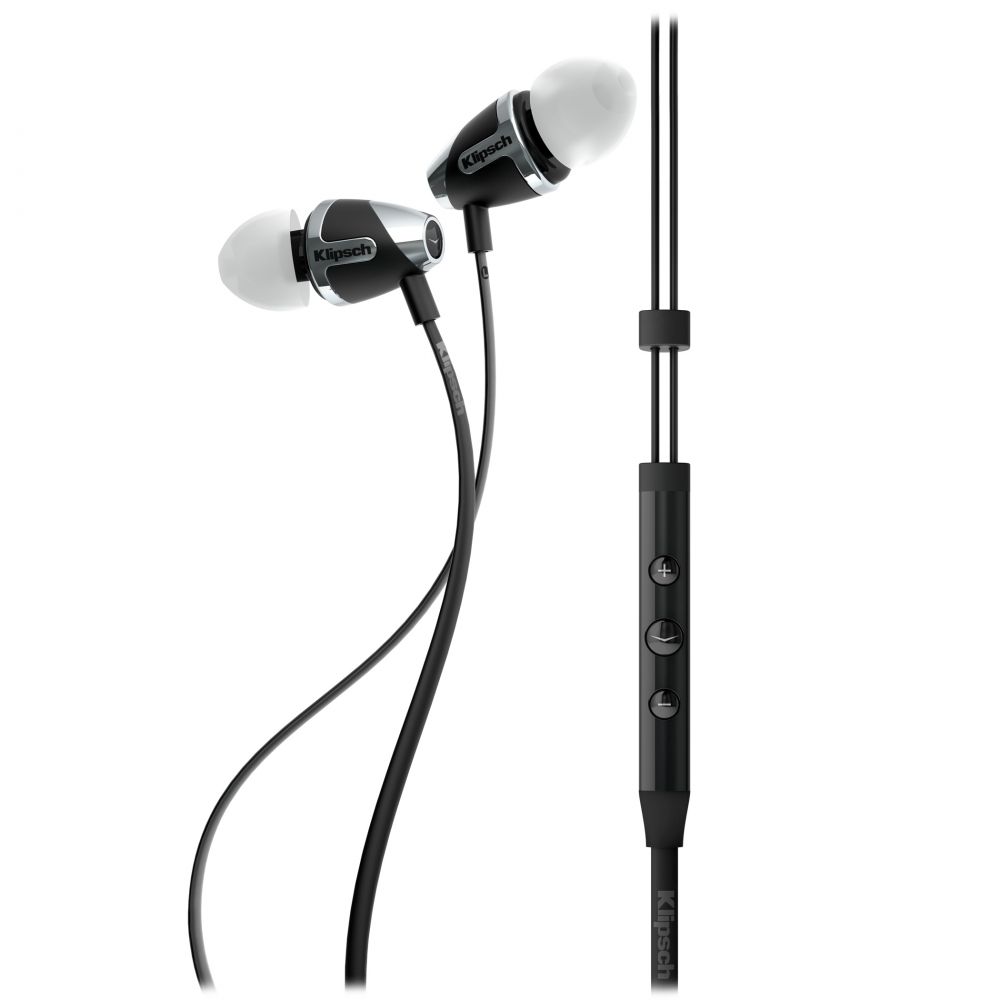 Klipsch Image S4i-II are among the best in-ear earbuds for their noise-isolation feature, allowing you to wear them and enjoy clear sounds regardless of the environment around you. 
They feature tangle-free flat cables, so you won't get frustrated over untangling them. Besides, they feature an in-built mic with three buttons, allowing you to navigate through your music, and take or make phone calls. 
Although their frequency range goes from 10Hz to 19kHz only, they still produce balanced bass and perfect mids and highs with no distortion. They even add a certain warmth, which improves your listening experience.  
Even though they are comfortable to wear for hours thanks to their patented oval ear tips, I wouldn't recommend them for people with an active lifestyle because their low-quality microphonics produces cord noise when they rub against your clothes. 
Don't wear them while running because their semi-heavy weight (5.3 ounces) makes them fall off your ear if you are very active. 
Pros:
Comfortable 
Tangle-free flat cable 
Offer nice noise isolation 
Feature an in-built mic  
Cons:
Relatively heavy 
Expensive 
Might fall off your ears 
Microphonics need improvement 
Bottom Line 
If you're not going to use the earbuds while working out, you can go for Klipsch Image S4i-II. The high sound quality, noise isolation and comfortable nature of the pair are quite impressive. 
How to Choose High-quality Earbuds that Don't Get Tangled
Spending some time trying to untangle your earbuds cables is something that a lot of people experience and dread. For this reason, manufacturers have designed some tangle-free earbuds. And in this guide, I'll tell you the factors that you should check to land the perfect ones. 
Cable Type 
The cable's type plays a huge part in deciding whether the cables will get tangled or not. For example, most earbuds with flat or braided cables are tangle-free, unlike those with round cables. You can easily fold them and put them into your tight pockets, and they won't get mixed up. It's obvious that this increases their durability and makes them travel-friendly. 
Frequency Range 
The frequency range of an earbud determines the range of sounds you can hear. A human ear can listen to frequencies starting from 20Hz to 20KHz, so make sure the earbuds cover this. 
Noise-isolation 
Due to the in-ear fit of earbuds, they offer noise isolation to an extent. Yet, some models boost this feature significantly that they block all ambient noises, so you can focus solely on what you're hearing. This is a suitable feature for commuters, travelers, and anyone who wants to listen to something in a noisy environment. If you usually use your earbuds at home, then there is no need for this feature. 
Waterproof 
Buying a pair of waterproof headphones is perfect for those who love to walk in the rain. They are also suitable for runners because the sweat won't cause any danger. Plus, they are very cost-effective as they won't get destroyed easily. However, this doesn't mean that you can swim with them. If you want earbuds for swimming, there are special ones designed for that. 
Accessories
It is wise to pay more for a product that comes with accessories than buying less for one with no accessories because they add value to the purchase. To illustrate, it is better to buy one that comes with differently-sized ear tips, as this ensures that you will find the one that fits you the most. 
Plus, some come with a soft pouch where you can safely secure the earbuds when traveling or commuting. This pouch helps maintain them and increases their durability. Some may even come with a cleaning cloth so you can enjoy listening to music and podcasts without germs at all. 
Microphone 
Having a microphone comes in handy if you want to make hands-free calls while on the go, while cycling or working out. This is a safe way of multitasking because you won't have to hold your phone in the middle of any activity.
What to Check If You Buy Wireless Earbuds
What is better than getting tangle-free earbuds? It is buying wireless ones where there are no cables to get tangled in the first place. Wireless earbuds produce the same sound quality. Their only drawback is restricting the listener to a few hours of use according to the battery life. If you go for the option, make sure you choose ones whose battery life exceeds 8 hours.  
It is also very important to check the charging time that a pair needs in order to be fully charged. Some products even have the quick charge feature that quickly charges the earbuds if you charge them for a short period of time. 
How Does the Earbud Connect with Your Mobile or MP3 Player? 
Through Bluetooth. Make sure that the version of the Bluetooth that the earbuds are compatible with is not older than 4.0 because they ensure excellent connection quality.  
You should also check the range, after which the Bluetooth gets disconnected. However, if you usually have the earbuds and the connected device close to each other, this won't be an issue. 
Final Thoughts 
After reading the review, I hope you've got all the information you need on the best tangle-free earbuds. I believe that you know all the factors that make a perfect pair. Yet, I'd love to shed light on some of the above products. 
For example, if you need fancy ones, you can either go for Easy KZ ZST or JLab Audio Diego. Both come in different colors and have an elegant yet fancy design. Yet, take care that JLab Audio Diego has an in-built mic while the other one doesn't. 
Pioneer Hi-Res are one of my favorites because they offer premium features at a very decent price. For example, they have an in-built mic and comfortable design. They also have the fullest frequency range and produce high sound quality.