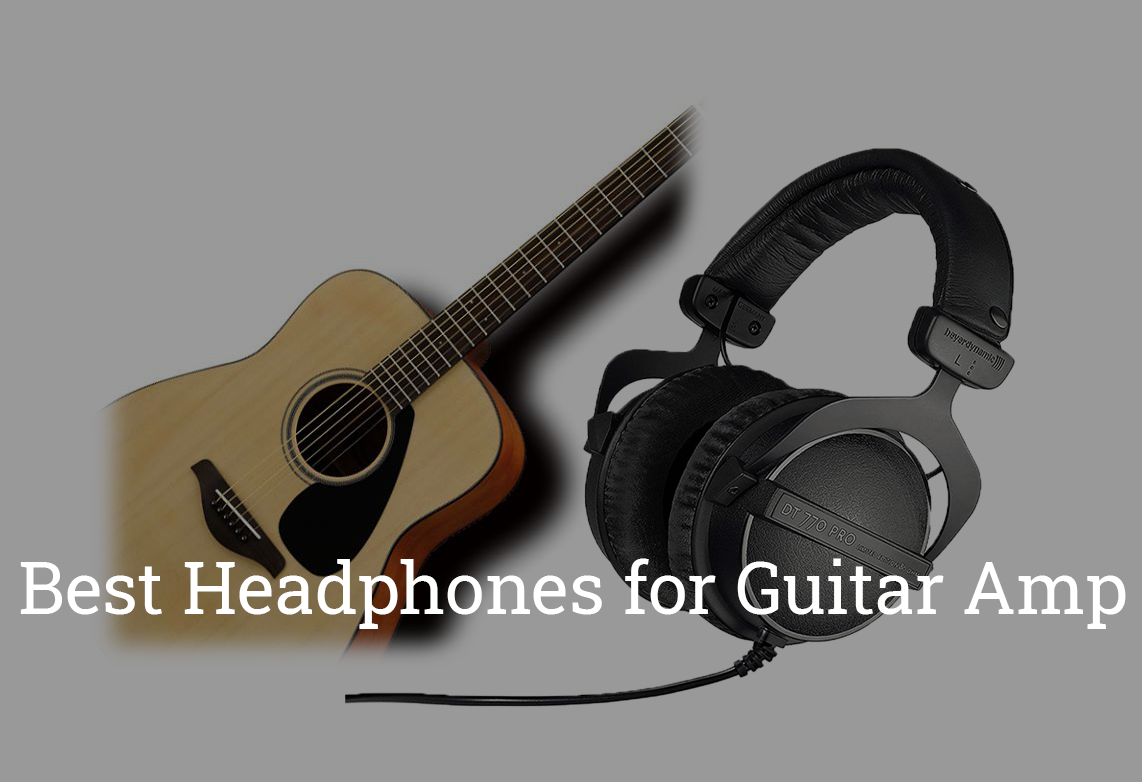 Playing your guitar and listening to the music flow all around you is an unmatched experience. Yet, there may be some reasons preventing you from enjoying this.
For example, you might be in a neighborhood that doesn't enjoy loud music, or you may have a roommate that doesn't tolerate being awakened in the middle of the night because you're practicing.
Yet, never allow these reasons to stop you from practicing and enjoying the beautiful melodies you produce. And that is when a good pair of headphones for guitar amps come to the rescue.
They allow you to play your music anytime you want without disturbing anyone. Plus, the closed-back design sets block all the surrounding noises, giving you enough quietness to focus on your music if you have to practice in a noisy place.  
In this article, we have compiled a list of the best headphones for guitar amp, so you don't get confused. Plus, you'll find a comprehensive buying guide with lots of crucial information.
Comparison Table: 
| | | | |
| --- | --- | --- | --- |
| Headphones  | Type  | Impedance  | Frequency range  |
| Beyerdynamic DT 770 Pro | Closed-back  | 80 ohm  | 5Hz – 35kHz |
| ATH-M50x | Closed-back  | 38 ohms | 15KHz – 28kHz |
| AKG Pro K240 | Semi-open back | 55 ohms  | 15Hz -25kHz |
| Sony MDR7506 | Closed-back  | 63 ohms  | 10Hz – 20kHz |
| Samson SR850 | Semi open-back  | 32 ohms  | 10Hz – 30kHZ |
| Status Audio CB-1 | Closed-back  | 32 ohms  | 15 Hz – 30 kHz |
The 6 Best Headphones for Guitar Amp in 2020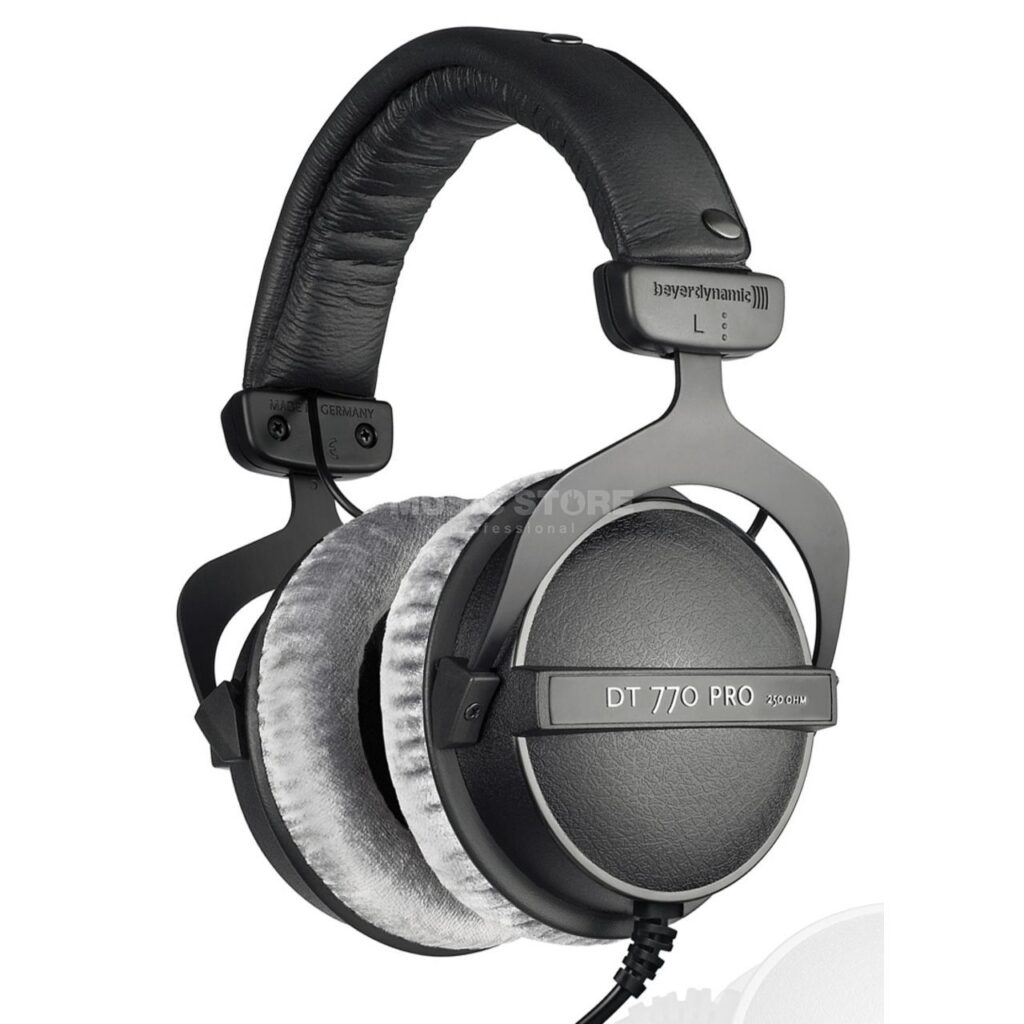 Studio headphones require a higher impedance than those you use at home, so it is pretty great that Beyerdynamic DT 770 Pro has three impedances: 32, 80, and 250 ohms. 
You can choose whatever suits your needs more. For example, if you need them for studio use, you can either go for 80 or 250 ohms. In case you want to plug them into a portable device, the 32 ohms will suffice. I recommend the 80-ohm option if you're going to use them with instruments and mobile devices. 
The frequency range (5Hz – 35kHz) is quite impressive, as it produces an accurate representation of how your music sounds. Plus, the wide frequency range produces all music notes with absolute clarity. 
Having a closed-back design is especially great for producers, as it blocks all surrounding noises. You can rest assured that the vocal recordings are going to be perfect with no bleed at all. 
We could say that Beyerdynamic DT 770 Pro are tangle-free, thanks to their single-sided cable that allows you to put them on and take them off with absolutely no problem. 
Sadly, the cable is relatively short and non-detachable no matter which model you choose. To illustrate, if you go for the model of 32 ohms, you will get a 1.6-meter cable. With the 80 or 250 ohms, you will get a 3-meter cable. 
Pros:
Two-year warranty 
Various impedance options 
Great for studio use 
Comfortable ear pads 
Cons:
Not foldable 
Short cable length 
Expensive 
Bottom Line 
Beyerdynamic DT 770 Pro is the best option for professionals, thanks to their full frequency range, high impedance, and pure sound quality. 
Find Beyerdynamic DT 770 Pro featured in:
2. ATH-M50x – Most Comfortable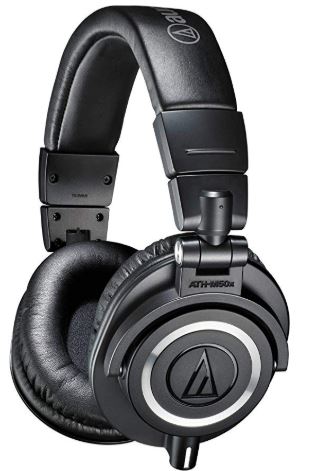 If you're looking for a comfortable pair of headphones, I recommend ATH-M50x for their padded headband and foam pads. Plus, their collapsible nature makes it easy for you to travel or commute with them. 
Thanks to their closed-back design, they block all ambient noises no matter how loud the environment you're playing in. And since this may be an issue in case there is an absolute need for you to hear what's going on around you, I find the fact that the earcup can swivel 90 degrees a marvelous feature. This way, you can monitor the guitar sound with one earcup. 
Besides, coming with three detachable cables (a 3m straight, a 1.2m straight, and a 3m coiled) is an intelligent move on the part of the manufacturers because it means that if any of them gets damaged, you can easily replace it instead of throwing the whole set away. In other words, you'll be saving money, time, and effort. 
The 38-ohm impedance allows you to use the headphones with portable devices as well as instruments. Yet, plugging them into an amp enables you to enjoy more vibrant sounds. 
While the 15kHz – 28kHz frequency range isn't the widest on our list, it covers all the frequencies a human ear can hear, which is all we ask for. The bass and highs are great but the mid-range is where ATH-M50x excel. So, they are perfect for an aggressive playing style. 
Sadly, the plastic build construction is not the best feature about them, so you must handle the set with care lest they should break. 
Pros:
Excellent sound quality 
Very comfortable padded earpads 
Can use one earcup
Three detachable cables 
Convenient impedance 
Collapsible 
Cons:
Plastic material 
Expensive 
Overpowering bass response 
Bottom Line 
Ranging from comfort to listening with one earcup, ATH-M50x headphones are one of the best options to buy. Plus, their frequency range is especially great for a guitar amp. 
Find Audio-Technica ATH-M50x featured in: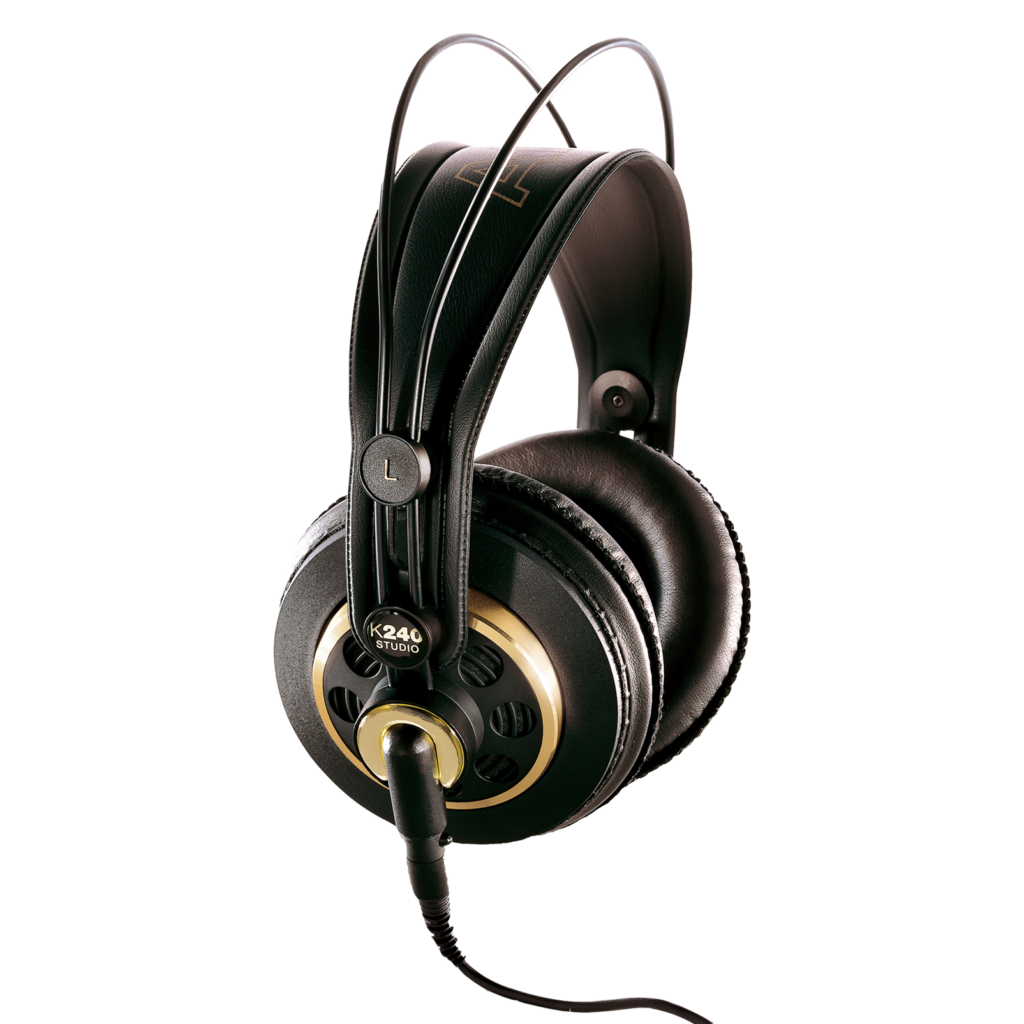 AKG Pro K240 has many advantages for the price it comes at. It is the option to go for if you need a decent pair of headphones without paying much money. 
First off, their semi-open back design blocks most of the ambient noise and gives you the soundstage sound effect simultaneously. Plus, the XXL transducers that are built with Varimotion diaphragm produce excellent high and mid-range frequency sounds. They also allow for the beautiful soundstage effect. 
Sadly, with a frequency range of 15 – 25kHz, they don't perform well when it comes to low-frequency ranges because the bass gets overloaded and sounds a bit explosive. Yet, you can easily avoid this by lowering the volume. 
I love the medium-to-high 55-ohm impedance, which is ideal for a guitar amp. Yet, it might not be the best option for studio use. 
Moreover, the fact that they come with replaceable ear pads and two detachable cables (a coiled 5m cable and a 3m straight one) is brilliant because it enables you to change whatever gets damaged without changing the whole set.
Pros:
Excellent mid and high range sounds 
Affordable 
Two detachable cables 
Replaceable ear pads 
Soundstage effect 
Cons:
Low impedance for studio use 
Explosive bass 
Bottom Line 
AKG Pro K240 is one of the most convenient headphones to buy for their incredible performance and affordability. 
4. Sony MDR7506 – Best for Large Heads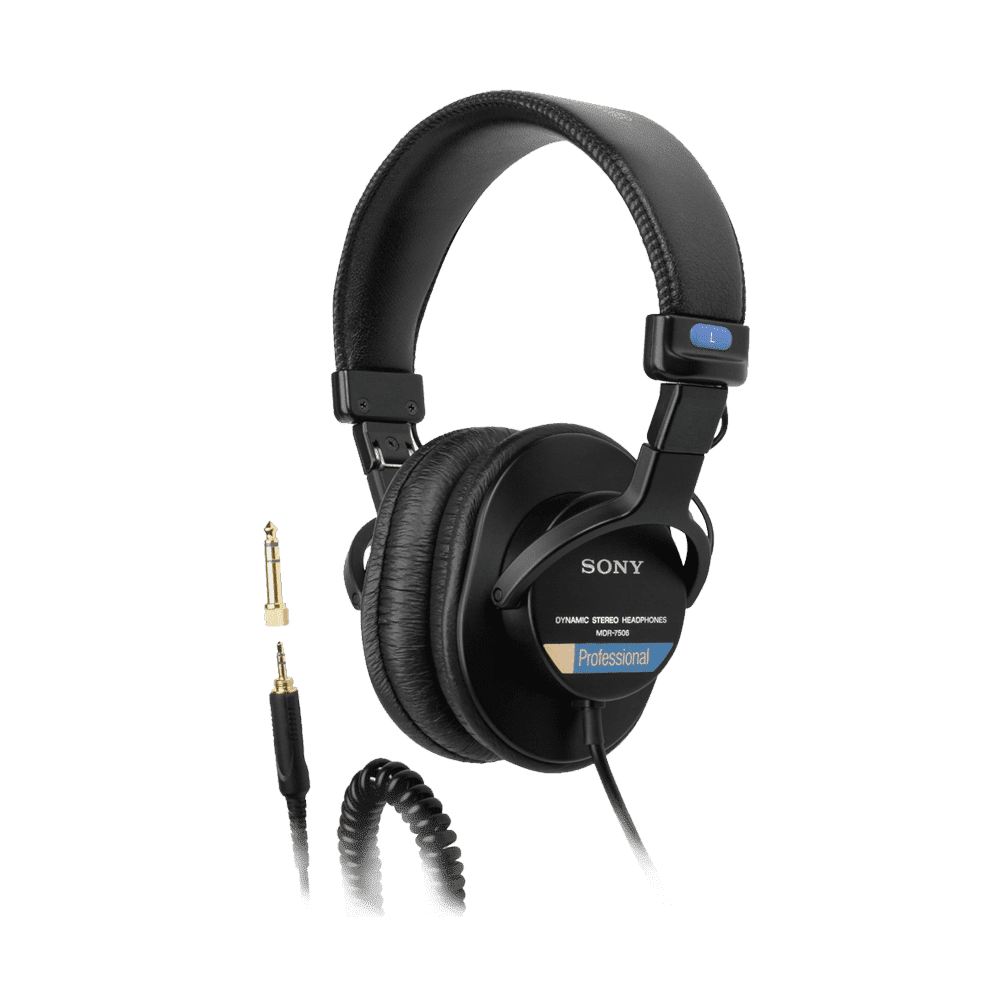 Sony MDR7506 is the perfect option for large-headed people because they come with large diaphragms and a headband with 10 levels of adjustments. If you're a headbanger, this set won't fall off your head no matter how hard you move your head. 
With its 63-ohm impedance, Sony MDR7506 is perfect for home and studio usage. It also has a 3mm jack and a 6.3mm jack adapter so that you won't have any connectivity issues. The 10-feet cable makes the set more convenient for in-door use than out-door use, though. 
Sadly, the cable is not detachable, so if it suffers any damage, you will have no other choice but to buy a new pair of headphones, which would be a huge waste of money, of course. 
The sound quality is pretty good with a frequency response range of 10Hz to 20kHz, 40-millimeter drivers and neodymium magnets. These factors mean that you will listen to high-quality mids and highs, but you may lose some bass when it comes to lows. However, if you plug the set into an amp, the bass comes alive. 
Sony MDR7506 headphones block ambient noises, thanks to their closed-back design. And,  you can easily fold them and put them in your bag when traveling. 
I wouldn't recommend them for anyone who intends to wear their headphones for many hours without a break, as they get uncomfortable by time.  
Pros:
High sound quality
Suitable for large heads 
Tight fit so you won't fall off
Adjustable headband 
Cons:
Not comfortable for long sessions 
Non Detachable cable 
Bottom Line 
Sony MDR7506 headphones are the best option for large-headed people and those who usually jam to music, thanks to their tight fit. Plus, they produce incredible sound quality. However, steer away from them if you want to wear the pair for extended hours.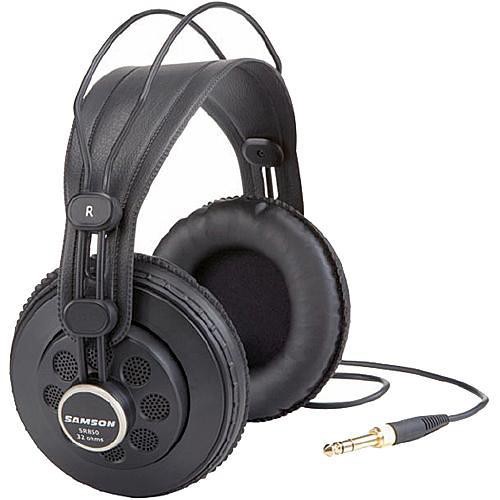 For their low price, Samson SR850 headphones have tons of marvelous features ranging from being comfortable to producing a high sound quality. 
These over-the-ear headphones have velour-cushioned ear pads that provide comfort even if you wear them for an extended period of time. They also come with a self-adjusting headband, so you can be sure they will fit perfectly. 
With the 10Hz to 30kHz frequency range and proprietary large 50mm drivers, they produce neutral sounds. What's more, Samson SR850 headphones are the best option for a guitar amp, thanks to their 32-ohm impedance. 
Like AKG Pro K240, they have a semi-open back design, which means that they allow you to listen to some of the surrounding noises while blocking most of them, this is suitable for people who play in relatively quiet environments. 
It is perfect for beginners in music production, for editing recordings and checking mixes. Yet, the open-back design means that this set is not the best for anyone who wants to record.
Pros:
Comes with a 1/4″ stereo adapter 
Neutral tone 
Wide frequency range 
Comfortable headphones 
Affordable 
Cons:
Doesn't block the sounds altogether 
Bottom Line 
In case money is an issue, I recommend you go for Samson SR850 because it doesn't fall short on any of the features of higher-priced options. It's comfortable and produces neutral sound with high quality.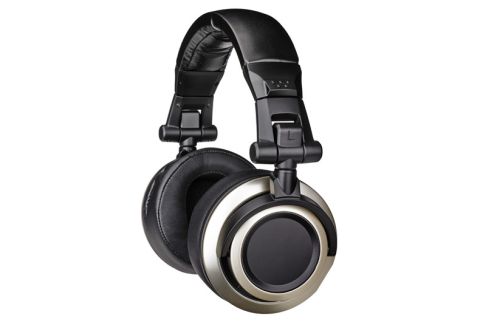 If you're looking for a pair of headphones that look fancy and don't fall short on quality, go for Status Audio CB-1. They have a modern design with prestigious black and gold colors.  
What's more, the comfortable pads make this pair very comfortable that you can wear them for long hours with no pain at all. 
You won't have any connectivity issues because Status Audio CB-1 not only comes with two detachable cables- coiled and straight, but also allows you to replace them with a third party cable. 
The sound quality is pretty good compared to the low price and no-logo headphones. With a 
15 Hz – 30 kHz, it is good with handling high frequencies. Producing perfect bass is not one of its good features, though. Yet, this is not a severe issue for guitarists, anyways.  
You can easily plug them into any portable device thanks to the 32-ohm impedance. You can also use them for mixing if you want. If you are in a noisy neighborhood, the closed-back design will help you play without getting disturbed as they block the surrounding noise.  
Pros:
Comfortable 
Affordable 
Comes with two detachable cables 
Sleek design 
Cons:
The sound is not neutral 
Not the best bass production 
Bottom Line 
With their fancy look, comfortable feel, and two detachable cables, Status Audio CB-1 are a prize for their price. 
Who Needs Headphones for Guitar Amp
Guitar amp closed-back headphones are fabulous for beginners who still need to listen to the guitar without any noises around to detect their growth and see where to make improvements. 
They are also perfect for those who play in the garage or who have roommates who are not fond of music, for only you can hear the sounds. Moreover, if you want to practice at night when everyone is sleeping, these headphones make it possible. 
How to Choose Excellent Guitar Amp Headphones 
Before spending your money on a pair of headphones, you must know the things that determine whether the headphones are great or not. For this reason, I've listed the factors that could make or break your purchase in this section. 
Open-back Vs. Closed-back Design 
No one can confirm that one of these designs is better than the other, for it mainly depends on the environment you'll play in. That's to say that open-back headphones do not isolate ambient noises, which means that you will be able to hear much of the sounds around you. So, if you'll play in a quiet place and add realism to the music you're playing, go for them. 
On the other hand, headphones with a closed-back design block most of the ambient noises, so they work wonders if you live in a noisy neighborhood, or if you live with lots of people.
Comfort 
If you're going to wear headphones for a long time, you must make sure they aren't painful. Some manufacturers pay a great deal of attention to small details to make their product as comfortable as possible on your head and ears. Such models usually have memory foam material that molds to the shape of your ear and head. They are also adequately padded and may have an adjustable headband for head support. 
Impedance 
Impedance refers to the amount of power a pair of headphones require to work, and it's measured in ohms. How do you know if you should buy a pair of low or high impedance? Here is a simple explanation. 
Low-impedance headphones (less than 25 ohms) work well with low amplification devices such as phones, MP3 players, and portable devices. Contrarily, headphones with impedance higher than 25 ohms need a huge amount of power to deliver high audio levels. 
Note that you may experience blowouts when you're using headphones with low impedance with powerful amps. Whereas, higher impedance sets are protected against blowouts, resistant to sonic abuse, reduce white noise, and provide an overall better listening experience. 
In case you want to be able to use the headphones with portable devices and others of a high amp, go for a pair whose impedance lies between 25 and 80 ohms. 
Dynamic Frequency Range 
Frequencies coming out of your guitar aren't as mastered as those produced from your MP3 player, and that's why you need a set of headphones with a wide frequency range response.
The minimum range you could go for is 20Hz to 20Khz, as this covers the human hearing spectra. 
Accessories 
Some headphones come with accessories such as detachable cables, interchangeable ear pads, and replaceable cushions. While you'll pay more for a pair of headphones with accessories, it is worth every penny. The way I see it, you'll be saving money because if the cable gets damaged, for example, you can just buy another one instead of having to buy a whole new set of headphones. 
Jack Size 
There are two jack sizes for any headphones: eighth-inch (3mm) and quarter inch (6.35mm). The former is used with portable devices, and the latter is compatible with instruments like guitar cables, for example. 
The good news is most guitar practice headphones come with an eighth-inch jack with an adapter that turns it into a quarter-inch jack. In other words, you can use your headphones on as many devices as you like. 
Frequently Asked Questions: 
How to Play Guitar Through Headphones Amp?
It is very easy. You just need to plug the headphones into the headphones out jack. 
Can I Use Headphones with All Guitar Kinds? 
Yes, but they won't always block the noise you produce. For example, if you connect a pair of headphones to an electro-acoustic guitar, people will still hear your music because you can't mute the acoustic part. 
On the other hand, using headphones with a fully electric guitar or a silent guitar won't allow people to hear your melodies.  
Do Guitar Amps Have Headphone Jacks?
Most probably, yes. Some guitars have 3.5mm headphone jacks, and others have 6.3mm jacks. To connect the latter ones to your headphones, you'll usually require an adapter. 
Make sure you plug the headphones into their jacks and not the amp's speaker outputs, or you may damage the amp and headphones.
Final Thoughts 
Now that I'm done reviewing the best headphones for guitar amp, I hope you've made your mind on which model to buy. No matter which one you choose, I assure you it is going to be perfect for all the above models.
If you want one for studio use, I recommend Beyerdynamic DT 770 Pro as it comes with three impedance options. This gives you unprecedented freedom in choosing the ohm that best suits your needs. Besides, its closed-back design makes it excellent for recordings as it doesn't bleed at all.
ATH-M50x is the most comfortable set as it has a padded headband and foam pads. Plus, it is foldable, so you can easily put it in your bag and take it wherever you go. It also doesn't fall short on the sound quality and allows you to employ just one earcup.
With AKG Pro K240's semi-open back design, you will get the soundstage sound effect and not be interrupted by the ambient noises at the same time! What's more, they come with replaceable ear pads and two detachable cables, which makes them cost-effective.