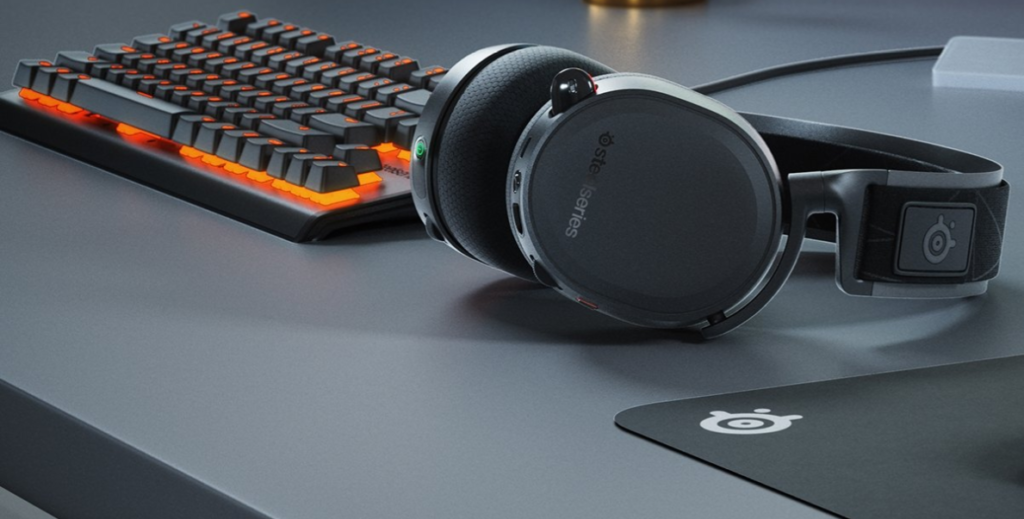 Steelseries is a prominent beast in the world of gaming headsets. They took over the world by their plethora of products, starting from budget wired sets to high-end wireless bundles. 
Speaking of the latter party, Steelseries Arctis 7 and Arctis Pro have been in the market for over a year, and both have gained plenty of praise since then. However, the question is which of the wireless units is better, bearing in mind that Pro costs twice the price of Arctis 7?
Apart from the price, they share a lot in terms of performance and build quality, yet there are some features that made each of them gain a point above the other.  
We've compared their specifications to help you work out which is the right Arctis headset for you.
Arctis Pro is the cream of the crop in this class. More than one connectivity option, two swappable batteries, a ground-breaking soundstage, and a studio-quality microphone are what you get in one package. It's the priciest option in the field, but it's worth every penny if you can spare the expense. 
If you're looking for a more affordable but equally high-performing model, Arctis 7 won't disappoint. You may sacrifice Bluetooth connectivity and mic quality, yet you get the gaming experience you deserve.
Comparison Table:
| | | |
| --- | --- | --- |
| Model | Arctis Pro | Arctis 7 |
| Drivers | 40 mm | 40 mm |
| Frequency response range | 10 – 40,000 Hz | 20 – 20,000 Hz |
| Battery life | 20 hours (10 per battery) | 24+ hours |
| Effective range | 40 ft | 40 ft |
| Compatibility | PC, PlayStation 4 | PC, Mac, PlayStation 4, Nintendo Switch, Mobil |
| Microphone  | Retractable, Bidirectional, Noise-canceling  | Retractable, Bidirectional, Noise-canceling  |
| Weight  | 0.8 lb | 0.77 lb |
| Rating | 9/10 | 7/10 |
| Price | CLICK FOR PRICE | CLICK FOR PRICE |
Arctis 7 vs Arctis Pro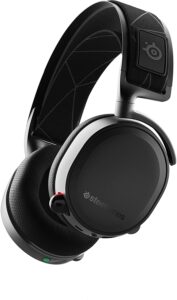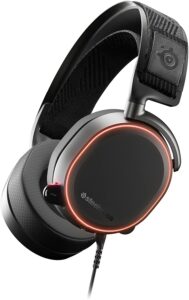 Design
Steelseries sticks with the same design for the entire Arctis series, so you won't really be able to tell a difference between the two models at hand. Both use sturdy aluminum headbands equipped with suspensions like that of ski goggles to adjust the fit, and the ear cups are stuffed with breathable Airweave cushions.
You'll be guaranteed comfortable and sweat-free gaming sessions with both models. Although the company claims that Arctis Pro incorporates higher-grade materials, they're pretty much the same, though Arctis 7 is a bit lighter. However, the difference between 0.8 and 0.77 pounds isn't significant enough to make Arctis 7 win this point.
As for aesthetics, both wireless versions lack RGB lights, which are present in the Arctis Pro wired model. Moreover, while Arctis 7's outer shell is steel black, Arctis Pro bears a classier gunmetal look. Yet, whichever style is better depends on your personal preferences. 
Winner: Tie
Sound Quality
Top-class sound quality is what Steelseries doesn't compromise; thus, it outfitted the two models with 40-millimeter neodymium drivers that pump out outstanding audio with on-point clarity and zero distortion. However, the difference falls in the frequency range of each unit. 
Arctis 7 has a frequency response range of 20-20,000 Hz, while Arctis Pro covers 10-40,000 Hz. From the numbers, you can see that Arctis Pro has greater coverage over the highs and lows. That may not be noticeable for standard users, but it makes a difference for audiophile gamers.
The narrower range of Arctis 7 renders the bass less pronounced, and for a strange reason, it emphasizes certain tones more than others. Indeed, it'll make you hear all the necessary elements in a game, but you might miss some faint footsteps at the expense of loud gunshots.
On the other hand, Arctis Pro rocks the whole frequency range. It captures the subtlest vocals and offers better bass response and crisper highs. So, it goes without saying that Arctis Pro has far better sound quality.  
Winner: Arctis Pro
Gaming Performance
When evaluating the gaming performance, the main feature to focus on is surround sound, and in this category, both of them shine. 
Both units incorporate 7.1 surround sound with DTS headphone:X, which is an incredible technology that delivers cinematic audio to your headset, simulating the game's 3D environment. 
This is where Steelseries specializes, so both headsets perform equally, giving you a tactical advantage over your opponents in games like Fortnite and Overwatch.
Winner: Tie
Battery Life
When Arctis 7 was first released, Steelseries advertised 15-hour worth of battery life. However, the new 2019 edition comes with a battery that supposedly lasts 24 hours. While this may seem like a stretch, it'll still cover a whole gaming day or a Fortnite all-nighter without the need for a recharge.
Instead of one battery, Arctis Pro comes with two batteries. Each can go up to 10 hours on a single charge. And the good news is it takes less than one hour to recharge fully.
This Swappable dual-battery system may be appealing for gamers who don't like to stop and charge or want to have the freedom of gaming anywhere without making sure they're sitting next to an outlet. 
That would have been a viable point if Arctis 7's battery life was similar to one of the other's batteries. However, with the total of Arctis Pro's battery lives nearly equal to that of Arctis 7, you'll get the same gaming hours from both before you need to recharge. 
Winner: Tie, but depends on the battery system you prefer.
Connectivity
Arctis wireless headsets offer 40 feet of operational range, meaning you'll be able to roam around your apartment without having to take them off or losing connection. Nevertheless, Arctis Pro offers more connectivity options.
Arctis 7 connects only using 24 GHz RF USB dongle while Arctis Pro supports the same option in addition to Bluetooth connectivity. 
Technically speaking, 2.4GHz technology is always the best option for gaming. It operates at an imperceptible latency, and its produced audio is entirely lossless. 
Although Bluetooth offers universal compatibility to nearly all devices, sometimes its detectable latency can ruin your game. Imagine the sound of the gunshot coming to your ears after you've seen it on the screen. That's the last thing you want from a gaming set. 
Hence, we're not saying that Arctis 7's shortage of connectivity options will affect your gaming experience, but it's always nice to have another option in your pocket. So, we're giving this point to Arctis Pro.
Winner: Arctis Pro
Software
Accessible adjustment settings can make all the difference, and in this category, both models offer completely different methods.
Like most Steelseries units, Arctis 7 uses Engine 3 customization app to control sound settings. Luckily, the app uses an intuitive interface and is super easy to use. However, it's a pain to use an app to toggle between stereo and 7.1 surround sound or adjust the audio dynamic range.
Since Steelseries was aiming to improve all this version's imperfections, they released Arctis Pro with an included transmitter base station that comes automatically paired. The DAC unit has its own screen and allows you to control all the settings available on the app without touching your platform.
Winner: Arctis Pro
Compatibility
Arctis 7's USB dongle allows you to connect wirelessly to your PC, PlayStation 4, and the Nintendo Switch when it is docked. However, for undocked Nintendo Switch and Xbox one, it offers wired connection via a USB charging cord.
But bear in mind that the latter connection doesn't allow some software features like surround sound and multiple audio channels.
As for Arctis Pro, it connects wirelessly to PC and PlayStation 4 only, so, unfortunately, it doesn't offer that many options.
Winner: Arctis 7
Mic Quality
One last thing to differentiate the two products is the mic quality. As far as the design goes, both have similar retractable mics that can be pulled to be in front of your mouth or flipped back when not in use.
Ergonomic-wise, they're alike. However, the sound quality differs significantly. Although both advertise noise-canceling features, it's only apparent on Arctis Pro. It delivers the sound precisely with no crackles and minimum ambient noises.  
On the contrary, Arctis 7's mic picks up some background noises, and sometimes you'll have to speak louder or bring the mic closer to your mouth for your voice to be clear. 
Hence, you can go for Arctis 7 if an average mic is what's in your mind, but if you participate in multi-player gaming rooms or make YouTube gaming videos, the other option will make a big difference. 
Winner: Arctis Pro
Pros and Cons of Arctis 7 and Arctis Pro
Arctis Pro:
Pros:
Broader frequency response range
Clear highs and lows
Swappable dual battery
More wireless connectivity options 
Studio-quality microphone
Cons:
The priciest wireless gaming headset
Only compatible with PC and PlayStation 4
Arctis 7:
Pros:
Outstanding stereo audio
24+ battery life
Compatible with nearly all platforms
Best bang for the buck
Cons:
Lower bass responses
Mids and highs need more emphasis
No Bluetooth connectivity
Mic isn't completely noise- canceling
Which One to Buy?
Choosing between these two models isn't such a challenging task if you know your priorities. Considering Arctis Pro's high price and the fact that it was launched after Arctis 7, Steelseries made sure to pack it with top-notch features and correct the other model's mistakes. 
Its wider frequency range made up for Arctis 7's limited bass and relative clarity at some frequencies. The mic has been significantly improved, and the fact that it comes with a separate base station has made customizing the set's sound a piece of cake. All of that while still maintaining the superb gaming performance and the pioneering design.
However, it can be an overkill for some users, and after all, its price isn't easy to swallow either. For this reason, Arctis 7 is the best choice for standard users looking for ultimate gaming experience and willing to sacrifice Bluetooth connectivity and Arctis Pro's mic quality.