Beats is a pioneer in producing magnificent headphones, and that's why choosing between two models with its logo can be confusing. Both Beats Studio 2 and Studio 3 are incredible, yet one is better than the other in some aspects. 
In this article, I've managed to present you with a comparison between the two models regarding the most important features you should check before purchasing. You'll also find a list of each model's pros and cons, which will help you organize your thoughts and make an informed decision. 
Both models are good, but each caters to different needs. For example, Beats Studio 2 are for anyone who doesn't need extended battery life. They're also suitable for people who won't usually be present in noisy environments. 
On the other hand, people who work in loud places and need an incredibly long battery life will appreciate Beats Studio 3 more. Plus, they have an easier connection, especially to iOS devices.
Beats Studio 2 vs 3: Specs Comparison: 
| | | |
| --- | --- | --- |
| Headphones  | Beats Studio 2  | Beats Studio 3 |
| Noise cancellation | 1 mic  | 2 mics  |
| Adaptive noise canceling  | No  | Yes  |
| W1 Chip  | No  | Yes  |
| Fast charging technology  | No  | Yes  |
Beats Studio 2 vs 3: Full Comparison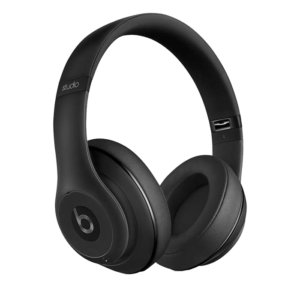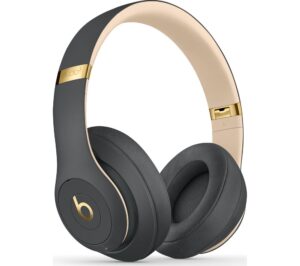 Design 
Beats Studio 2 and Beats Studio 3 look very similar on the outside since they are both made of soft, matte plastic. Their plastic build might make you feel like they are flimsy, while they are anything but this. Both headphones are very durable that they can withstand daily use. 
Moreover, you'll enjoy their foldable design that allows you to pack them in your bag and carry them around. 
Winner: Tie 
Comfort 
Even though both headphones look similar, there is a bit of a difference between them when it comes to comfort. 
The newer model, Beats Studio 3, is more comfortable than its predecessors, thanks to the softer ear pads that allow you to wear them for extended hours without feeling any pressure. 
Winner: Beats Studio 3
Sound quality 
Both headphones enjoy high sound quality and produce perfect bass. For example, Beats Studio 2 have strong bass that doesn't overpower the other notes. That may be because the bass is more focused lower on the frequency scale rather than on the 100-500Hz range. Otherwise, it would have led to producing unpleasant noises.  
The mids and highs are not the best features of Beats Studio 2 as they sound a bit off. Plus, you might experience some harshness in the upper mids. As for the soundstage, it is pretty decent. 
If you want to raise the volume and you're worried about disturbing your neighbors, I am glad to tell you that this pair doesn't allow for any sound leakage. 
On the other hand, Beats Studio 3 can leak some sounds if you raise the volume above 60%. Yet, they have a slightly better sound quality with crisp bass that doesn't overpower any of the other notes. 
Even though the low notes are amplified over mids and treble, you won't notice any low-quality sounds. In fact, the sound quality is pretty much natural with Beats Studio 3. 
Winner: Beats Studio 3
Noise cancellation 
The two headphones enjoy active noise cancellation, so whichever one you choose will block all ambient noises, allowing you to enjoy the music no matter how noisy the surrounding environment is. 
Still, the active noise cancellation of Beats Studio 3 is way better than that of Studio 2 because the former uses two microphones instead of one and features adaptive noise canceling. 
This means that the device continually monitors your surroundings and adjusts the sound accordingly using the internal and external mics that measure the unwanted ambient noises and produce sounds at a particular frequency that cancels them out. 
Winner: Beats Studio 3 
Connectivity 
Beats Studio 2 and 3 are wireless headphones that connect via Bluetooth and need a rechargeable battery. 
As expected, the newer version -Studio 3- has better connectivity, thanks to its W1 chip. This technology allows for easier connectivity with all other Apple devices. Unlike many devices, these headphones instantly connect and pair to any Bluetooth-enabled devices, and not just Apple ones. 
Winner: Beats Studio 3 
Battery Life 
The battery life is an essential feature to check on any wireless pair of headphones. You won't love it if your headphones die while you're on the go. For this reason, I recommend Beats Studio 3 as their battery lasts for 22 hours with active noise cancellation on and 40 hours if it's off. 
This means that there is a very slight chance they die on you while you're out or away from any charger. And the reason why their battery is exquisite is the brilliant W1 chip that adds an extra 105 minutes whenever there are only two hours of charge left. 
Have you ever picked your headphones to take out with you only to find that they are not charged? Well, this is not a problem anymore with Beats Studio 3, thanks to their Fast Fuel charging technology that gives the pair three hours of charge after charging them for 10 minutes only! 
Sadly, Beats Studio 2 don't feature Fast Charging technology. Plus, their battery lasts for 20 hours only. However, I like that they have a battery indicator in the form of LED lights on the headphones, which tells you how much juice you have left on the battery. 
Winner: Beats Studio 3
Pros and Cons of Beats Studio 2 and Beats Studio 3:
Pros: 
Beats Studio 2
Has battery indicator 
Features nice noise cancellation 
No sound leakage 
Beats Studio 3
Features Fast Charging technology 
Long battery life 
More comfortable 
Enjoy adaptive noise cancellation 
Easier connectivity with the W1 chip 
Cons:
Beats Studio 2
No fast charging 
Average battery life 
Not very comfy 
Beats Studio 3
Final Verdict
Hopefully, you find it easier now to pick the better one for you, as it is straightforward. For example, get Beats Studio 2 if you want a nice-looking and durable pair of headphones with average battery life. They are also okay for people who have no problem with hearing some of the ambient noises.
Conversely, Beats Studio 3 is for those who want to block all surrounding noises and indulge in the music or podcast to which they are listening. Besides, their battery life is one of their selling points.