You'll definitely find one of Shure's microphones in every studio, and that speaks volumes about their quality and durability. Plus, Shure produces exquisite microphones at different price ranges. In our case, Shure SM48 is cheaper than SM58. 
While both SM48 and SM58 share a lot of similarities, some differences set them apart in terms of quality. And because these differences might not be noticeable, I've listed them for you in this article. 
Shure SM48 vs SM58: Short Answer 
I recommend you buy Shure SM48 if you're on a tight budget as it is very affordable. Besides, it offers excellent sound quality but is only suitable for hobbyists and voice recording. 
On the other hand, Shure SM58 is made for professionals as it produces richer and warmer sounds. Plus, it is perfect for podcasts thanks to its wider frequency response range that picks up sounds from a wide range of voices.
Shure SM48 vs SM58: Comparison Table: 
| | | | | |
| --- | --- | --- | --- | --- |
| Model  | Type  | Sensitivity  | Impedance  | Frequency Response  |
| Shure SM48 | Dynamic  | -54.5 dB/Pa | 150 ohms | 55Hz – 14kHz |
| Shure SM58 | Dynamic  | -57.5 dB/Pa | 150 ohms  | 50Hz – 15kHz |
Shure SM48 vs SM58: Full Comparison 
Type 
Both microphones are dynamic with a cardioid polar pattern. Dynamic microphones are known for their durable metallic build, so you can relax knowing that you won't need to buy another mic for some years. Besides, you won't need to pay extra money for batteries or external power supplies. 
They are also suitable if you want to record some instruments, as they capture loud sounds. Plus, having a cardioid polar pattern makes both mics excellent for live performances because they don't accept sounds coming from the sides or from behind the mic. In other words, you can safely place the monitor behind the mic so that the singer can hear themselves without the mic picking up any sounds from the monitor. 
Winner: Tie 
Pop Filter 
Having a pop filter works wonders on handling plosives. And while SM48 comes with a pop filter, it is of low quality, so it doesn't handle plosives pretty well. In case you buy Shure SM48, make sure to purchase an extra wind and pop-filter.
On the other hand, Shure SM58 comes with an incredible pop filter that handles the /p/, /t/ and /k/ sounds excellently. This makes it useful for beginners as they won't suffer from plosive sounds. 
Winner: Shure SM58
Sound Quality 
The frequency response determines the range of frequencies that a microphone can pick up. Thus, the wider the frequency is, the better.  
The sound quality of both mics depends on your usage. The SM48 has a 55Hz – 14kHz frequency response range as opposed to the broader range of the SM58 that is 50Hz to 15kHz. 
Despite the narrower frequency response range, the ShureSM48 produces excellent mid and low range and smooth bass. It's more suitable for amateurs or people who practice singing as a hobby. It's also useful for voice recording, but not the best option. If you're a professional singer who sings in venues, you can buy it. 
However, I recommend the SM58 for professionals as it produces clearer, warmer, deeper, and rounder vocals with accentuated lows. Also, thanks to the mic's proximity effect, it provides richer sounds when the mic is close to the sound source than farther away. 
All in all, the difference in sound quality between both mics is not highly noticeable. Yet, I recommend you go for the one with the wider frequency range if you are going to use it with people of different voices like in podcasts, for example.
Winner: Shure SM58
Impedance 
The impedance of a microphone is a critical feature as it measures the AC voltage resistance. Both SM48 and SM58 have 150 ohms impedance, which means that no matter how long the cable is, the sound won't get degraded. 
Winner: Tie
Cost 
Shure SM48 is the more affordable option, and that doesn't mean that it is worse than the more priced option- Shure SM58. In fact, SM48 is a gem for anyone on a tight budget for its low price and high quality. 
Winner: Shure SM48
Connector 
Both microphones come with the most popular connector that is the standard three-pin male connector (XLR.) It is excellent with audio, and you won't have any problems with it. 
Winner: Tie 
What's in the Box
Both mics come with the microphone stand clip and a carrying pouch. 
What We Like and Don't Like About Shure SM48 and SM58: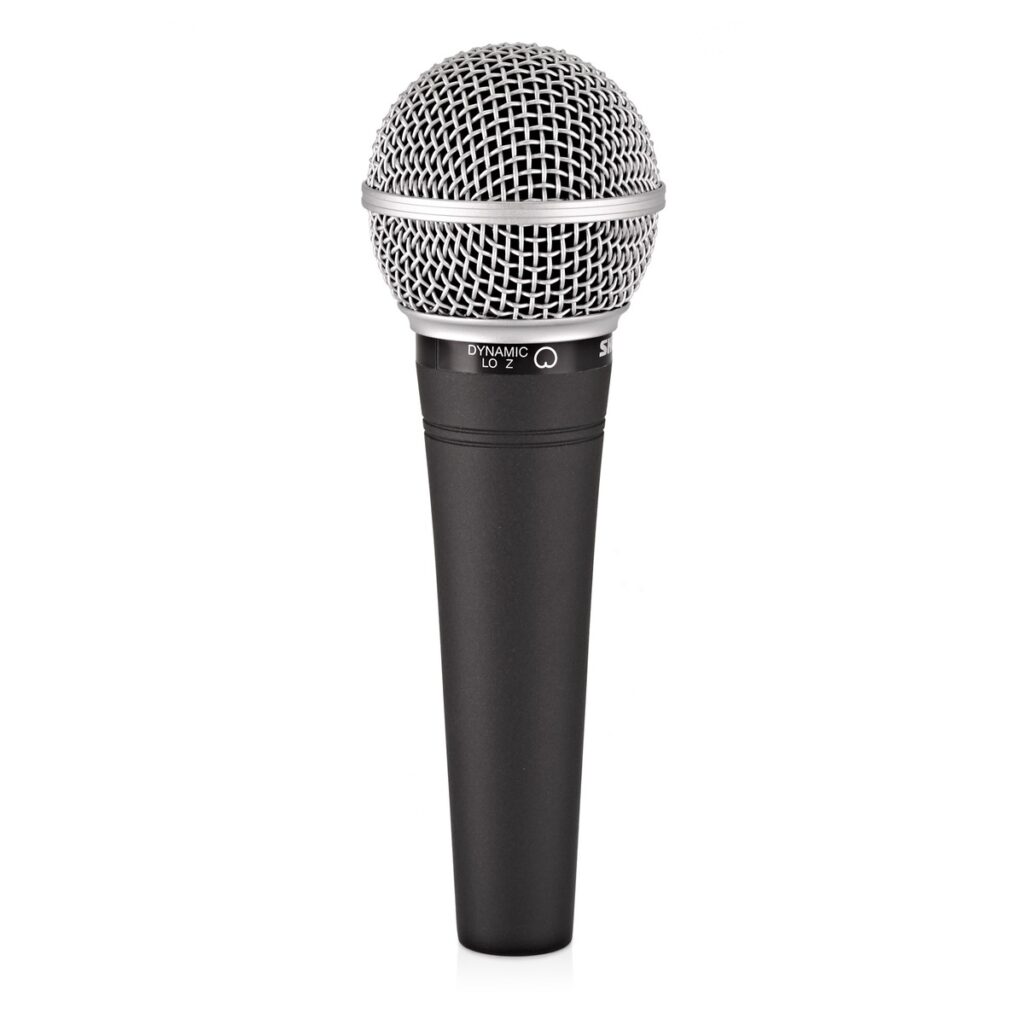 Pros:
Budget Pick 
Durable 
Excellent connector 
Nice impedance 
Lighter 
Cons:
Needs an extra wind and pop-filter
Poor handling noise reduction
Less wide frequency range 

Pros:
Suitable impedance 
Includes a high-quality pop filter
Louder 
Wider frequency range
Better for female voices  
-57.5dB sensitivity for better flexibility
Great for professionals 
Cons:
Final Thoughts 
The Shure SM48 vs SM58 debate is a bit clear now after finishing the article, isn't it? You can easily choose the one that suits you more.
For example, the cheaper Shure SM48 is for anyone on a tight budget and is perfect for amateurs who just love to sing whenever they feel like it. Its lightweight microphone is pretty durable, so you won't need to pay for another one quickly. Yet, you will need to buy a wind and pop filter as the one that it comes with is of low quality. 
In case you're a professional or need a mic for recording podcasts, go for Shure SM58 as it caters to a wider range of sounds, thanks to its wide frequency response range. It is also a better option for female vocals.
Also you can :