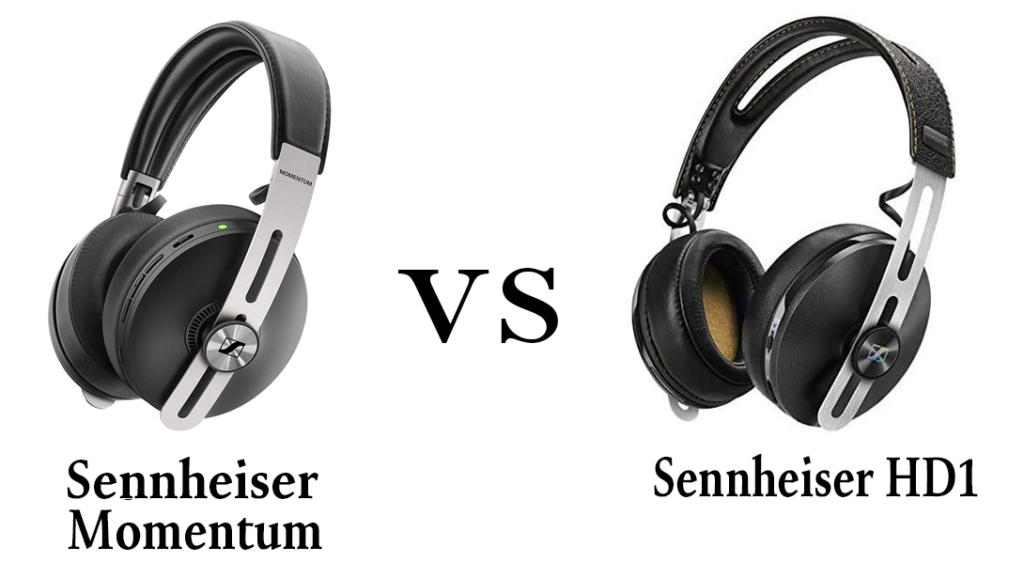 Buying a good pair of headphones is essential nowadays; they block the commute's noisy sounds and allow us to occupy our time while on the go by listening to exciting and beneficial podcasts, for example. 
Yet, choosing a nice pair is so challenging because there are many companies and models on the market. Plus, there are many factors one should check before making a purchase. 
Since you're here, it is apparent that you've decided on Sennheiser, kudos on that! You can now sit back, relax, and allow us to put an end to the Sennheiser HD1 vs Momentum argument. But first, you must understand a little bit of their background. 
Sennheiser produced Momentum and then after a few months, it presented Sennheiser HD1 to the market. Why? It looks like the company did not own the rights to the word "Momentum," so it made the same headphones under another name. 
Does this mean that both are similar? Scroll down for the answer and a detailed review highlighting their similarities and differences. 
There is not much of a difference between both headphones, where there are only two main distinctions between them: the wider headband and the better noise cancellation of Sennheiser HD1. You'll find more illustration on that in the Comfort and Noise Cancellation sections. 
Build Quality  
The build quality of both headphones is quite similar, where they didn't use excessive plastic. Instead, the pivots are made of metal with a flush socket screw, making them quite durable. Sadly, even though Momentum's headband is heavily-cushioned, it feels a bit stiff and rigid. 
Also, if you go for the wired Momentum headphones, you'll notice that the wires are thin and prone to damage. 
On the other hand, Sennheiser HD1's headband is wider and feels more comfortable on one's head and doesn't put any pressure on the jawline. They also feature flatter and thicker wires, so you needn't worry about them getting tangled or suffering any damage. 
Winner: Sennheiser HD1
Comfort 
Both headphones are quite comfortable because they slide up and down along their rails instead of the extendable clicking arm. 
The only thing that may make Sennheiser HD1 a little more comfortable is their wider headband, which allows you to wear them for extended hours without suffering from any pressure. 
In case you want easy controls, Sennheiser Momentum features fingertip control, allowing you to control your music and calls with a single touch on any of the earbuds. And I love that you can activate Google Assistant and Siri by simply tapping the right earbud. 
Winner: Sennheiser HD1 for the wide headband, Sennheiser Momentum for the finger control feature
Sound Quality 
Given that both headphones employ the same drivers, one could imagine how identical their sound quality is. Luckily, you'll enjoy high-quality music no matter which one you get because they produce perfect bass, which does not overpower the other notes. Moreover, the low and high ranges sound great. This means that you'll enjoy all the music genres. 
However, classical music lovers won't be satisfied with these headphones because the lower notes and the midrange feel dull in this genre. 
Winner: Tie 
Noise Cancellation
The active noise cancellation feature on the two headphones is good enough. For example, if you're using any of them on the subway or in any noisy environment, you'll barely hear the surrounding noises. 
This feature is better on Sennheiser HD1, thanks to their NoiseGard hybrid active noise cancellation that serves to block all ambient noises using four mics. There is no way you can get interrupted while enjoying your favorite podcast, music, or even having a call. 
On the other hand, Sennheiser Momentum allow you to listen to some ambient noise because they enjoy the stay aware transparent hearing that keeps you aware of your surroundings. This comes in handy if you want to hear what is going on around you without continuously taking your earphones off. 
Winner: Sennheiser HD1 
Connectivity
Sennheiser HD1 and the Sennheiser Momentum in question are true wireless headphones, meaning that they connect to devices without the need for cables. So how do they connect? Via Bluetooth and NFC connectivity. 
Sennheiser HD1 connects via Bluetooth 4.0, which means that you won't lose the connection or experience any lag in the audio. They also employ NFC, so they will instantly connect to any near smartphone once you tap on the left earcup. 
Besides, they enjoy multi-device connectivity, allowing you to connect up to two devices simultaneously, including phones and computers. They also accept up to eight devices in the pairing list. 
The connectivity of Sennheiser Momentum is quite similar except for the fact that they connect via Bluetooth 5.0, which is slightly better. Consequently, you won't miss any beat. They also connect via NFC, that we already said how convenient it is given that it automatically pairs. 
In case you don't want to use the wireless connection with Sennheiser Momentum, you can use the 2.5mm cable. 
Unlike Sennheiser HD1, these don't enjoy the multi-device connectivity feature. 
Winner: Sennheiser HD1
Battery 
The battery of Sennheiser HD1 lasts for an average of 20 hours with active noise canceling on. If you believe that this is less time than what you need, you can go for Sennheiser Momentum as their battery lasts for 25 hours but at 50% volume. Anyway, you won't need to listen to them at full volume as it's louder than your ears can accept. 
Winner: Tie 
Accessories
Sennheiser Momentum comes with a charging case that gives you extra two hours if the battery gets drained while you're out on the streets. This is pretty convenient in case you forget to charge them overnight, for example.
Unfortunately, Sennheiser HD1 comes with no bags. 
Winner: Sennheiser Momentum 
Pros and Cons of Sennheiser HD1 and Sennheiser Momentum: 
Pros: 
Sennheiser HD1
Comfortable 
Wider headband 
Wireless 
Impressive noise cancellation 
Sennheiser Momentum 
Longer battery life 
Bluetooth 5.0 
Come with a charging case
Wired and wireless connection 
Block some of the ambient noises 
Feature the stay aware transparent hearing 
Cons: 
Sennheiser HD1
Have Bluetooth 4.0 instead of 5.0 
Pricier 
Don't come with a charging bag
Sennheiser Momentum 
Uncomfortable narrow headband 
So Which One Do I Buy?
By the end of this article, I believe you already know that there is not much difference between the two, so there's not much I have to say in this section.
I can only emphasize that Sennheiser HD1 are slightly more comfortable. They are also a better option for anyone who wants a pair of headphones that block all ambient noises and come with a charging bag. 
On the other hand, Sennheiser Momentum is convenient for those who want to hear people speaking around them without having to take the earphones off.