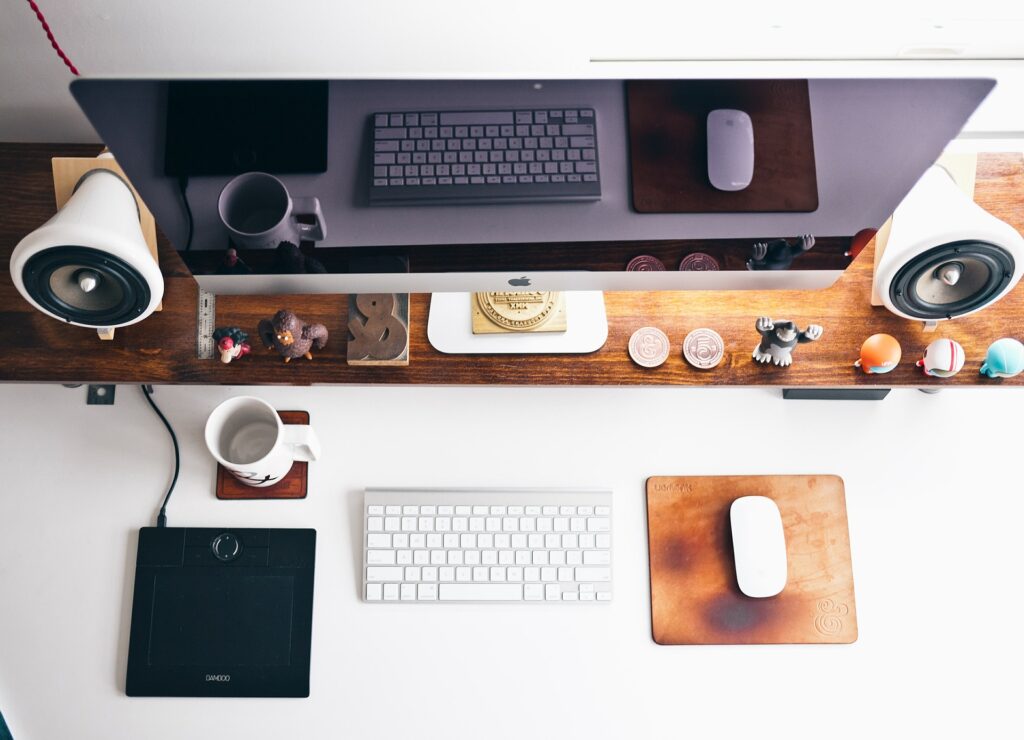 The Chromecast audio is salvation for your old speakers that no longer go with the modern world's revolutionized technologies. Today, everything is wireless; everything is connected via either Bluetooth or WiFi, but what about your faithful, handy-dandy speakers?
Chromecast audio is the uncelebrated sister of Chromecast. Chromecast itself allows you to stream movies on your devices, and now Chromecast audio does the same thing, but with audio. So, it will enable you to stream from the internet onto your portable devices.
Today, we've brought you the seven best speaker for Chromecast audio so that you'll be able to make an informed decision when trying to pair a new speaker to your Chromecast Audio device. 
We promise it will always come in handy as it'll allow you to manipulate your sound, choosing to play it all over the house or even in just one room; it's all up to you.
Comparison Table:
The 5 Best Speaker for Chromecast Audio in 2020
That was a quick comparison for some of the main aspects of speakers. Now, we'll dive into the thorough details regarding each of these products.

Bose is definitely known for creating excellent products over the years, and this speaker is no different. Although it's kind of old, it retains its place at the top of our list because when it comes to the produced sound, it wins hands-down every time.
When you use the Bose SoundLink Mini II, you'll find that it has the ability to generate crisp, clear sounds at any given volume. Moreover, it has the ability to produce exceptional bass and lower frequencies without overwhelming other frequencies. When you move to middle frequencies, you'll find them natural and intended more towards prioritizing the vocals. 
This speaker will be able to give you a high-quality headphone experience, which can't be said for the majority of speakers in the market today. 
The thing is, the Bose SoundLink Mini II manages to deliver the tiniest of details, such as the singer's breath, or the snap of his/her fingers, to your doorstep. Although such details might seem minor, they really do make your experience wholesome. Not to mention, all of that is aided immensely by its 40-50 wattage. 
Moreover, this speaker's exterior design makes it incredibly durable as the outer shell is entirely constructed out of heavy-duty aluminum. So, although it's not recommended, this speaker can take quite a beating. This leads to its weight of 1.5 lbs, which is the lightest on our list. 
Just because this speaker is old doesn't mean that it's void of any modern technologies, as it comes with extra smooth voice commands, allowing you to connect it quite easily and without hassle. Also, the battery can give you up to 10 hours of uninterrupted sound, and it comes with a built-in speakerphone.
Unfortunately, though, some drawbacks come with this impressive package, such as its short power cord, which makes moving it a bit troublesome. Furthermore, it's not water-resistant, so you have to be careful with it, and it only offers Singlepoint Bluetooth, meaning that you can only connect it to one device.
Lastly, the Bose SoundLink Mini II is quite expensive and not available at all times, so if you're decided on it, and it's in stock, grab it while you can.
Pros:
Balanced tunes
Compact
10 hours of battery life 
Durable
Built-in speakerphone
Smooth voice command
Cons:
Short power cord
Expensive 
Not water resistant
Singlepoint Bluetooth
Final Verdict
The Bose SoundLink Mini II is a robust, compact speaker that will give you unprecedented amazing sound quality with balanced tunes no matter the volume that you're listening at. Add to that its 40-50 wattage and 10 hours of battery life, and you'll know why it's here.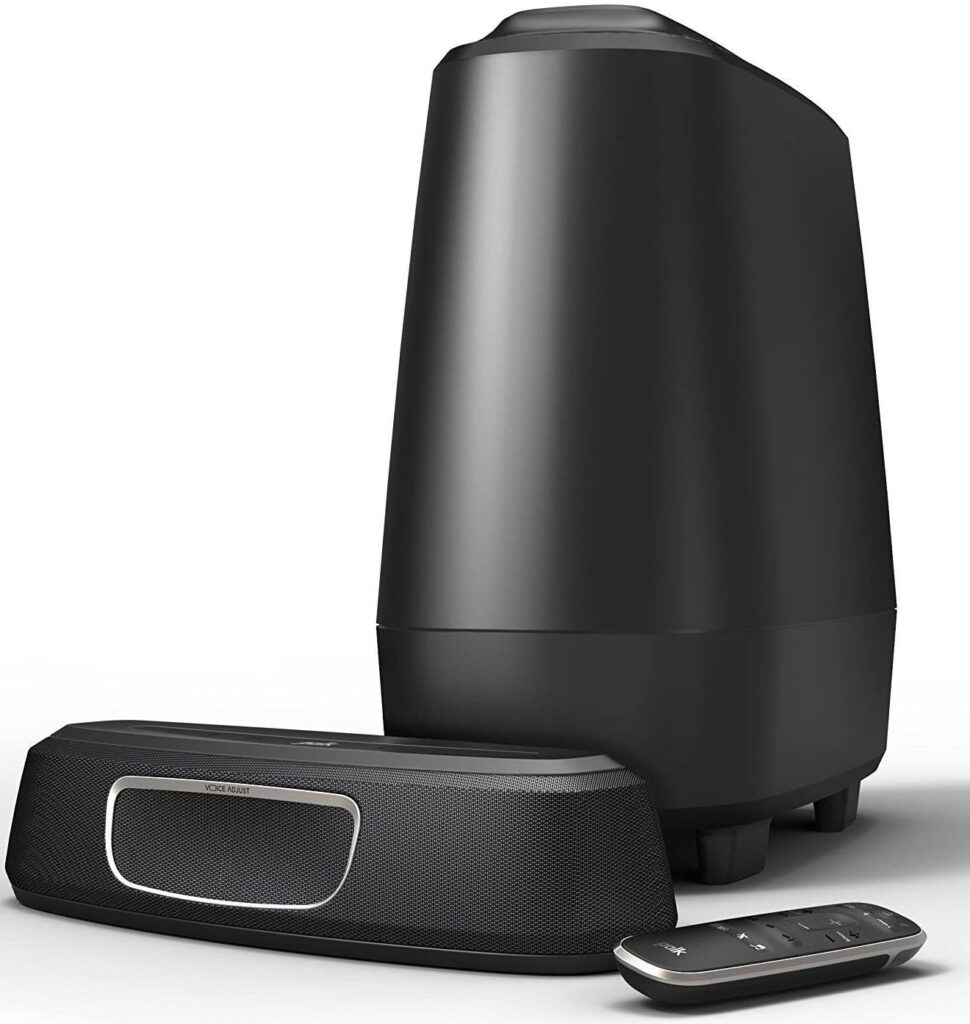 Polk Audio MagniFi is our runner-up for a plethora of reasons, including its technologies and room-filling sound. First of all, this speaker weighs 3.88 lbs and has a wattage of 150W. Now that we've got these technicalities out of the way, let us speak about the sound quality you get when purchasing these headphones.
As we've said before, the sound created by the Polk Audio MagniFi spreads to the entire room, no matter where you're sitting. The sound waves are engulfing in a way. The high tones here are superb no matter how far you go, they'll be sharp and clear, while if you decide to go for midrange tones, you'll find that these sound as if they've been squashed together. 
The vocals are not that emphasized, and they're not as natural as they should be. The bass is adequate, though, it could be better. However, there's not a thing that you can point out and say that it's wrong.
Moving on, let's talk about the technical design of the Polk Audio MagniFi; it comes with 5.1 Dolby Digital coding and SDA audio, plus different DSP settings. These settings include night mode, movie, sports, and music, with the music setting being the default. 
You'll be able to move from one setting to the other quickly and without any hassle whatsoever, as the response of this speaker is incredibly fast and accurate. This also applies to moving from one type of music to the other; you'll find that it'll adapt in the blink of an eye.
Nevertheless, the smoothness doesn't stop here as the Polk Audio MagniFi can operate through voice command, which is quite accurate, especially when dealing with the inbuilt Google cast. Certainly, you've noticed that it does not come alone, but with a subwoofer.
What this enormous piece of equipment does is that it can deal with frequencies from 40 Hz to 110 Hz, therefore, boosting the capabilities of the overall unit quite a few notches. Last but certainly not least, this speaker comes with several ports, so it's prepared for anything that you have to throw at it. 
It comes with an optical, ethernet port, a 3.5 mm jack, USB inputs, and an HDMI. All of these ports are roofed by LED lights that show you which ports are in use at the moment.
Contrarily, the disadvantages of the Polk Audio MagniFi include the problems that we've spoken about regarding the sound quality, which lowers it to an average rating. They could definitely work a lot more on the bass and the mid-range tunes. 
Pros:
Subwoofer
5.1 Dolby Digital coding
SDA audio
Voice command
Inbuilt Google Cast
Hassle-free setup
Lots of ports
Different DSP settings 
Cons:
Average sound quality 
Congested midrange
Not waterproof 
Final Verdict
If you're going after high tunes that will surround you completely, this is most certainly the one for you. Still, bear in mind that you'll be sacrificing a lot of quality in regards to mid-range and lower tunes.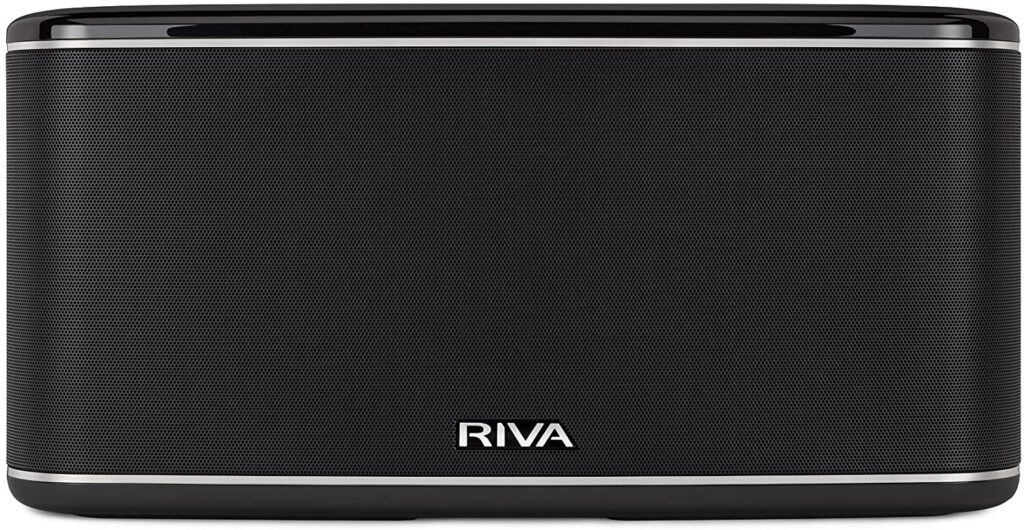 If it weren't for the whopping price that this speaker comes for, it would've definitely been mentioned even earlier on our list. The Riva Festival is an incredible package that brings a luxurious experience to you. 
Firstly, it's the heaviest speaker on our list with an incredible weight of 14.2 lbs. Still, this weight is made up for as the build of the Riva Festival is surpassing. The amplifiers, drivers, and radiators are all sitting comfortably inside two cases. 
They're not connected to the exterior case, which is made out of plastic, but they're embedded in the inner case, which is made out of high-quality wood. So, you can see that durability is unquestionably a theme here.
The Riva Festival can work with up to 200W of power, which is also the highest on our list. This power is distributed wisely amongst three drivers, four passive radiators, three woofers, and a six-channel amplifier, which maintains consistent power levels no matter what volume you choose to listen at. This distribution has also aided in creating a sound that spreads 360° all around you.
What about sound quality? Well, the Riva Festival boasts high-resolution audio, so you can listen to sounds up to 24 bit/192 kHz, which isn't common among many speakers. When you listen to your music with the Riva Festival, you feel as if there is a maestro inside placing the tunes where they should. 
Everything is controlled; the highs will take you with them, making you feel light, while the lows will set you back on the ground with their warmth and smoothness. It can also create up to 106 dB of sound, making your audio sound as natural as possible.
Moving on, let's talk about the connections and the setup of the Riva Festival. It's a reasonably straightforward process due to its compatibility with, of course, WiFi and Bluetooth, but add to that: AirPlay, Spotify Connect, and DLNA. So, you can stream directly from any of these services. Plus, it's compatible with Google Assistant, which will help you set it up even faster.
Now, let's move on to some of the things that we don't like about the Riva Festival, including its weight, which is considered quite heavy at 14.2 lbs. Furthermore, the price tag is not something that anyone can afford or spare to spend on speakers. Plus, unfortunately, it's not waterproof, so you'll have to be careful with your drink around it.
Pros:
Double-cased
High-resolution audio
Connection to WiFi, Bluetooth, Spotify Connect, Airplay, and DLNA
Balanced tunes
Six-channel amplifier 
360° sound 
200W of power
106 dB sound
Cons:
Final Verdict
If you've got no problem with spending such a sum of money on a speaker, then you should go for the Riva Festival. It'll give you incredible sound, longevity, an easy setup process, and accessibility to all of our modern services.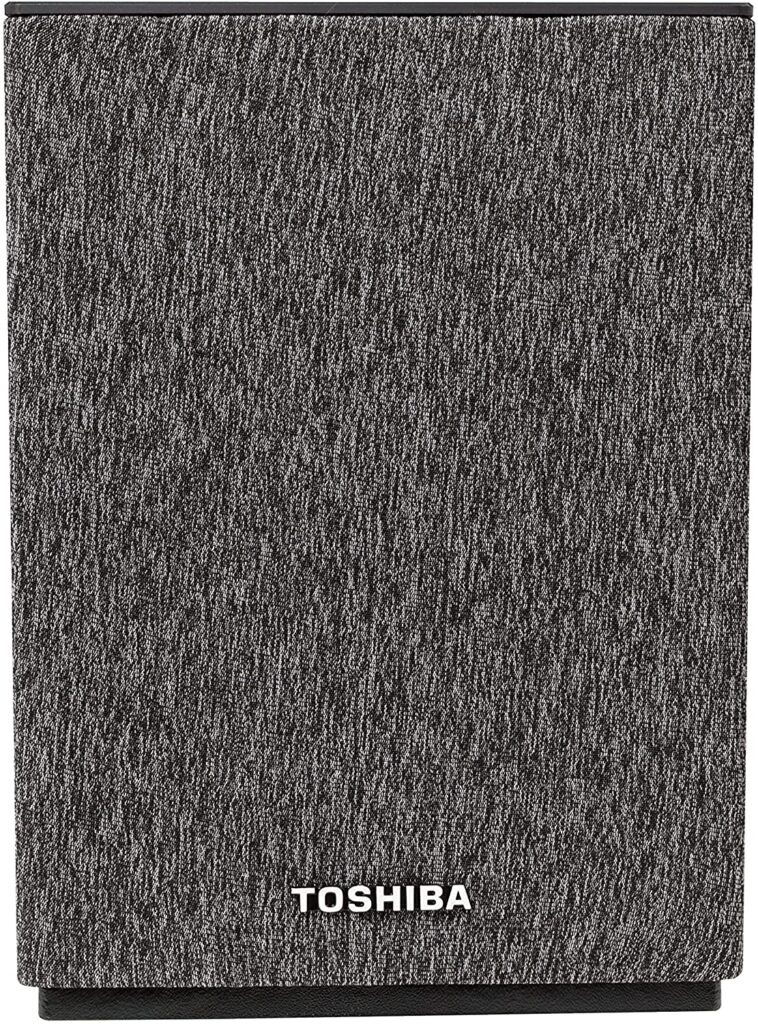 The Toshiba TY-GC1000 is our budget pick as it brings a lot of impressive features to the table for a fraction of the price that you'll have to pay for other speakers more or less in the same category. 
It weighs 3.2 lbs and operates using two AA batteries. The power generated here is 2×15W, which is not the most incredible thing, yet, it works for this specific speaker. 
Moreover, the Toshiba TY-GC1000 is quite versatile as apart from it working with WiFi and Bluetooth; it also has a jack for AUX. This means that if you're in any situation where you need to operate the speaker using a wire, namely AUX, you can do that.
The controls here are easily accessible at the top of the speaker with a separate button for Bluetooth pairing, which makes things a lot easier. 
Furthermore, the audio created by the Toshiba TY-GC1000 does undoubtedly have a lot of perks such as exceptional bass, courtesy of the separate Bass-Reflex port integrated into the speaker, and the Dual 2.5 Full-Range drivers. Additionally, we can't forget that the Toshiba TY-GC1000 can support high-resolution audio.
One more thing is that Toshiba has noticed that the design of the speaker is a little bit subpar and that it looks like a box. So, what they've done here is that they've wrapped the entire thing in a textured fabric that gave an elegance of sorts to the previously unremarkable device. Plus, it gave a little bit of protection as well.
As for this speaker's disadvantages, you'll find that unlike the bass that's incredibly clear and strong, the high tones do leave a lot to be desired. They're not as flowy and vibrant as they should be. 
Furthermore, the absence of an equalizer augmented this problem since nothing is trying to manage the tunes and balance them. Lastly, the Toshiba TY-GC1000, just like most of its peers, is not waterproof.
Pros:
Budget-friendly 
Takes AUX
Textured fabric cover
Great bass
Easily accessible controls
Inbuilt Chromecast
Cons:
Underwhelming high tones
No equalizer 
Final Verdict
If you're on a tight budget and in need of a speaker that will do the job, give you high-quality audio and great bass, along with an easy, hassle-free setup process and smooth operation, the Toshiba TY-GC1000 is the best choice for you.
5. Riva Arena – Best Battery Life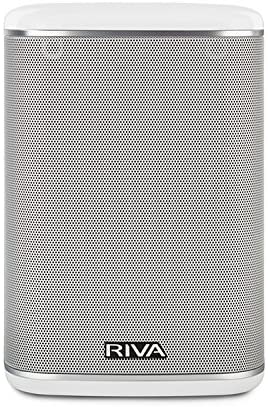 Our final product today is the Riva Arena, and it stands out in the Chromecast Audio speakers' market due to a long list of virtues, the most prominent being its battery life of 20+ hrs. This not only means you don't have to worry about plugging, charging it, or changing its batteries but, it also makes it highly portable. 
Add to that it's lightweight of 3 lbs, and you'll see for yourself why you can easily take it wherever you're going. 
The Riva Arena doesn't stop here, as unlike all of the products that we've seen, this is the only splash-proof speaker on our list. It's still not waterproof; you cannot submerge it in water; however, it'll survive if it catches a drop or two, which is better than nothing.
Furthermore, the sound created here is incredibly balanced due to the triple ADX drivers installed. They give the audio a warm nature, which enhances both the low and the high tunes. You'll find that the bass is quite intense and strong, while the highs are lively and penetrating. 
Another thing that helps make this sound even better will have to be the Riva Wand app, through which you can adjust the EQ to tailor the sound towards your own needs.
What we also loved is the Away mode that you can put your speaker in. What the Away mode does is that it allows the speaker to form its own WiFi connection and work with it if you're away from your home network. 
Moreover, speaking of connectivity, the Riva Arena supports all and everything; WiFi, Bluetooth, AirPlay, and of course, the Google Home app so you can stream directly from your smartphone no matter what smartphone you've got. 
Still, keep in mind that due to the Google Home app, you'll find that people with Android systems will have a much easier process than those who work with iOS. Nonetheless, the Riva Wand app takes the sting off that point. 
Last but certainly not least, when you hold the Riva Arena, you'll feel that it's made to last. This speaker is quite robust and will prove it's worth over time. 
On the other side, though, and just like any other product, it does come with some drawbacks, such as the fact that it cannot produce high decibels. This leads to the sound being a little bit unfocused if you try to play something that's out of the capabilities. Also, the 20+ hours of battery life don't come cheap, as the battery pack will cost you an arm and a leg to purchase.
Pros:
20 hrs battery life
AUX port
Portable
Inbuilt Chromecast
Supports WiFi, Bluetooth, and AirPlay
Splash proof 
Robust
Three ADX drivers
Riva Wand app
Away mode
Cons:
Low decibels 
Sound can be unfocused at times
Expensive battery pack
Final Verdict
The Riva Arena is an excellent speaker that will entertain you inside and outside your house. It's focused on versatility and giving you as many options as possible without sacrificing too much of the sound quality. If you need something that will stand the trials of time and give you a lot of value for your money, the Riva Arena is a superb choice.
How to Pick the Best Speaker for Chromecast Audio
Now that we've seen all the details related to our seven top products, we'll tell you a little bit about any speaker's main aspects.
Build
Since speakers are one of these objects intended for a long lifespan, its construction is one of its critical factors. Apart from the outside shell, which could be made out of plastic or metal and covered with any type of rubber or silicone, we've got the interior build. 
The interior build is what creates the sound that you're paying your money to listen to. We speak specifically of the speaker cones. Mostly, these cones will be made out of paper, aluminum polypropylene, fiber polymer, or glass. 
Over time, if these cones are made out of flimsy materials, they'll bend due to the rapid speed at which sound waves travel through them. If they do bend, the sound created will never be as clear and sharp as intended. So, investing in tougher materials will prevent the bending and have the cones move as smooth as a knife through butter with the waves.
Impedance 
Impedance with any electrical device means the amount of electricity needed to operate the device at its optimal level, and speakers are no different. The trick here is that you have to make sure that your amplifier and any other device that you connect to your speakers is compatible with such an impedance
Sensitivity 
Sensitivity for speakers means the device's capability to transfer as much of the power that it receives into the sound that you want, and it's measured in decibels. 
The calibration of these decibels here is as fine-tuned as ever. If you go a few decimals up or down, you'll notice a significant change in what you're hearing. The higher your rating is, the louder your volume will be.
Wattage
You'll always find a number that represents the minimal number of watts that your device can operate with and a maximum one on your device. As long as you're using your speaker for limited personal use, then 50W is perfectly enough. On the other hand, if you're trying to create a home theater, you might want to go for something slightly higher, such as 150W.
Don't forget that the number of watts that operate your speakers is related to the number of decimals created by your device. Therefore, it will have an indirect effect on the volume and clarity of your produced sound.
Frequency Response 
Frequency response indicates the power of the speaker in relation to tone production. When you read the frequency response, you'll find that it consists of two numbers. The first indicates the lowest tone possible for the speaker and the bass, while the second number indicates the highest tone the speaker can play, so it's kind of a range.
Connectivity
With any device that you buy, you'd want versatility. You want to be able to utilize it in more than just one field as that allows you to make the most out of your money. That's why with available connections on your speakers, the more, the merrier. 
You might not need it today, but you might need it tomorrow, or in a year, you never know. So, try to have as many outlets as possible, as they always come in handy. These include WiFi, Bluetooth, optical, HDMI, and a 3.5 mm jack.
Final Thoughts
We've now reached the end of our article discussing the Best Speaker for Chromecast Audio available today. We've dissected our favorite five products, then we gave you a brief guide that will help you make an informed, wise decision when shopping for any type of speakers in general, and Chromecast audio speakers in specific. 
Chromecast audio is a valuable device, and having speakers that are compatible with it truly does enhance your overall experience and allows you to do things that were not possible priorly. Now, we'll wrap up this article with a few recommendations. 
Our first will certainly be our top pick, the Bose SoundLink Mini II, which can create loud, clear, sharp voices at any volume and with any sound. You'll find that the lows, mid-range, and high tunes are perfectly emphasized and separated. 
It's also capable of capturing the whole ambiance of the audio that you're listening to. Plus, it gives you 10 hours of uninterrupted playtime.
Moving on to our second recommendation, that will be our runner-up, the Polk Audio MagniFi, which comes with an incredible wattage of 150W. This speaker is all about functionality, as it comes with SDA audio, different SSP settings that will suit your current surroundings, and 5.1 Dolby Digital connection.
 Moreover, it comes with a subwoofer that can deal with frequencies ranging from 40 to 110 Hz.
Last but certainly not least will be our budget pick, and that is the Toshiba TY-GC1000, which brings a lot of options to your doorstep for a minimal price. It comes with Dual 2.5 Full-Range drivers and a separate Bass-Reflects port, which all aid in creating superior sound, especially with regards to low tunes. Plus, it can support high-resolution audio.