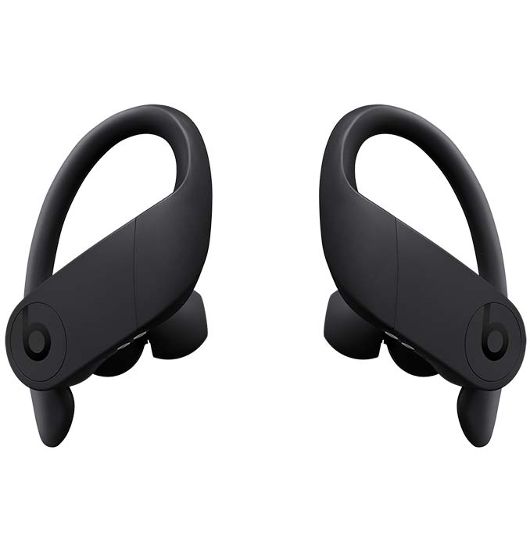 Having a set of headphones or earbuds on you is probably one of the essentials these days. You'll find yourself using them while practicing your daily activities; working, exercising, commuting, practicing hobbies, etc.
For some people, they're a critical part of their lives, like audiophiles or individuals who work with music. With earbuds' wide availability on the market, you'll find yourself not really knowing what some of the specs mean or which to choose.
Throughout this article, we'll be discussing different types of earbuds for you to know what's available on the market and what you can get for your buck.
Physical Construction
Throughout the years, earbuds have evolved immensely to deliver better sound quality and become a better fit for consumers every year. 
When it really comes down to it, there are three different types of earbuds concerning their physical construction. Although some are more comfortable than others, it remains a matter of personal preference.
In-Ear Headphones/Monitors (IEMs)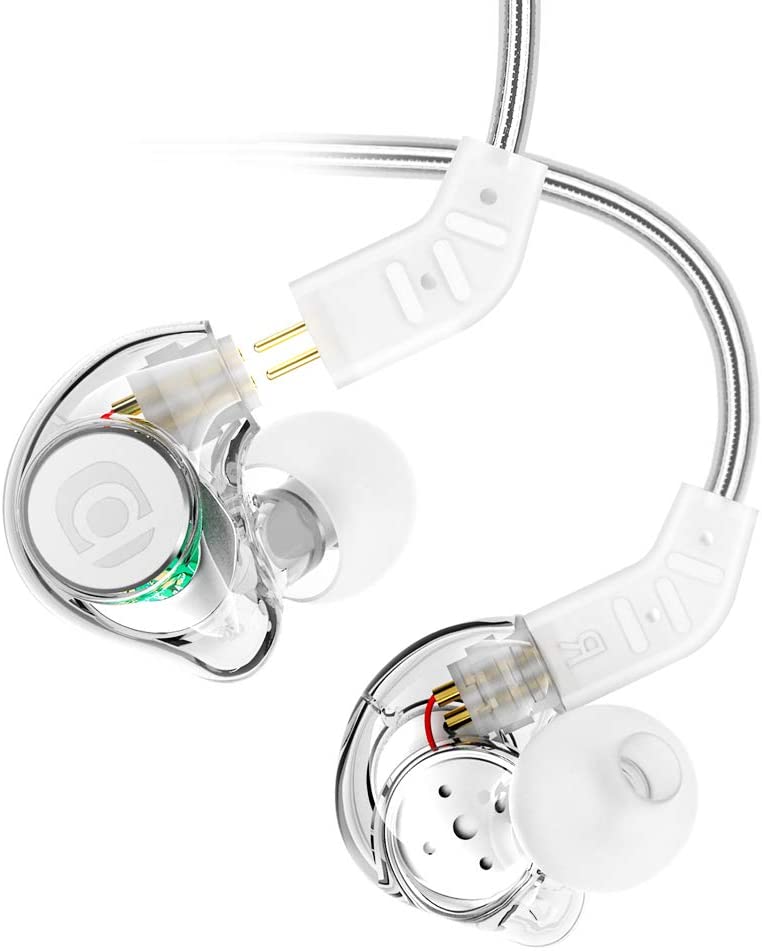 IEMs are also known as In-Ear Canalphones since they're designed in a way that allows them to enter the very first part of your ear canal. Moreover, their tips are mostly made of rubber that can be switched out according to your correct size. This mechanism helps in forming the perfect seal with the walls of your ear canal.
IEMs have many advantages due to the tight seal that we've previously mentioned; they offer excellent sound isolation and much clearer sound quality. Actually, if you wish to spend an obscene amount of money on earbuds, you can find luxurious ones that can be designed especially for you according to the contours of your own ears.
A major disadvantage, though, is that IEMs' cleaning process can be a hard task. They come with a lot of contours in their design, which can hold on to a lot of dirt and earwax.
If left unattended for too long, such buildup might cause ear canal infections. Therefore, frequent, diligent cleaning sessions are mandatory.
Classic Earbuds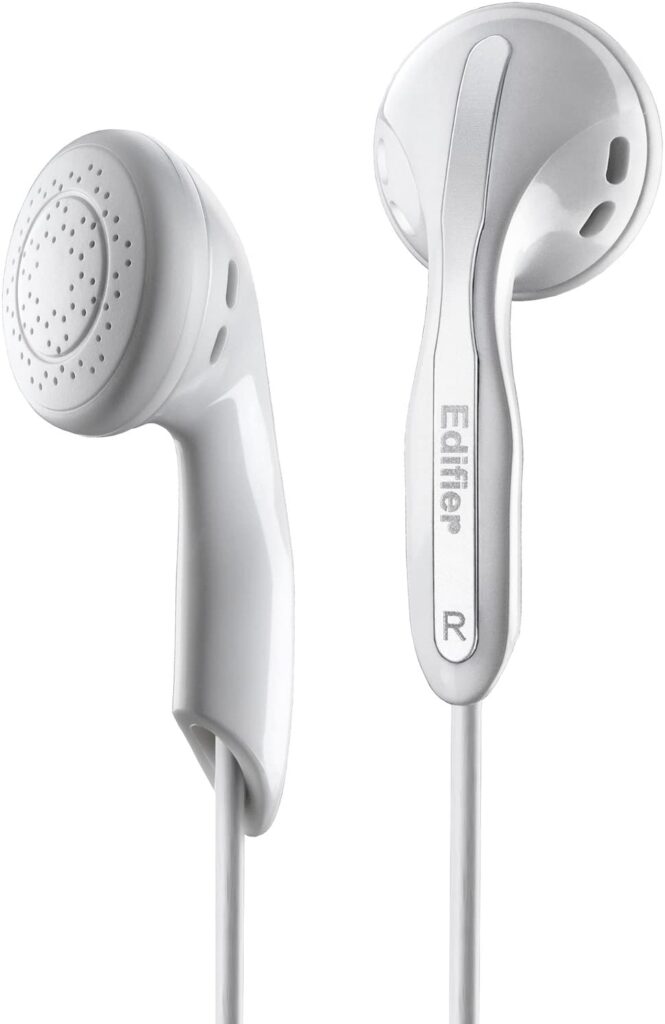 If you remember your first iPod shuffle headphones, you'll know exactly what classic earbuds are. They don't enter your ear canal; rather, they stay outside on the gate.
They usually come at a completely affordable price point, and they manage to provide adequate sound quality. However, since the contact between them and the ear walls is not that snug, they're not very capable of forming a tight seal, which causes entrance of exterior sounds. 
On the bright side, though, maintenance and cleanliness of these earbuds can't be easier. 
Lastly, since there's no way to adjust your earbuds to your ears' size, they tend to be a little bit uncomfortable for people with smaller ears.
Ear-Hook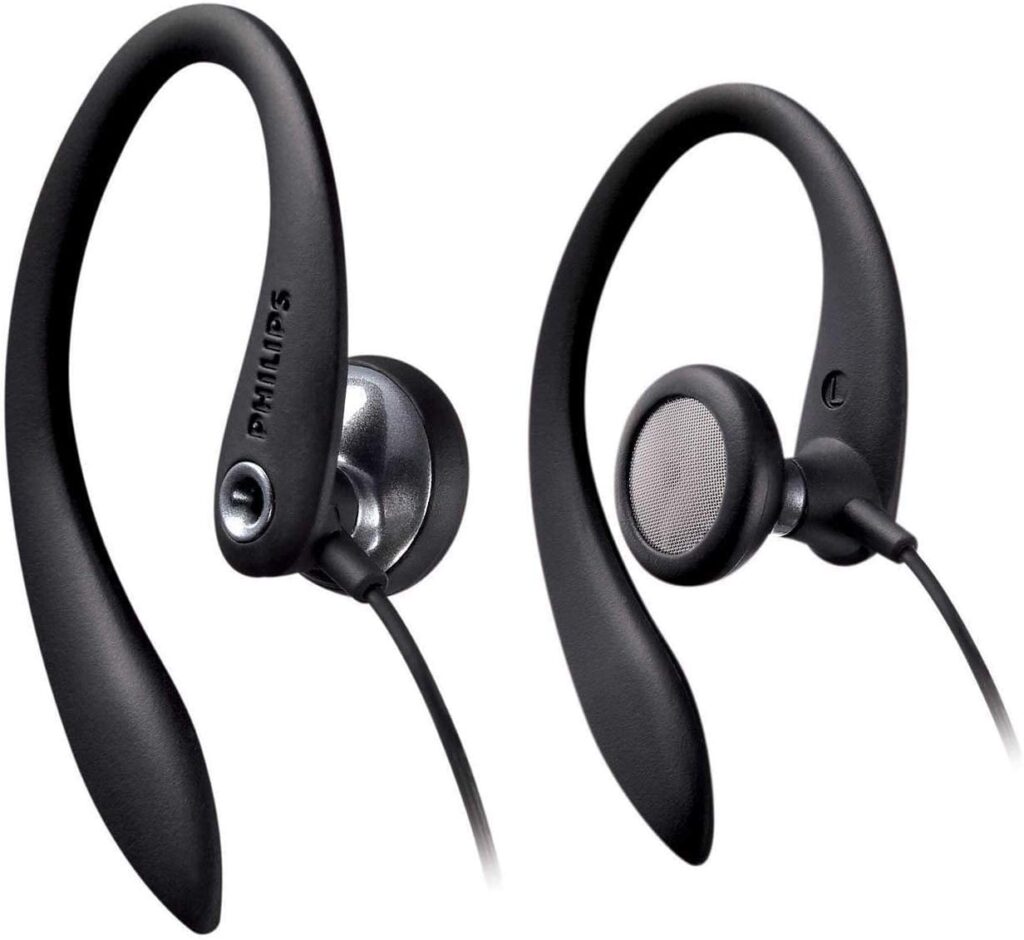 Ear-hook earbuds are designed with a rubber or plastic hook that goes around your ear, front to back, in order to maximize security. They mostly come with interchangeable nozzles to fit the size of your ear.
Furthermore, they tend to be more attractive to athletes who need extra assurance that their earbuds will not fall off during vigorous exercise. Unfortunately, the fit is not always so great as the hooks might be uncomfortable to wear for extended periods.
Technological Features
Although your earbuds' physical design is the first thing that will attract your attention and is detrimental to your comfort, the technologies offered by a set of headphones will remain the real deal.
You always want to try and get as many features and options as possible. Still, make sure that these technologies are well suited to your own needs and preferences as some might contradict each other.
Sports-Oriented
99% of people exercise with music on. If you're doing yoga, you'll need soft music; if you're doing cardio, you'll want something motivating and fast-paced. Sports mean earbuds that can hold-on by the skin of their teeth to your ears. That's especially so if you're running or bicycling or practicing any activity where the loss of an earbud might be final.
You'll also be sweating a lot, that's why sweatproof AirPods earbuds are a must. Also, some sports-oriented earbuds will come with auto-volume options. They'll adjust their volume according to your surroundings so that you'll be consumed in your music and be able to enjoy your workouts. Can't get better, no?
Bone Conduction 
Now, this is something relatively new and not that famous in today's markets. Nonetheless, they're an interesting choice. Bone conduction earbuds have nothing to do with your ear; they deliver their vibrations through your skull's bones, which transfer them to your eardrums.
They're gaining popularity quite fast because they offer a perfect fit and are mostly water-resistant. This makes them suitable for a lot of sports.
On the other hand, though, they still have a long way to go since they offer next to nothing in terms of noise isolation. This also affects the sound quality, making it not as great as you'd want it to be.
Audio-Limited
Audio-limited earbuds are an excellent choice for minors. If you want to purchase your child earbuds, but you're worried about their ears' health, go for these as they're designed to cap the volume at a safe level. Your child can enjoy their music without danger, so it's a great option to look for.
Microphone System 
Having a microphone on your earbuds is always a plus. They take your earbuds to a whole different level. It takes you from just listening to being able to take calls, give commands to your virtual assistant, and record. 
Both your hands will be a lot freer, too. That's why microphones are incredibly practical. The problem here is that manufacturers don't always shine the light on the quality of the inbuilt microphones. Consequently, it remains a mystery to you until you try out the headphones and realize what you have.
Mono vs. Stereo 
This option is related to the audio channels built-in to your earbuds. If you have mono earbuds, you have one audio channel for both right and left buds. Therefore, the volume will be the same in both of them. 
On the other hand, if you've decided to go with a stereo set of earbuds, you'll find that you have two separate audio channels; one for each earbud. This means that you can set their volumes individually according to your own preferences.
Noise Cancellation 
Noise cancellation is definitely one of the essential aspects of any kind of headphones, not just earbuds. Generally, noise cancellation is divided into two types; passive and active.
Passive noise cancellation is the one provided by any set of earbuds. It happens due to the physical build of the headphones, which stops exterior sounds from entering through the physical seal formed in-between the body of the earbud and the ear.
As for the active type, it revolves around a particular component implemented into the earbuds. What this component does is that it creates contradictory sound waves to the exterior sound waves coming from outside so that they cancel out each other. This leaves you alone with your music.
Monitor 
The monitor technology is the jack of all chords but master of none. You'll hear everything. However, the quality could be a lot better since it doesn't focus on anything in particular.
HiFi
Having earbuds that function with the HIFI technology means that they'll be more focused on the vocals than the music. You'll find that everything is incredibly clear and sharp, yet, the music will be a little bit muted or more of a background sound.
Factors That Go Into the Making of Good Earbuds
Some general factors don't classify under a particular category. Still, they're vital to the overall performance of your earbuds.
Impedance 
Impedance is the amount of resistance put up by your device before it operates optimally. It's measured in ohms and depends on the kind of device that you'll be listening to. 
Major devices such as stereos and musical instruments required a high number of ohms; 320 ohms and up. Today, smaller devices such as smartphones and tablets need a relatively small number, maxing out at 600 ohms.
Weight
No matter what you minted to use your earbuds for, their lightness of weight is imperative. If you wish to go for heavy headphones, then go for over-ear ones. Nevertheless, when wearing your earbuds, they have to mold with your ear, so that you feel as if you have nothing on.
Final Thoughts
We've now reached the end of our article, and we hope we've helped you explore the world of different earbuds. 
Always try to do thorough research before hitting the market, don't forget to go through the reviews of previous buyers if you're buying online, and if you're opting for offline purchase, ask if you can try-out the headphones and the microphone . Lastly, don't hesitate to ask if you don't understand a particular spec placed on the box.